What better way to sit down and catch up with an old friend than over delicious cocktails and well… practically a whole cow! Yes we had strolled down the river in Richmond and happened upon probably one of the area's best steak restaurants and so we had to go in. Gaucho Richmond is housed in a low-slung, boathouse inspired building on the Towpath of Richmond Riverside. Inside the restaurant, glass-panelled walls offer panoramic sights of Richmond Bridge and Petersham Meadows allowing for glorious views across the winding River Thames bathed in the glow of the setting sun.
Shortly after being seated and handed the very new cocktail menu that has only been out for a couple of days, the New York Sour caught my eye, not only because the last time I had caught up with my international dining companion was in Chelsea – not SW postcode but Chelsea, Manhattan, NYC! The cocktail was a delectable combination of Jim Beam Double Oak Bourbon shaken with fresh sweetened lemon juice and egg white, finished with a Malbec float. Our superb mixologist Anthony shook up some wonderful creations that showed that Gaucho hire people who think outside of the box and serve their cocktails with a twist and flair that you would expect in the centre of London.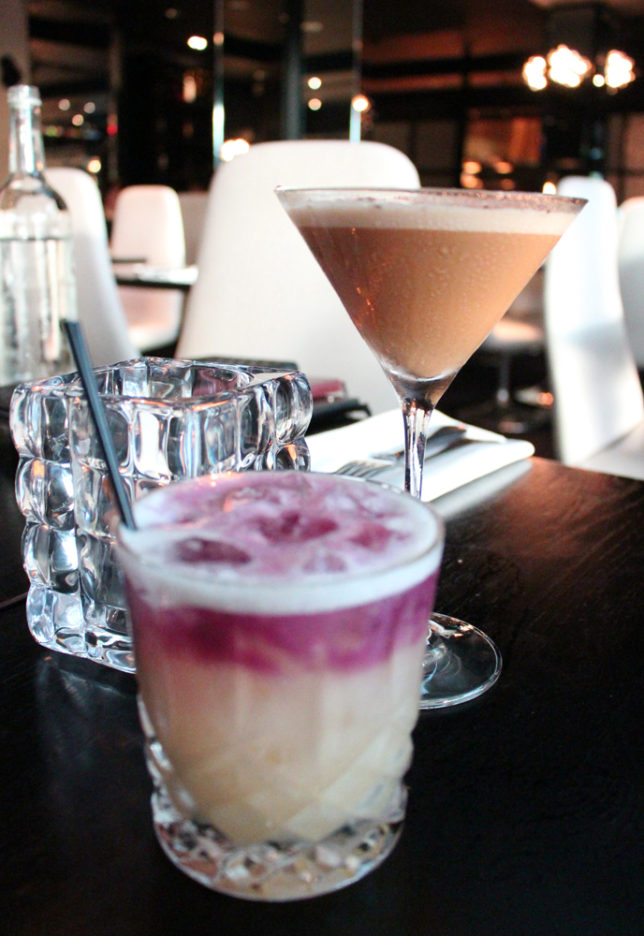 My dining companion ordered an Espresso Martini…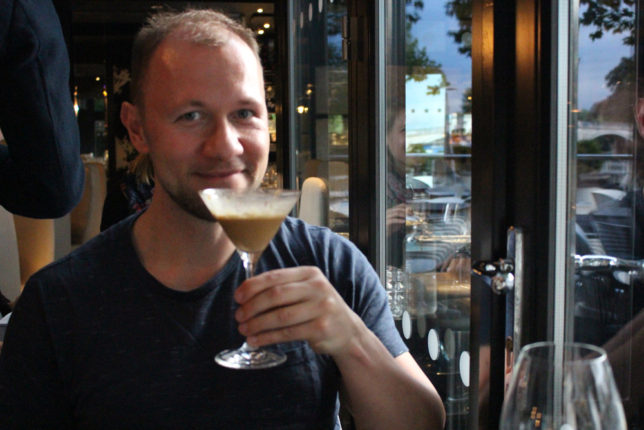 … which received a big thumbs up. An offering of bread was delivered to our table almost immediately which was incredibly moreish. My only suggestion is do not fill up on the bread no matter how good it tastes but if you are going to indulge, try dipping it first in the chimichurri sauce for a fabulous taste sensation.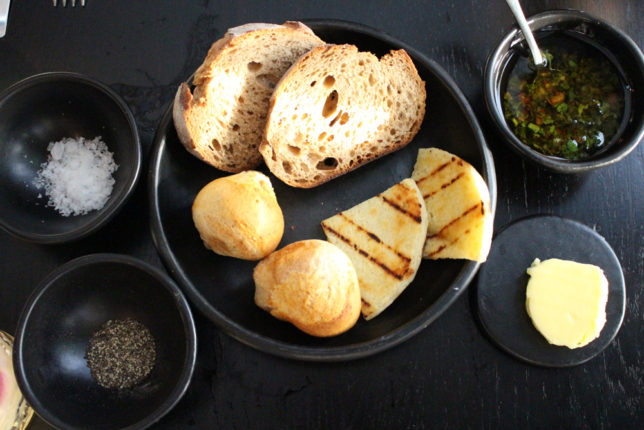 The starter menu is so enticing but be warned the main courses are rather large so be careful that your eyes are not bigger than your appetite. There are many non beef choices on this entree menu from the Roasted Pumpkin Salad with crumbled feta, pine nuts, watercress and a mint and cumin yoghurt dressing to Chopped Chicken Livers served with toasted sourdough and an endive and shallot dressing. For those who want more of an Argentine twist there is the traditional Chorizo Sausage with crushed chickpeas, smoked paprika, lime, coriander and roasted red onion or you can choose a selection of Specialist Sausages, all homemade with a variety of flavours and meats to choose from.
A little bird had told us that their ceviche was one to try so we decided on the seafood sampler which was combination of Crayfish Causita…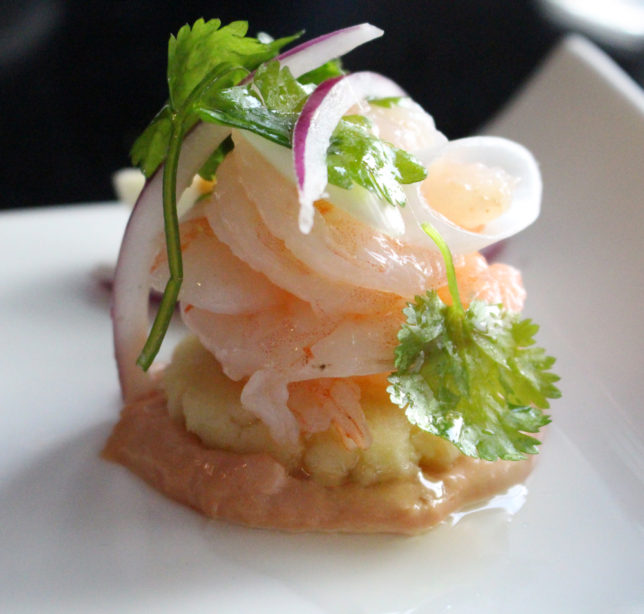 Tuna Ceviche…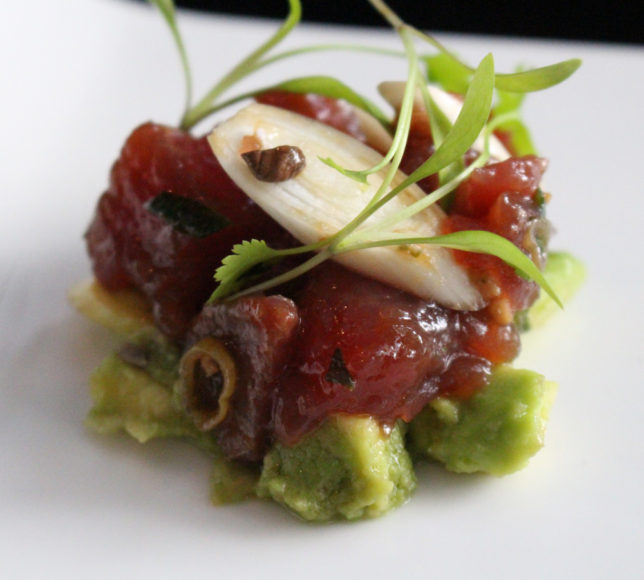 and Seabass Ceviche complete with pomegranate crunch and sharp taste…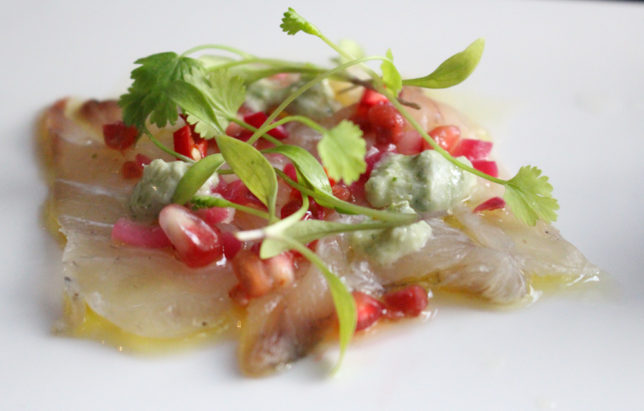 served alongside we also sampled the Scallops Succotash – a dish of roasted fresh corn, nduja, smoked paprika and a dash of fresh lime.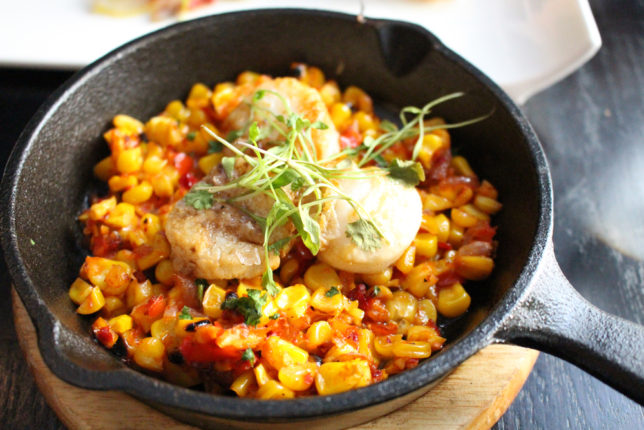 Being beef fanatics we jumped straight passed the lamb and fish suggestions on the menu right to The Beef. For those who want a quick lesson on the different cuts your knowledgeable and very friendly waitress will be able to demonstrate with some rather gigantic slabs of beef just how succulent your soon to be served dish is going to be.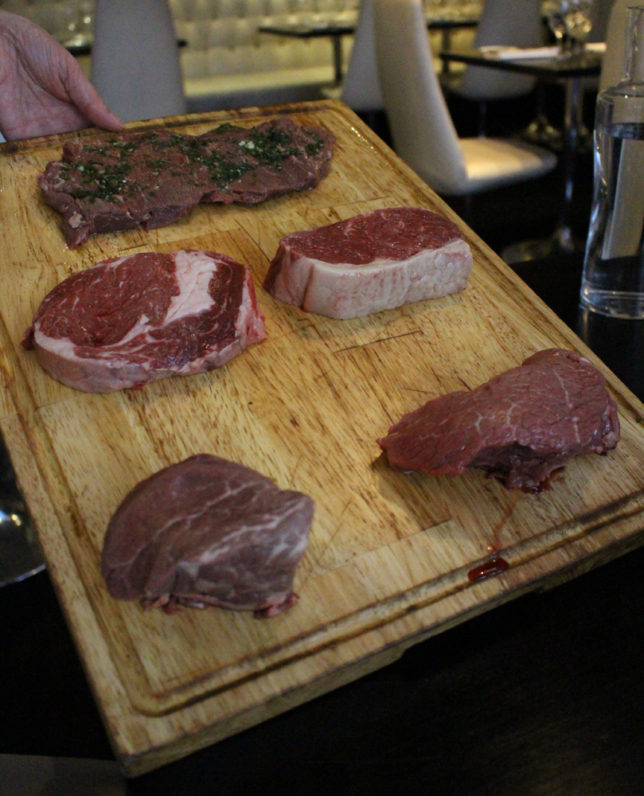 With your order you can choose a marinade including the Argentine classic of Chimichurri or try flavoursome Garlic, Parsley and Olive Oil. Why not smoke it up with an Ají molido made with smoked garlic, parsley and olive oil or add some heat with Ají amarillo made from red jalapeño chilli and olive oil.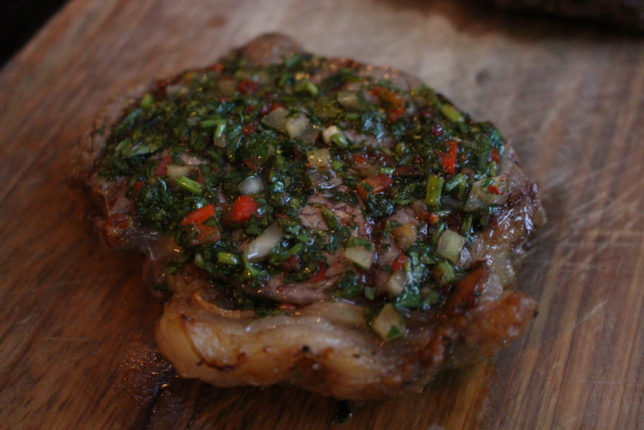 If your taste buds are still wanting more there are five choices of accompanying sauce: Peppercorn – Béarnaise – Mushroom – Blue cheese – Red wine.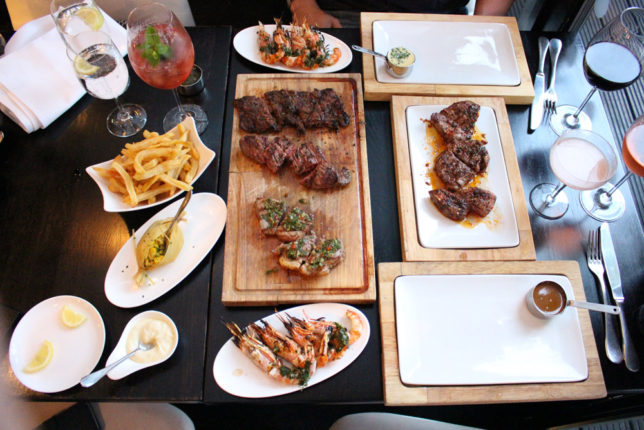 Always time for a quick photo…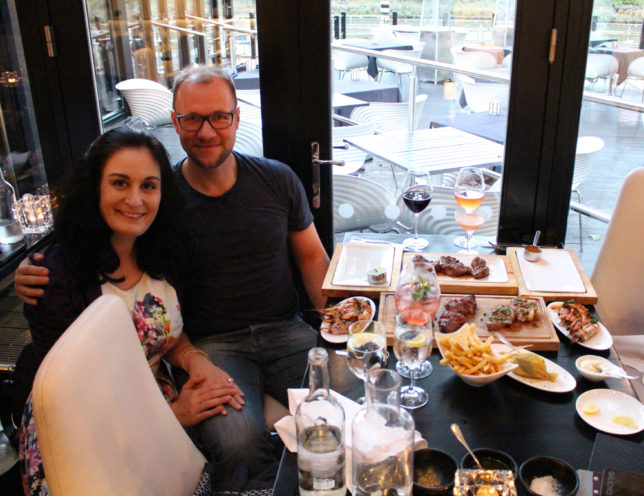 Don't let the food get cold… with so much choice we ordered the trio of medallions which is the most tender and lean cuts of lomo, ancho and lomito de cuadril weighing in at 300g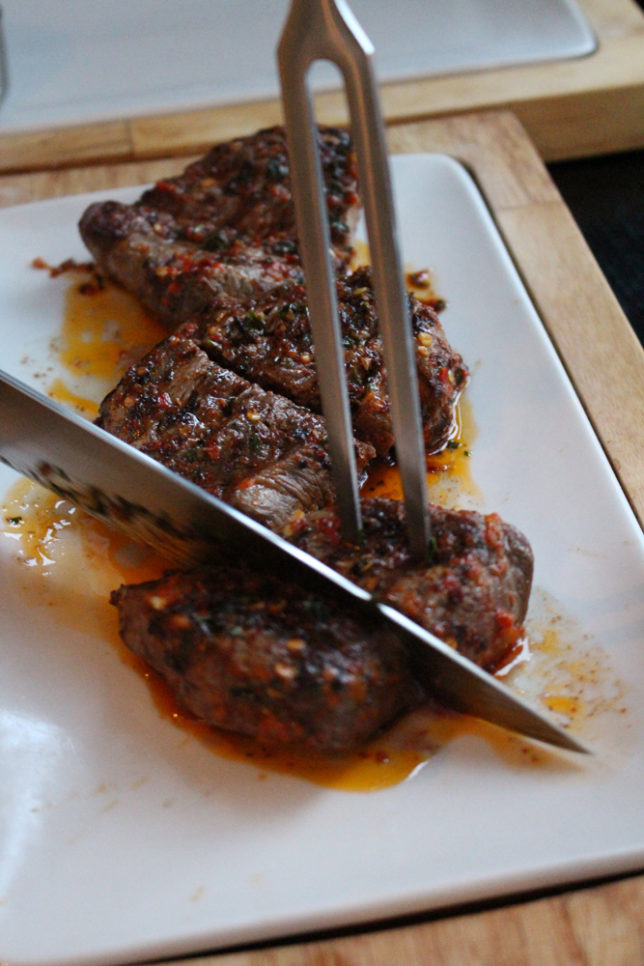 and a selection from the tasting plate which include three of the most popular Gaucho cuts – chorizo, vacío and entraña fina and weighing in at 450g it is not for the faint hearted.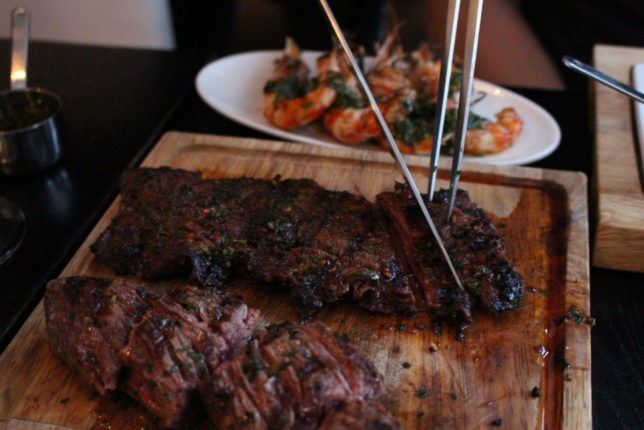 Don't forget to save room for a side portion of Gambas -four grilled Argentine red prawns with churrasco dressing…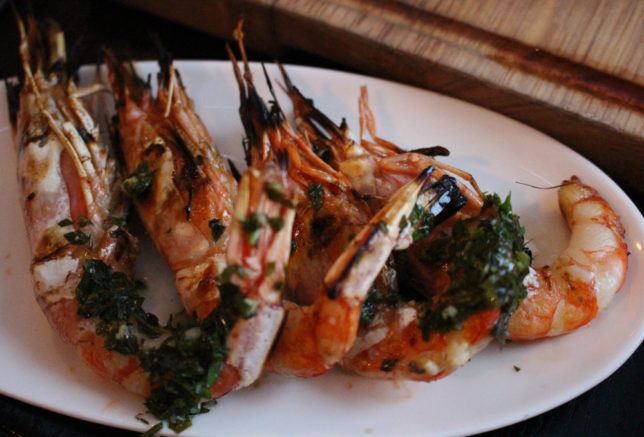 There are other side dishes, not too gigantic so worth a try… such as the Humita Salteña served in a corn husk with
sweetcorn and mozzarella…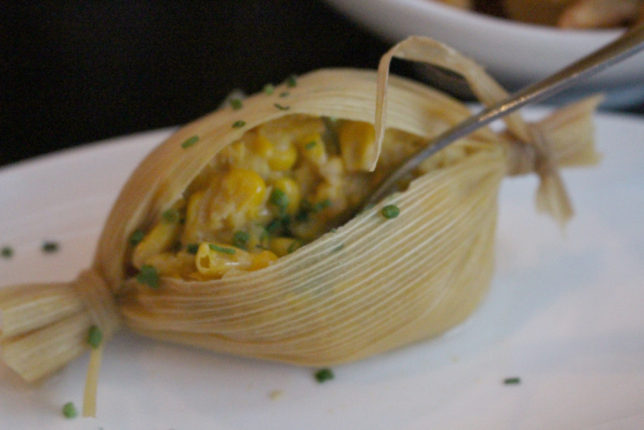 And the old faithful fries…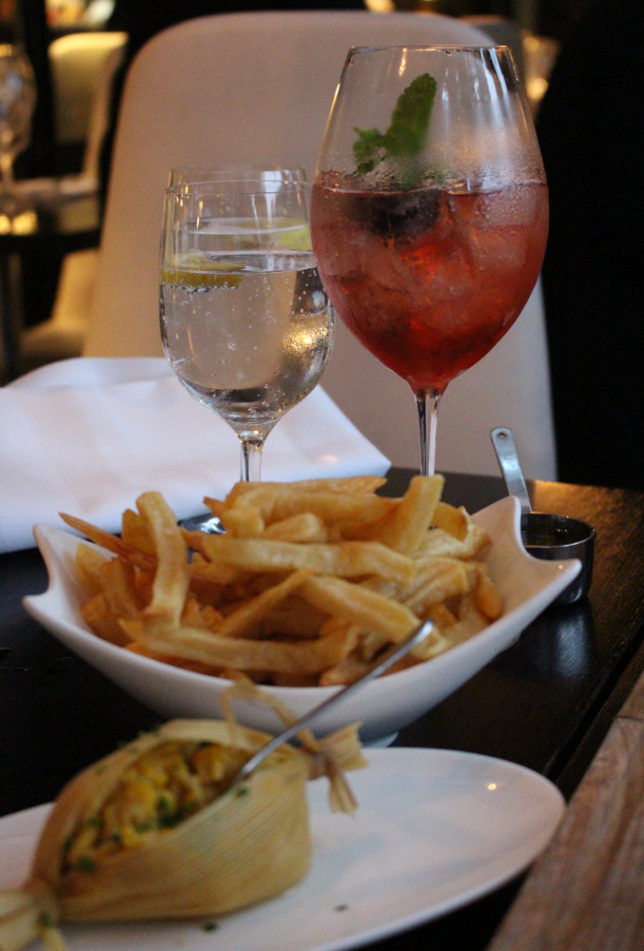 Paired with a long drink of Jack and the Peach – a flavourful combination of Gentleman Jack, Calvados Boulard, honey, peach liqueur, sweetened citrus juices and an Elderflower Rose Spritz – a light refreshing mix of Grey Goose Vodka, St. Germain liqueur and fresh lemon topped with rosé wine.  A beautiful river view, fabulous conversation and delicious food all while Mr Sun decided to play ball and stay out a little longer than expected. Perfection for a Wednesday afternoon!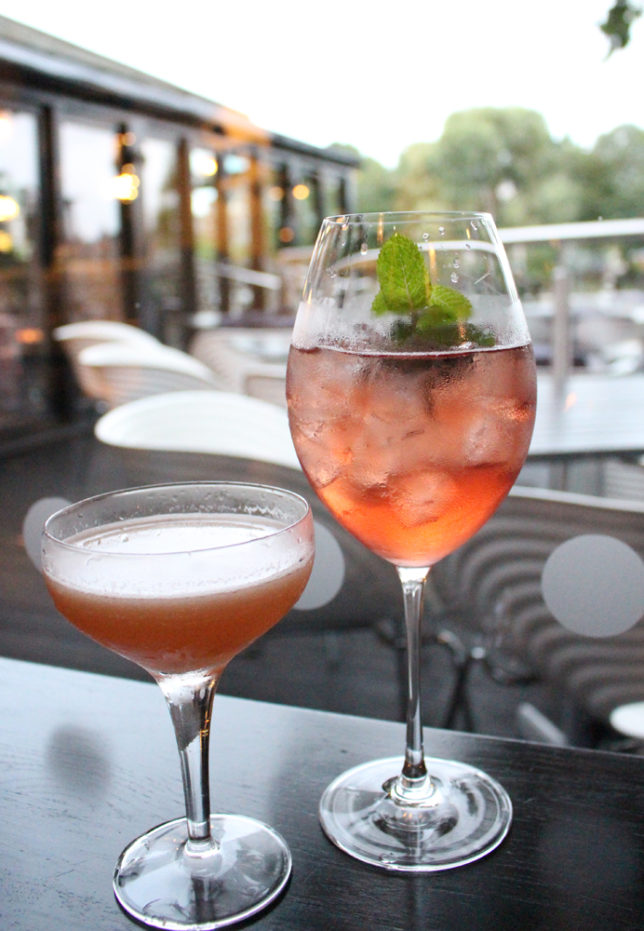 If only there was room for dessert. Perhaps next time. Instead I opted for a refreshing palate cleanser of an interesting and unusual sorbet flavour – that of malbec. Totally Argentinian and a lovely way to end the evening.
Whether you are looking for a spot to enjoy sundowner cocktails or, like us, fancy a tranquil haven to have dinner, Gaucho Richmond offers a sophisticated way to spend time on the river. Gaucho believes that every guest should experience a little bit of Argentine life, its food, its wine, its culture and most importantly the passion of the people and certainly in our case we experienced just that!
There are a number of special events happening this autumn across the 14 UK restaurants where Gaucho delivers the best possible guest experience, with food and wine reflecting the true essence of Argentine life. For more information about events at a Gaucho restaurant near you, please visit www.gauchorestaurants.com/events
Gaucho Richmond
The Towpath, Richmond, London TW10 6UJ
020 8948 4030
www.gauchorestaurants.com/restaurants/richmond/