The Ritz-Carlton, Dubai is enviably located along the JBR Walk, and offers its guests distinctive Emirati experiences at this luxury resort from sophisticated rooms and suites to international cuisine at one of its 9 restaurants, all just steps away from Dubai's premier attractions.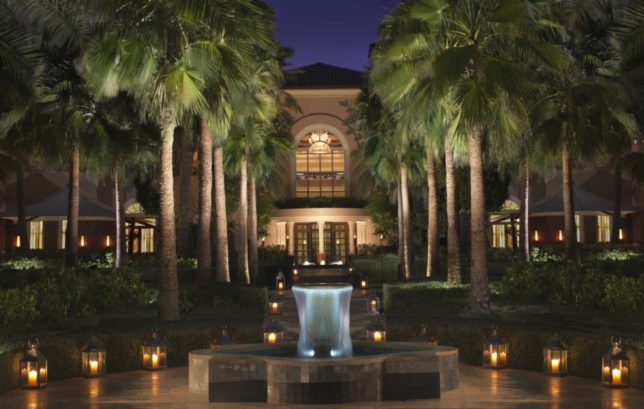 Named Best Southeast Asian Restaurant by Time Out Dubai, Blue Jade is the Ritz-Carlton Dubai's signature Pan-Asian restaurant offering a variety of the most authentic and sought after dishes from across Asia allowing guests to reminisce and relive their travels across the continent whilst giving those whom have not yet experienced Asian cuisine the opportunity to indulge and relish dishes that will be at once new yet familiar to them.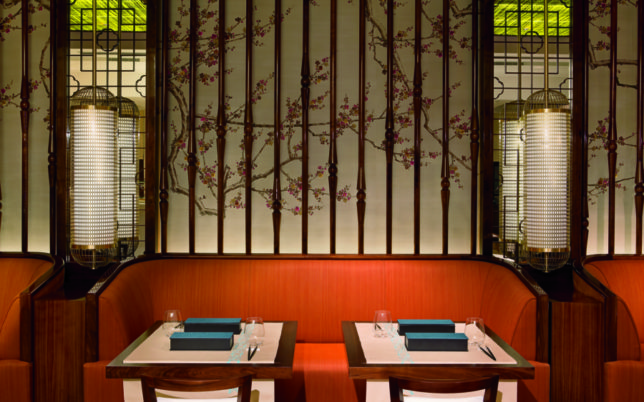 Head Chef Ta Van has created outstanding menus for The Ritz-Carlton Dubai's signature Asian restaurant that showcases the flavours of his native Vietnam as well as those of Thailand, Singapore, Japan and China. Dining at Blue Jade takes you on a culinary journey across Asia without you ever leaving your table!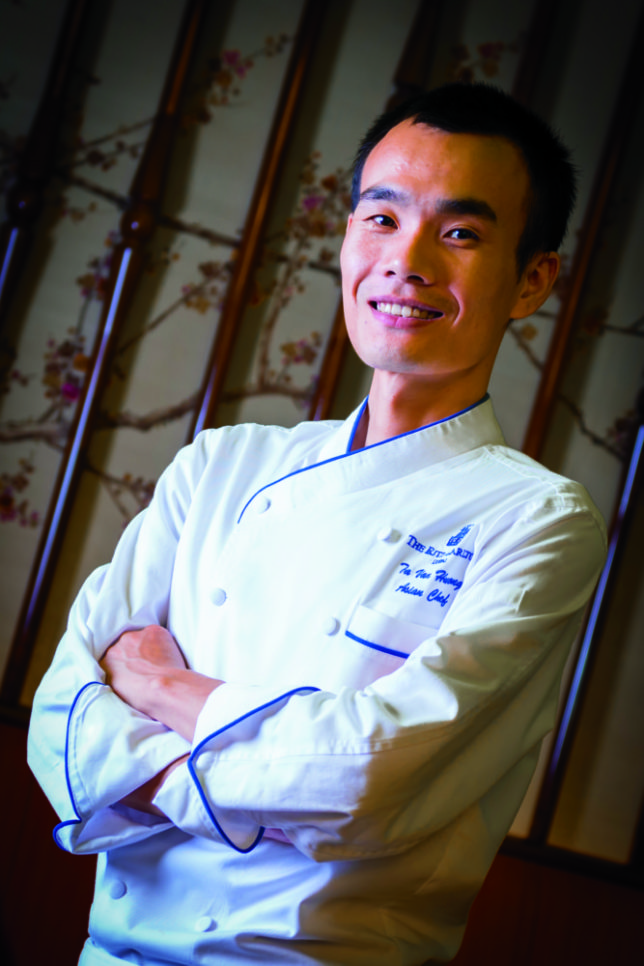 This award winning restaurant in Dubai Marina also offers special weekly themed nights such as DimSumptuous Wednesdays and Sushi-licious Sundays, which showcases Asian favourites of Cantonese dim sum and Japanese sushi for guest to enjoy on an unlimited basis. Blue Jade also offers an extensive drinks menu featuring interesting cocktails and thirst-quenching beers.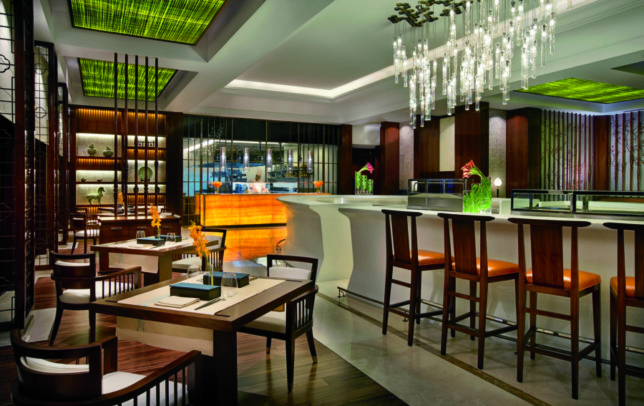 Chef Ta Van served us his favourite classics family style at the table and the restaurant's sommelier was pleased to offer us signature beverages such as the Blue Jade cocktail classics which were expertly crafted and so tempting even the lobster couldn't keep his hands off it.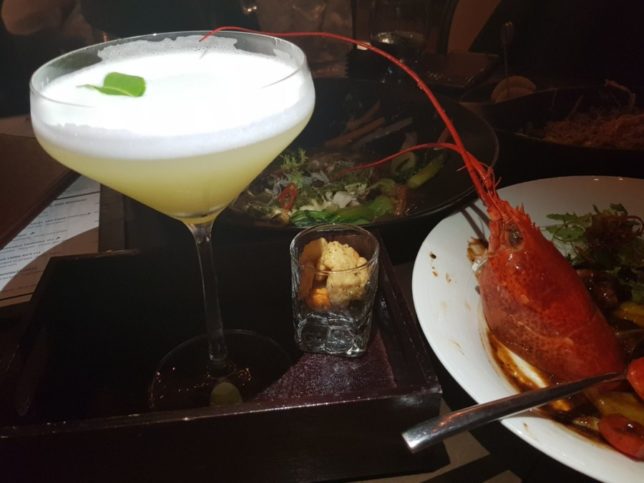 To start with a selection of Cantonese dim sum showcasing the most authentic dim sim flavours from across China to begin our culinary journey through Blue Jade's Pan-Asian menu.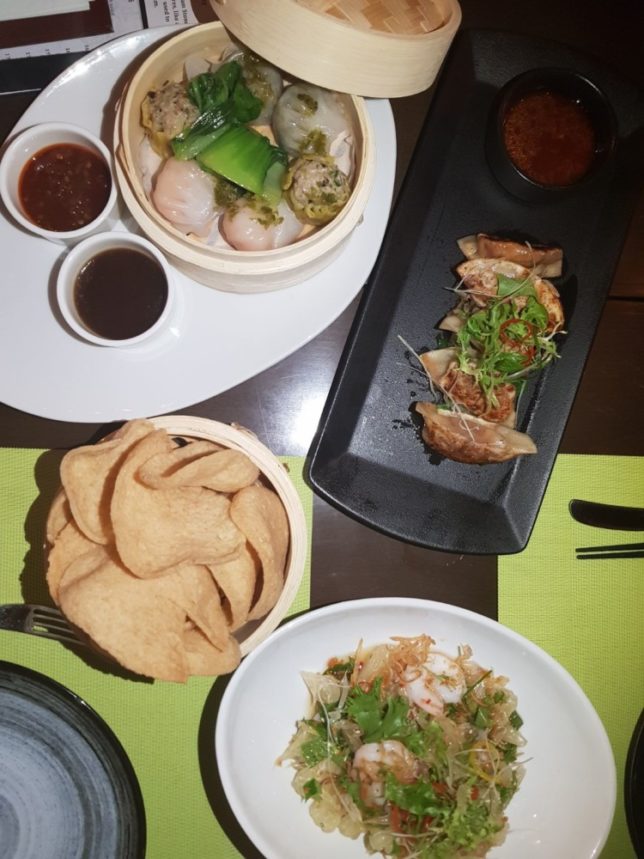 First up was Chicken Siu Mai accomapnied in the classic Cantonese style with Prawn Har Gow. The Siu Mai was complemented by Shitake mushrooms mixed with chicken filling and served with traditonal soy sauce for dipping. The Har Gow was served with a piquant Vietnamese sauce which paired well with the seafood filling.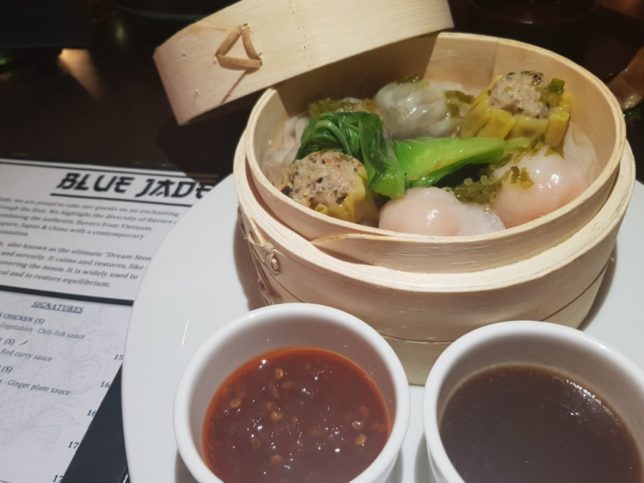 This classic combination was joined by Duck Gyoza served with Hoisin sauce. The freshness of spring onions in the succulent filling was delightful.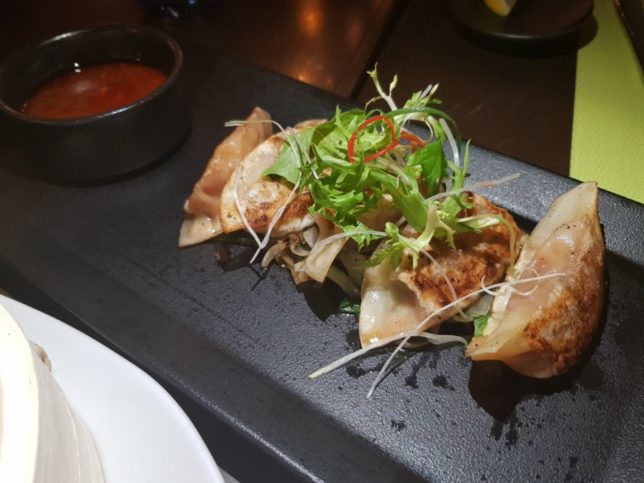 The dim sum dishes were followed by Wok Fried Atlantic Lobster. This impressive dish is sure to please the eyes with its beautiful presentation and attention to detail. The lobster meat having been removed from the shell is stir-fried with vegetables in a delicious black pepper sauce which was surprisingly mild but really balanced the sweet flavour of the lobster.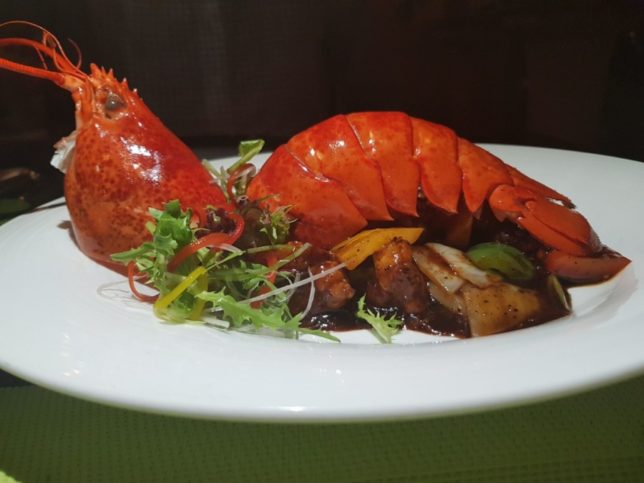 The Pomelo Salad with shrimp, fresh herbs and lime chilli dressing was refreshing to the palate and zesty in flavour with a wonderful contrast of textures from the different components of the dish.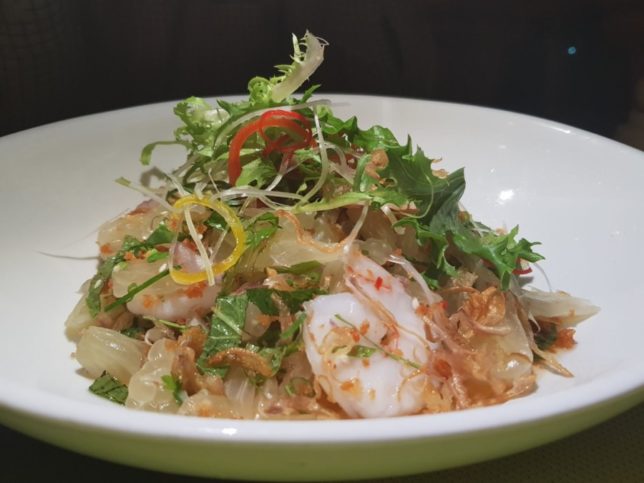 Curry dishes include Duck in Thai Red curry sauce with aubergine and pineapple. The tender meat is bathed in a flavoursome authentic red curry sauce accented by fresh Thai herbs scattered on top.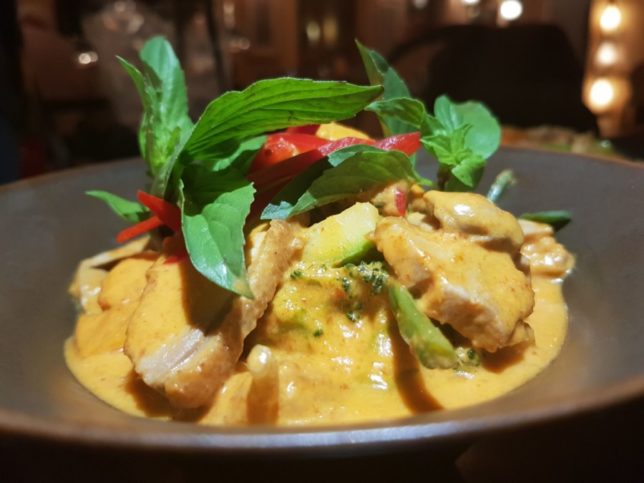 Other signature dishes include delicately Steamed Halibut with green ginger & vegetables in soy sauce. The herby crust added another dimension of flavour and texture to this fish dish.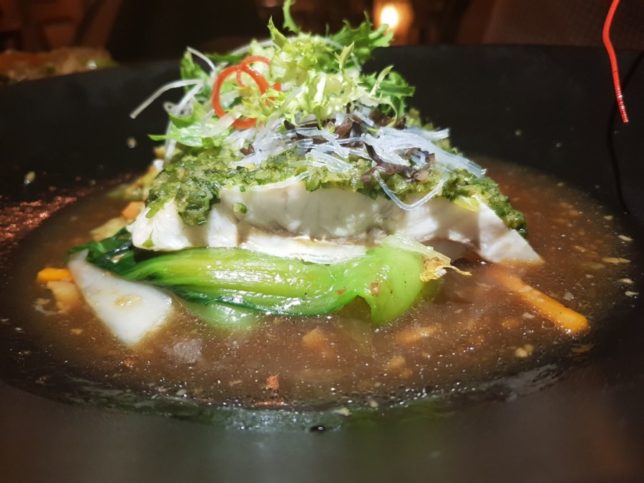 Alongside Mr Sloan's favourite dish of the evening – Miso Black Cod. The delicate velvety flakes of black cod literally fell apart with its sweet caramelised texture complemented by the Japanese miso flavours with sautéed vegetables.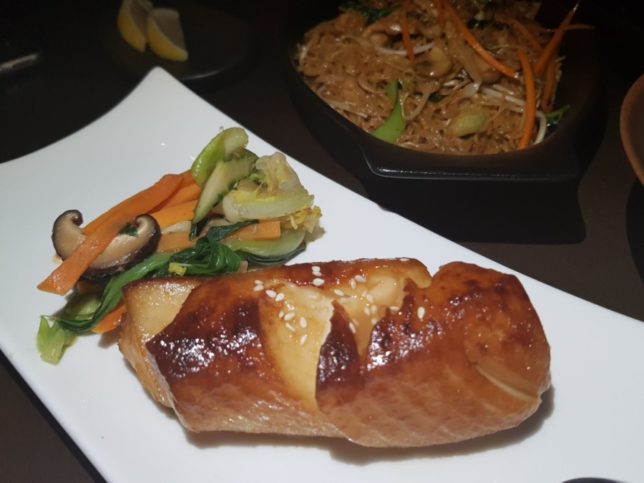 Noodle dishes include traditional Pad Thai and a delicious Singapore Noodles with egg vermicelli noodles tossed with succulent chicken & tender vegetables with curry seasoning.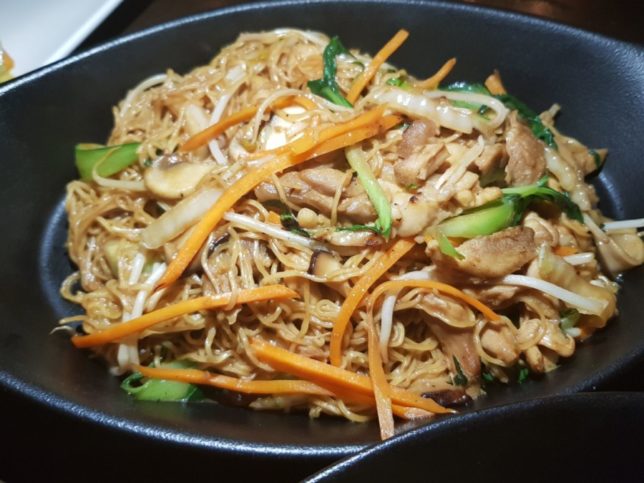 Chef Ta Van and his team offer a very special dining experience with a passion for sharing the culinary diversity of the largest continent on the planet. Using his skills and experience from the region, the chef brings an array of Asia delicacies to Dubai throughout the year making authentic pan-Asian dishes accessible for guests of The Ritz-Carlton Dubai to experience.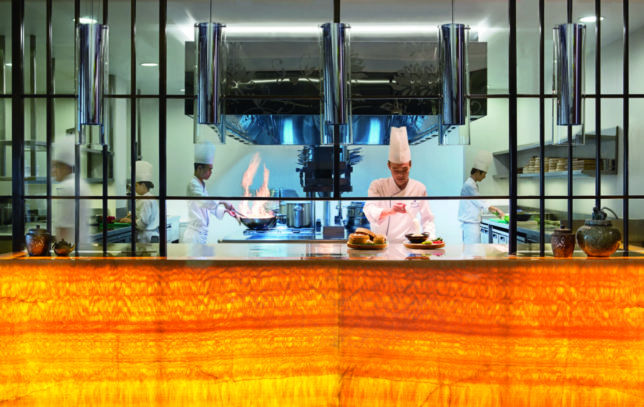 If you're wondering about the story behind the restaurant's name, the Blue Jade stone is a talisman of dreams, peace and serenity. It is said to calm and restore the mind and body, and is widely used to temper emotional upheaval and to restore equilibrium. After our wonderful dinner we couldn't agree more with the choice of name for this dreamy Dubai dining destination.
Blue Jade at The Ritz-Carlton, Dubai
The Walk, JBR. Dubai, United Arab Emirates
+971 4 318 6150
www.ritzcarlton.com/en/hotels/dubai/dubai-beach/dining/blue-jade
@ritzcarlton