Joining the towering modern buildings of the vibrant city of Dubai is the brand new Radisson Blu Hotel, Dubai Waterfront. Located in the Dubai Water Canal district of Business Bay, the hotel is part of one of the city's largest and most impressive waterfront developments. The area is becoming internationally known as one of the top business and leisure locations.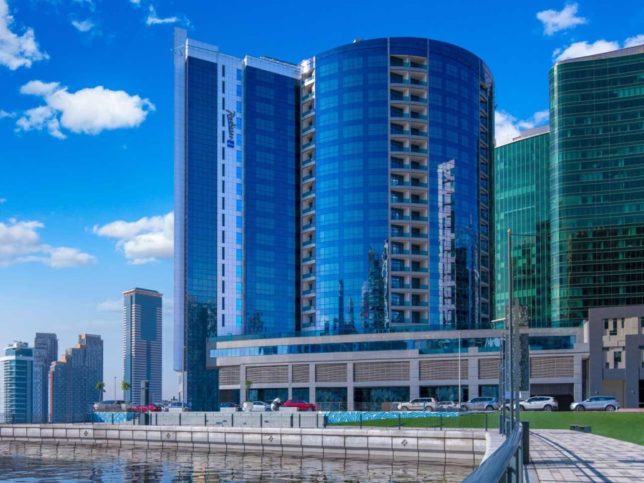 The stylish 5-star Radisson Blu Hotel, Dubai Waterfront with its outstanding range of facilities and renowned friendly professional service is guaranteed to make your stay a memorable one. The hotel's "Yes I Can!SM" philosophy means you'll always receive outstanding service with a smile promising guests an unforgettable experience filled with Dubai hospitality.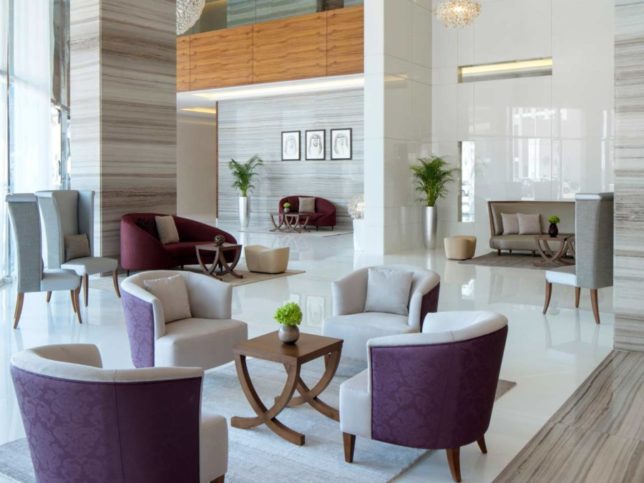 Radisson Blu Hotel, Dubai Waterfront is unique in all regards. For business travellers, Dubai International Financial Center, Dubai World Trade Centre and Dubai International Airport are all within 15 kilometers. Leisure guests can enjoy proximity to popular tourist attractions, including Dubai landmarks like the Dubai Mall, with more than 1,200 retail outlets, and the world's tallest building, the Burj Khalifa. There are also multiple world-class golf courses available.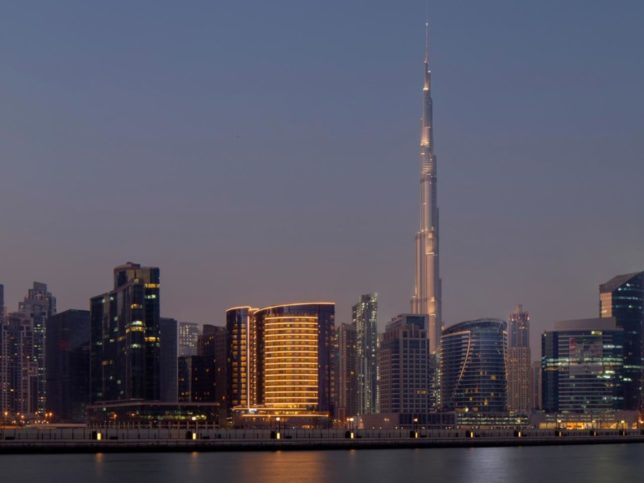 Radisson Blu Hotel, Dubai Waterfront aims to be the friendliest 5 star hotel in this breathtaking Middle Eastern city. This promise is taken so seriously that the claim is even emblazoned on the shirts of the hotel staff – so we were excited to see just how true this was during Sloan's recent visit to Dubai.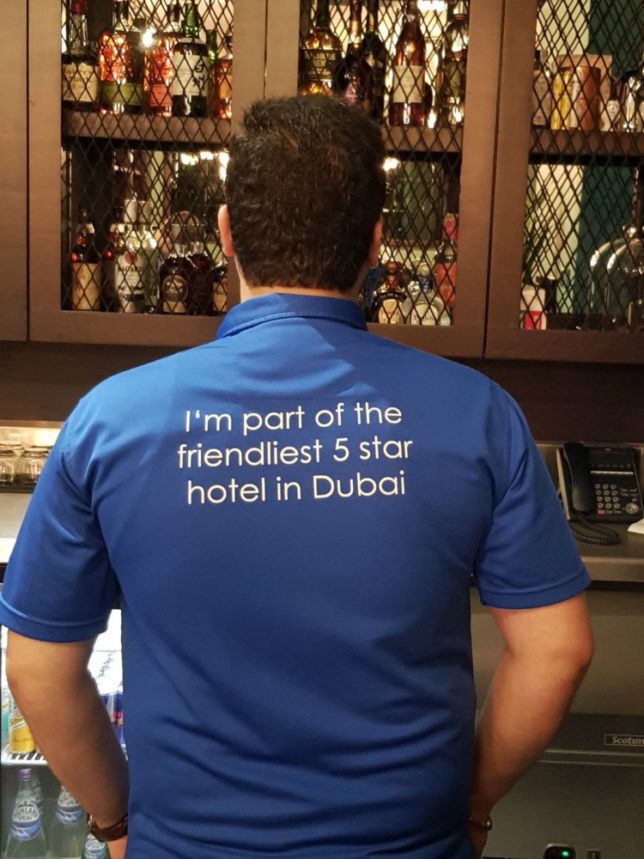 After a full day of business or exploration, Radisson Blu Hotel, Dubai Waterfront offers spectacular views and luxurious amenities from the sophisticated comfort of your room. The interiors of the 432 rooms and suites are all stylishly designed with a calm and relaxing atmosphere and high-end finishes, capturing unforgettable views of the Business Bay district.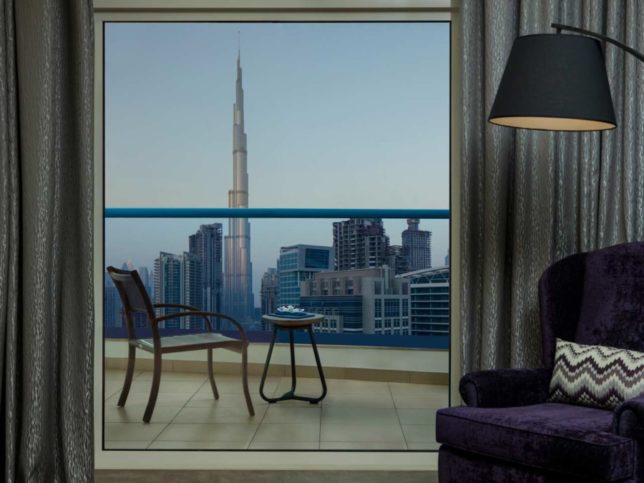 For a luxurious stay, we recommend one of the suites located on the hotel's higher floors which have a private balcony and offer spectacular views of the Burj Khalifa. Whether you are entertaining business clients or looking for more room to relax and unwind, the Burj Khalifa Balcony Suite is the perfect base for your stay in Dubai.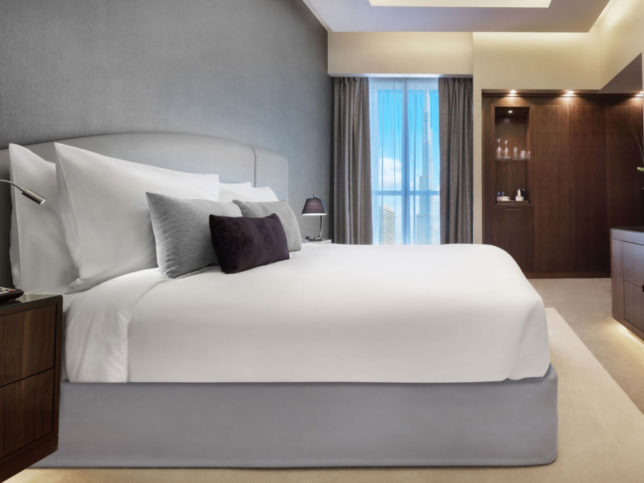 The suite allows you to fully enjoy Dubai's luxury lifestyle with its spacious living area and separate bedroom in addition to the private balcony to take in the beautiful views of the Business Bay district and breathtaking skyline dominated by Burj Khalifa. High-end amenities such as a Nespresso® coffee machine and luxuriously equipped bathroom offers the perfect moment of relaxation.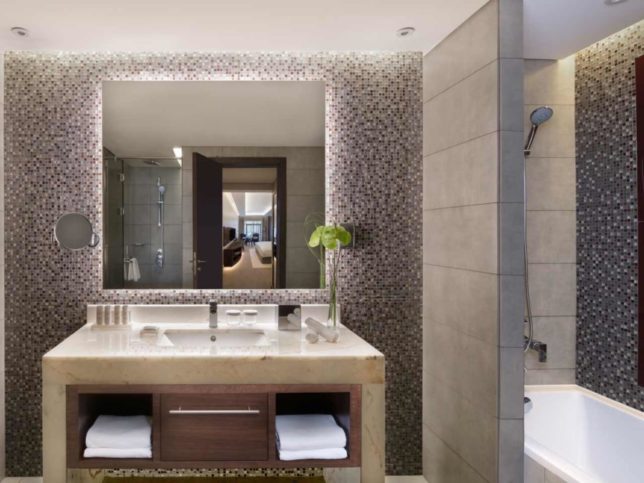 One of the other benefits of staying in a suite at Radisson Blue Hotel, Dubai Waterfront is the complimentary access to the Business Class Lounge and terrace where you can enjoy a selection of beverages, a private buffet breakfast, lunch and evening snacks. The lounge is also a great place to entertain business clients or hold informal meetings.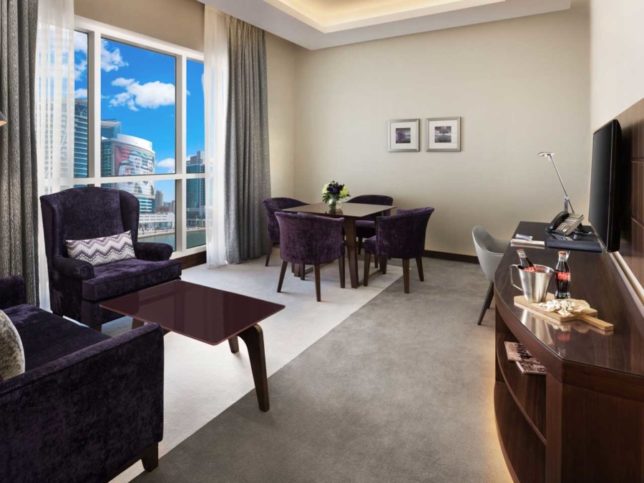 Radisson Blu Hotel, Dubai Waterfront is a foodie destination in its own right. The various restaurants offer a wide array of delicious cuisine, guaranteed to delight and impress on every level.  From modern Middle Eastern delights in Republic & Co. and Nordic newbies in the Larder Restaurant to smoke-infused snifters in Makar Scottish Bar or mid-west treats in Fire Lake Grill House and Cocktail Bar, there is something to please every taste.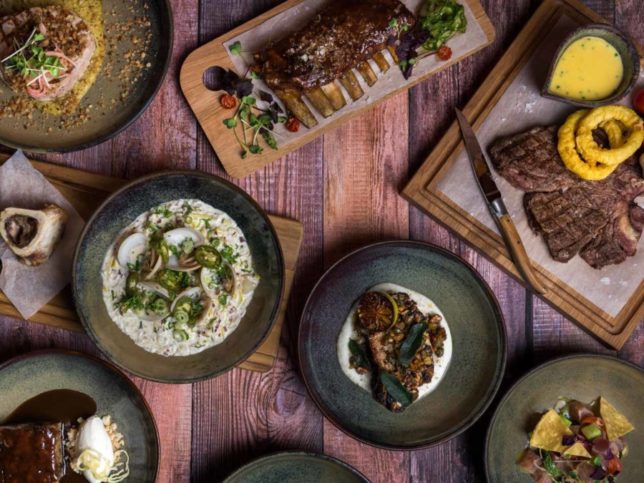 The nightlife gets even more exciting at the French Riviera's crown jewel, Gotha Club Dubai, infused with art and marked with world-class entertainment, offering a unique and animated clubbing experience hosting sophisticated events with top performing artists and original entertainment combining elements of a nightclub and a live entertainment venue.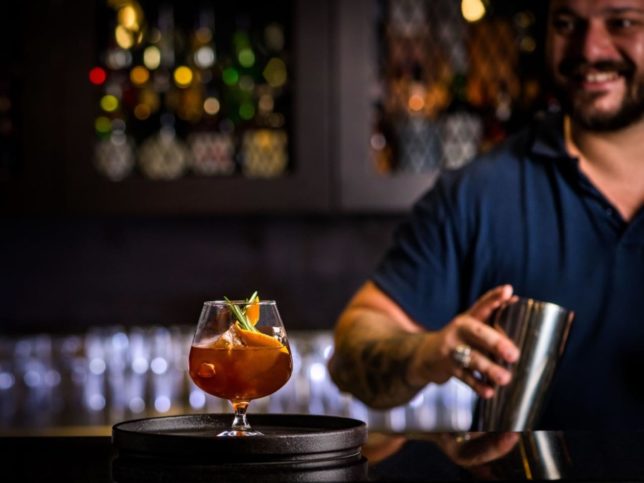 We enjoyed pre-dinner drinks at Makar – one of the hotel's popular bars exuding sophistication and style with a Scottish touch. Check out the bar's drink menu with its fun take on trophy stag heads that's guaranteed to raise a smile before you've even raised your glass!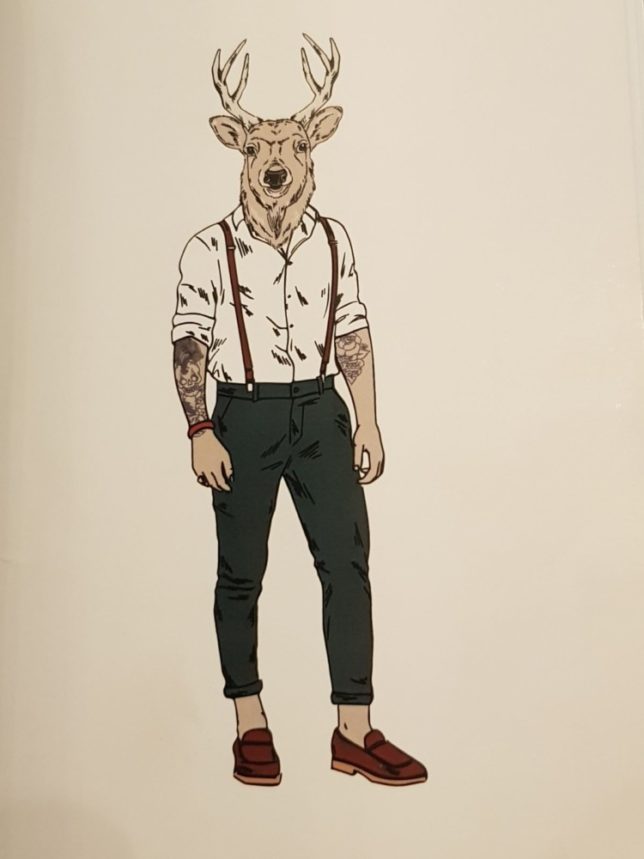 We were invited to try The Old Man & The Sea, a whisky y based cocktail using Old Pultney and a mix of citrus flavours topped with Luxardo Maraschino Cherry Liqueur. We also tried the Orchard Dramble which is a slightly different take on the classic bramble. It is a refreshing fruity drink with a mix of Dewar's 12 whisky, St. Germain Elderflower Liqueur and cloudy apple juice.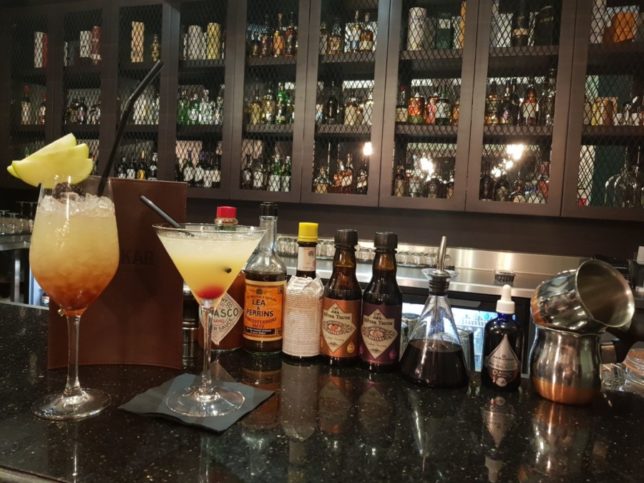 Fire Lake Grill House and Cocktail Bar is an elegant American Mid-West grill restaurant, bar and terrace, which offers a spectacular view of the Burj Khalifa to go along with its mouthwatering dishes and refreshing drinks for an all-round, fine dining experience. It is the ideal location to enjot an evening overlooking the illuminated Dubai skyline. We sampled the Kentucky Mojito made with Jim Bean white label and the Frozen Penicilin made with Dewar's 12 blended and Laphroaig Quarter Cask Islay Whisky.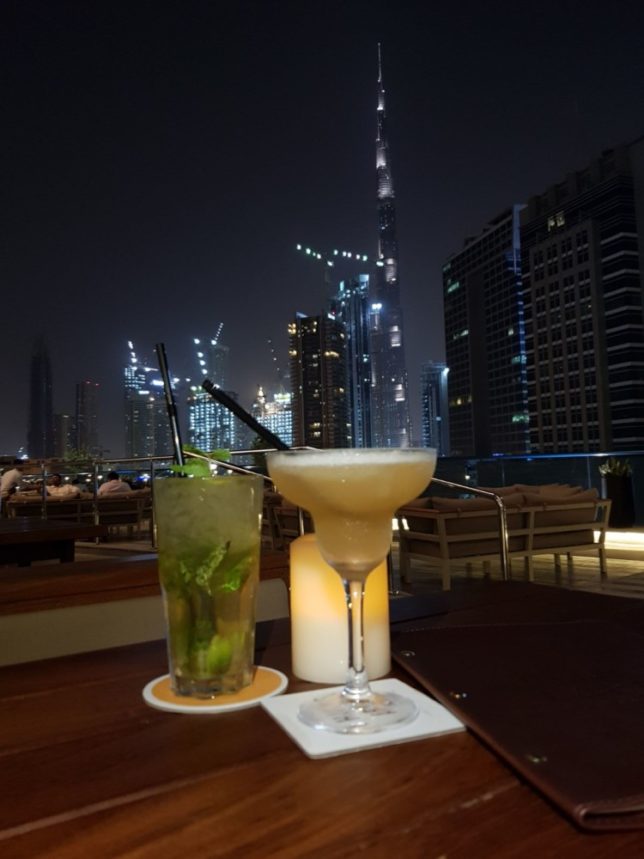 Fire Lake Grill House and Cocktail Bar originated in Minnesota and combines the best mid-west traditions of open flame cooking with the art of cocktail creation. The restaurant is all about the flavour of the flame with many of the dishes wood, flame-cooked or smoked.
The culture and style of the food is deeply rooted in North America but with touches that are closer to home. Fire Lake Grill House serves moreish appetisers such as these yummy Crab Croquettes served with a Comeback Sauce that will have you coming back for more!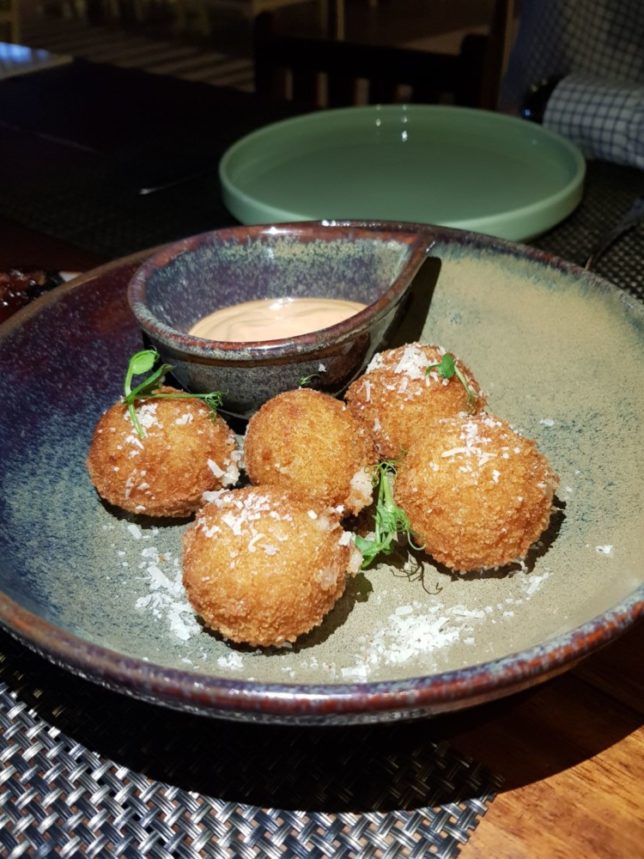 The restaurant has made use of regional flavours where possible so one can expect to see lots of dishes couple together with locally inspired ingredients from the Middle East. Check out these delectable delights from the starters menu…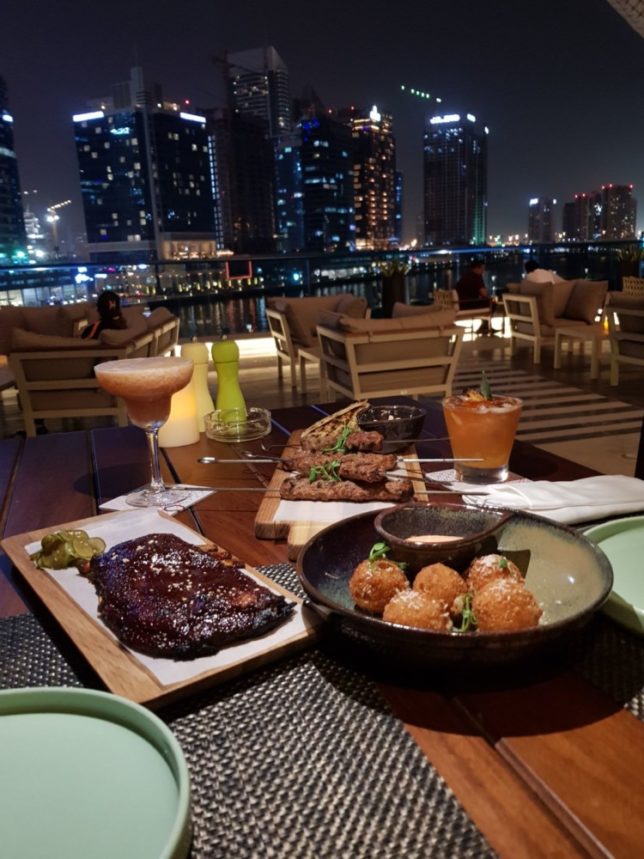 Fire Lake Grill House offers guests a menu that tantalises the taste buds including these tasty Lamb & Pistachio Kofta kebab skewers which combine Middle Eastern flavours with American grill cooking methods. We also tried a tasty Whiskey concoction carefully crafted off menu by our friendly bar tender.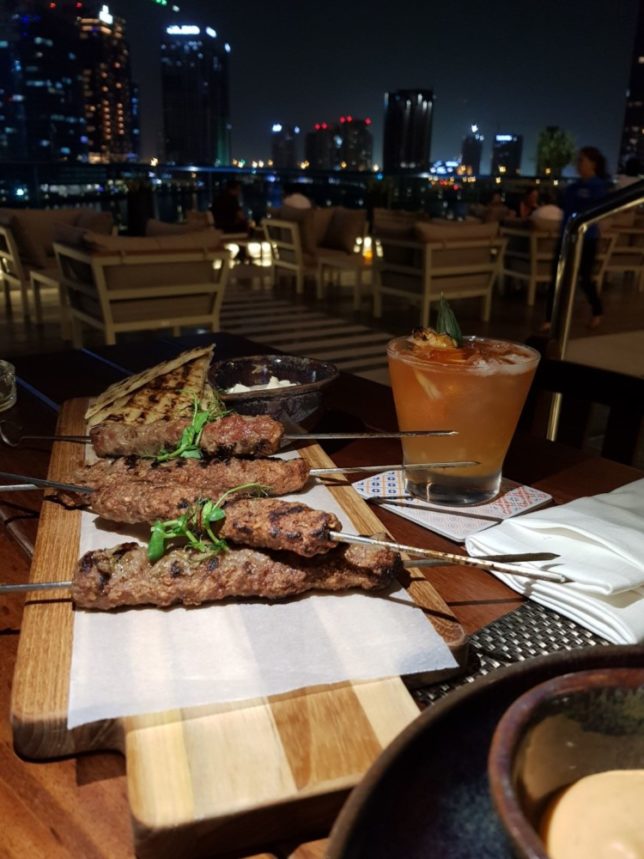 The other starters at Fire Lake Grill House also include meaty delicacies like Sticky Lamb Ribs with smoky Gaujillio chilli glaze served with pickled cucumber and scattered with toasted sesame seeds.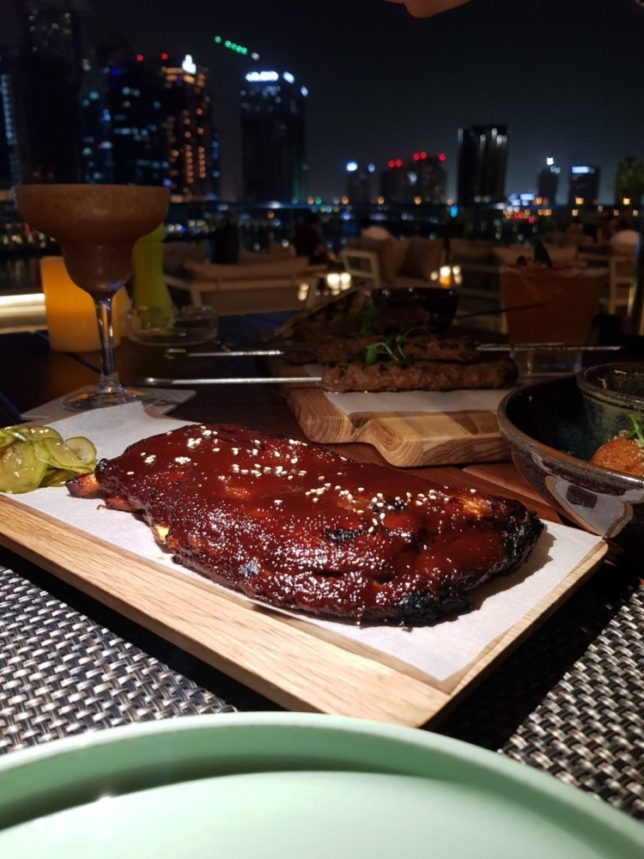 Delicious mains courses cooked on coals include 28 day aged Greater Omaha Choice beef served on the bone and succulent coal roasted lamb rump served with charred hispi cabbage, pickled onions, yoghurt and pomegranate seeds.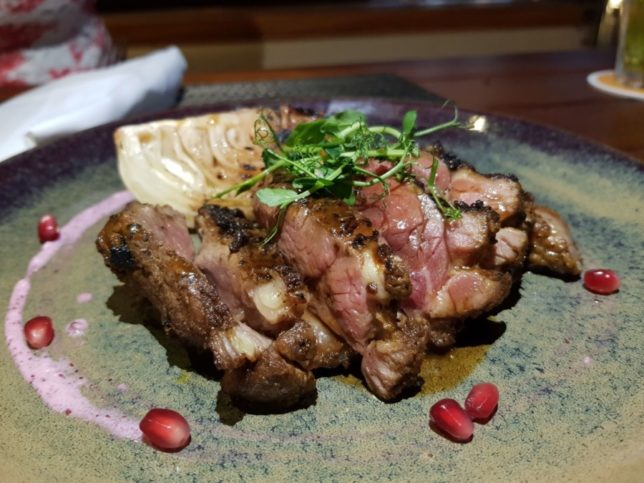 Also on the menu are a fish lovers delight like flame grilled jumbo prawns served with their heads and seasoned beautifully with garlic, green onions, sumac and smoked sea salt.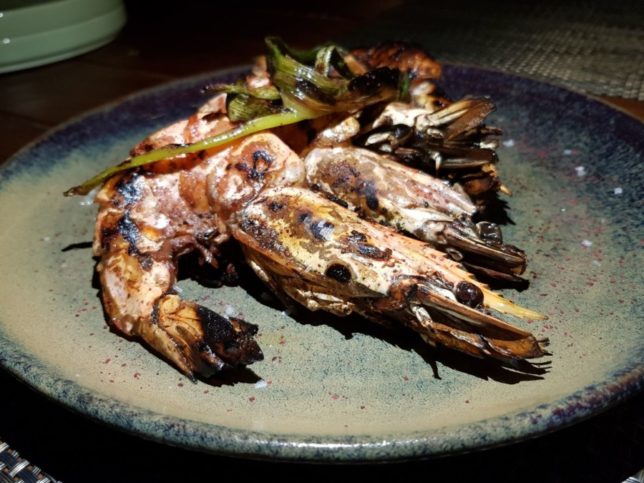 Not forgetting some very tempting sides like these triple cooked fat chips with smoked salt.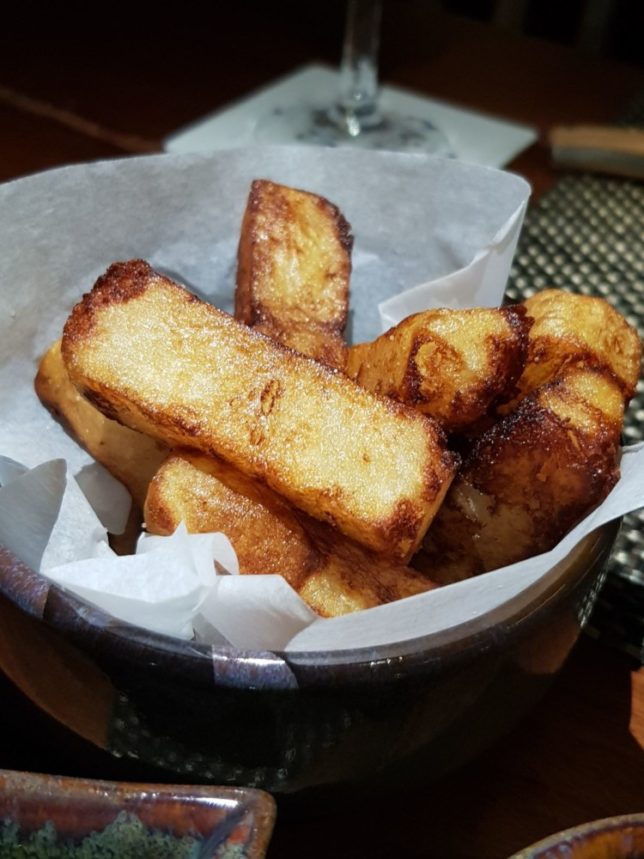 Save room if you can for the dessert menu sure to satisfy any sweet tooth with choices like this modern interpretation of the classic American favourite S'Mores comprising of chocolate mousse, toasted marshmallow,  Graham crackers and a rich chocolate sauce.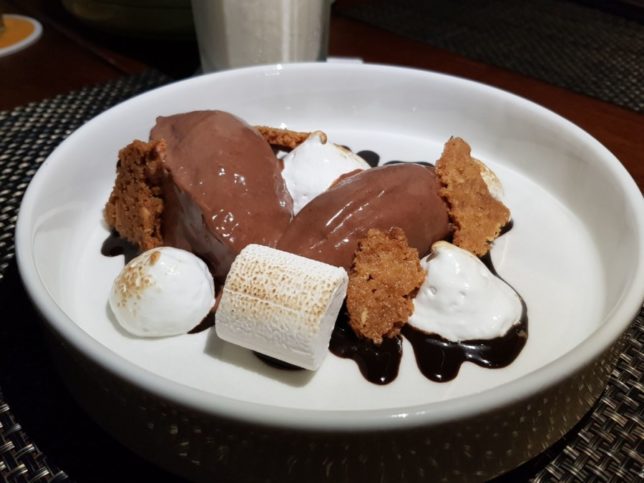 Let's take one last look at that truly unforgettable Dubai skyline as we end the meal on a high with a scrumptious dessert and a cheeky naughty shake.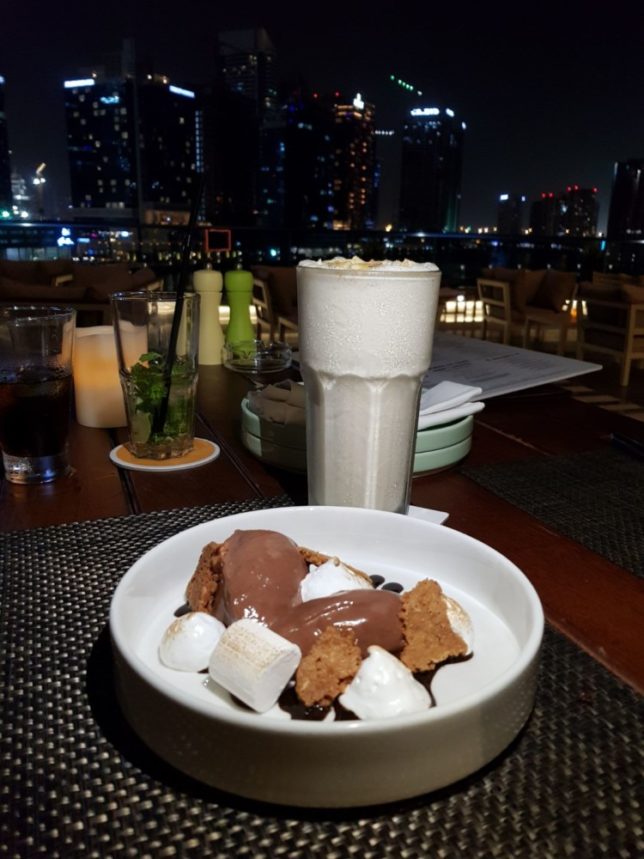 Having reached the end of a decadent evening of gastronomic delights, it was time to retire to the luxurious comforts of our suite.
Radisson Blu Hotel, Dubai Waterfront
Business Bay, Dubai, UAE
+971 4 249 7800
www.radissonblu.com/en/hotel-dubaiwaterfront