Located on Great Cumberland Street, The Arch London is a boutique hotel in the heart of the capital close to Marble Arch, Oxford Street and Hyde Park, making it the ideal spot for any London visitor on business or pleasure who is seeking a five star hotel that delivers more. Combining flawless personal service with laid-back luxury, The Arch London is a family-owned hotel blending Georgian grandeur and heritage with exceptional modern facilities. As an independent hotel they are able to do things a little differently as we were happy to discover.
Our editor Ms Sheridan Williams was hosted by The Arch London, a member of Pride of Britain Hotels – a collection of 49 privately-owned independent British hotels. Carefully curated British art adorns the walls at this luxury London townhouse hotel set in a tree-lined street close to Marble Arch and Hyde Park. The relaxed restaurant Hunter 486 takes its name from the 1950s district dialling code for Marylebone. Prices start from £250 per room per night (two sharing). Dogs cost £15 per stay including a bed, bowls, treats and a toy. Contact Pride of Britain Hotels on 0800 089 3929 (www.prideofbritainhotels.com).
The first difference that make The Arch London such a pleasure to stay at is that they have a unique dog-friendly policy welcoming dogs of all sizes, from toy dogs to Great Danes. Moreover they make your four-legged friend feel really special with the same five star luxury that his two-legged companions can expect to receive. Recognising Puppy Gizmo at the entrance, the doorman gave all of us a very warm welcome and after a swift check-in we made our way to the room. After his long journey Puppy Gizmo couldn't wait to kick back, relax and check out his feeding bowls and dog bed kindly provided by the hotel.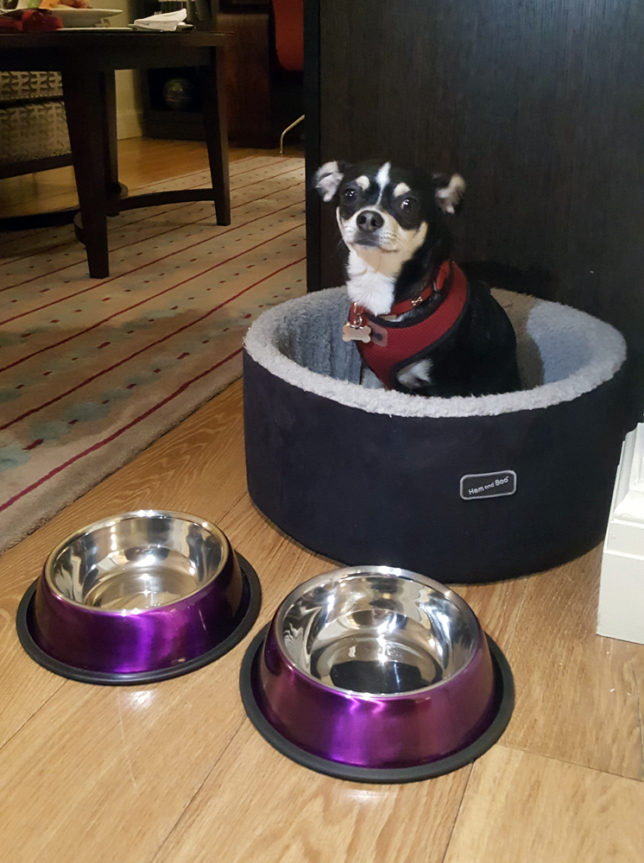 Each of the 82 individually designed guest rooms showcase opulent fabrics, hand printed wallpapers and the latest gadgetry to compliment the hotels luxury boutique surroundings including Nespresso coffee machine and full Sky HD TV package. Comfortable beds piled high with a choice of pillows and covered in crisp Egyptian cotton sheets and duck down duvets await you for a night of sweet slumber. There is also a complimentary soft drinks minibar filled with sodas, juices and water in addition to tea making facilities with china teapot and luxurious Jing teas. After a much needed nap, Puppy Gizmo was looking forward to his yummy dinners.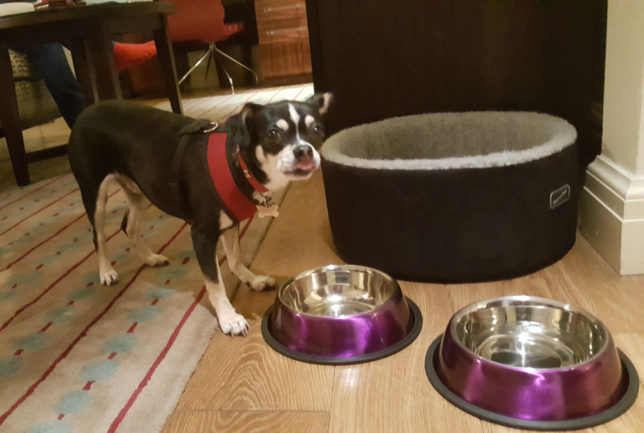 Speaking of dinner, it was time we headed down to ours. Hunter 486 is one of our favourite restaurants in London and we were warmly welcomed by the restaurant manager Tugend Demir and members of his attentive experienced team upon arrival.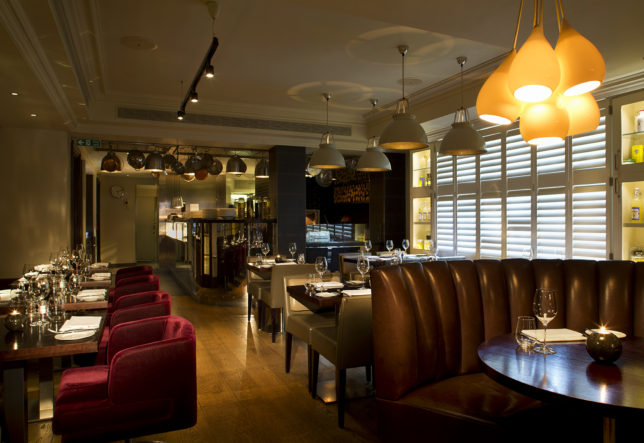 The Arch London's beautifully designed restaurant is named after the 1950s dialling code for Marylebone and offers a 'Best of British' inspired menu with an enticing range of cuisines to suit all tastes. The menu has been carefully developed by Head Chef Gary Durrant with award-winning food writer Henrietta Green and showcases seasonal British cuisine and the wonderful ingredients we have available on these shores such as beautiful British beef.
The starters arrived swiftly and we couldn't wait to tuck in. The food looked so good our mouths couldn't help but watering as we took our photos. Time for a closer look.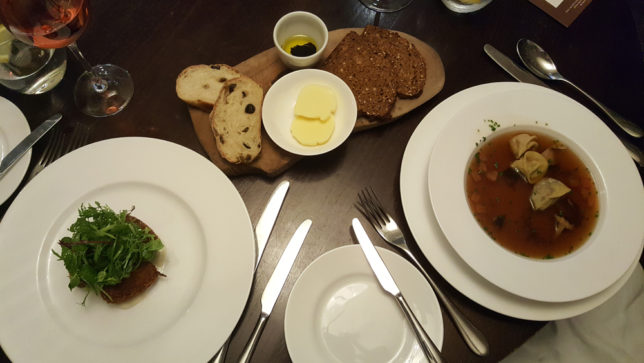 A selection of breads – Olive and Rye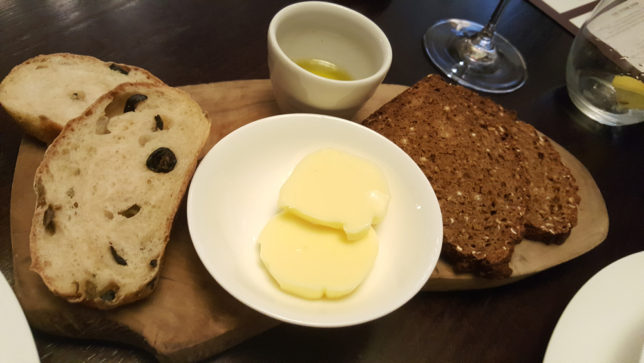 Salt beef croquettes, horseradish mayonnaise. Hunter 486 has recently changed their menu and watching these little beauties pop out to other tables we could not help but order them. Our wait staff for the day was highly knowledgable about all the new food and were very helpful in helping choose what to order. The passion for food clearly runs through the restaurant from the chef all the way to the tables.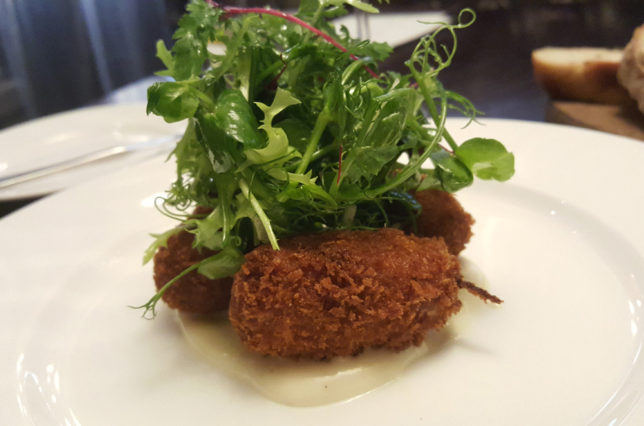 Mushroom consommé, truffle tortellini was a nice warming starter. Light but full of flavour it set the scene for the rest of lunch.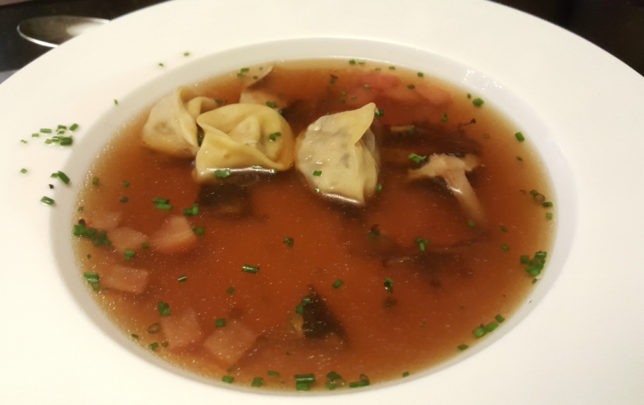 Braised lamb shank, rosemary mash, grilled aubergine, fennel and courgette was a hearty dish and one to order if you are rather hungry. The photo speak sfor itself as to the succulence of the meat in this dish.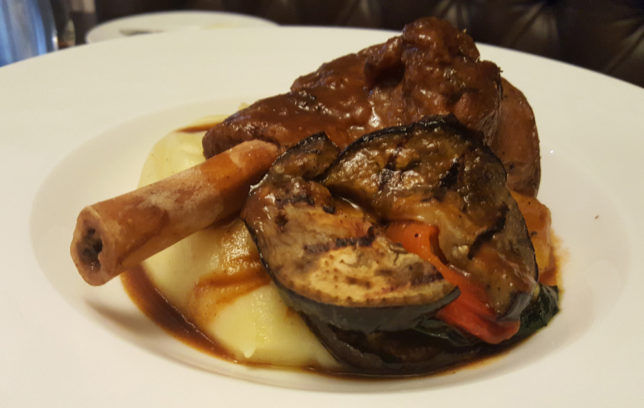 A really generous portion of soft succulent lamb meat enough to satisfy any appetite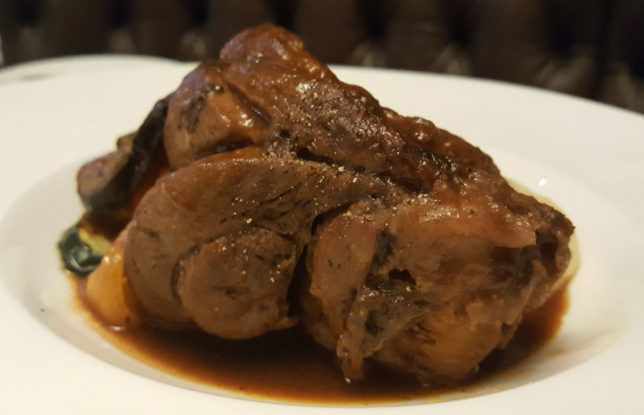 Hunter burger in a brioche bun, onion marmalade, French fries appears on the menu but flexible as ever the kitchen are able to serve your burger however you want and we requested a plain burger no onions. Paired well with a glass of rose, but do check out their extensive cocktail list, perhaps a little early at lunch but all the more reason to visit again when night falls.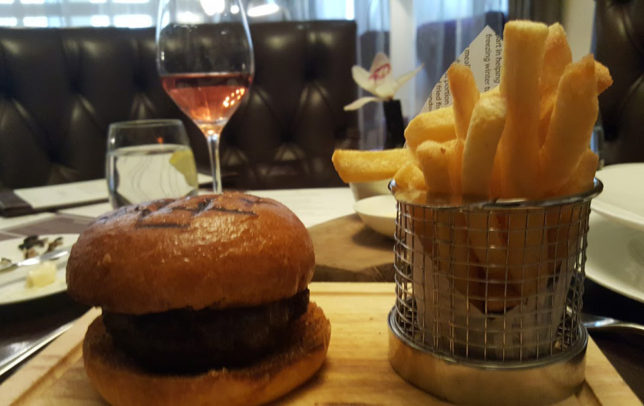 For those who have room, we highly recommend the sticky toffee pudding, salted caramel ice cream and dried banana chips. Sweet tooth heaven.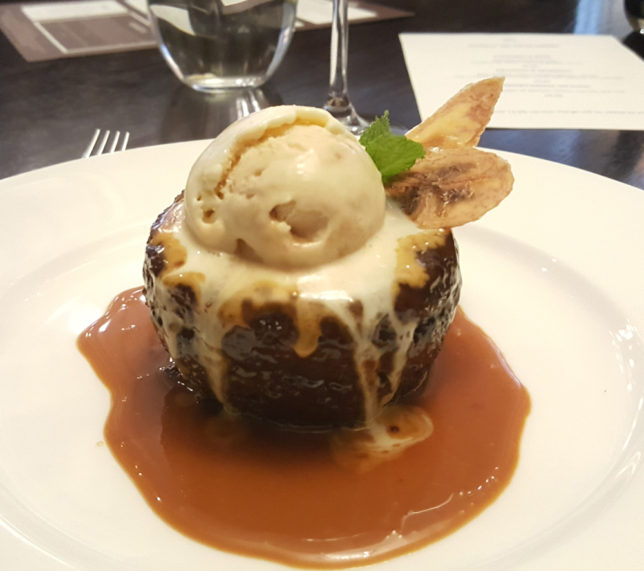 Or for the chocoholics among you then your chocolate cravings will definitely be satisfied with this chocolate fondant, salted caramel ice cream, peanut brittle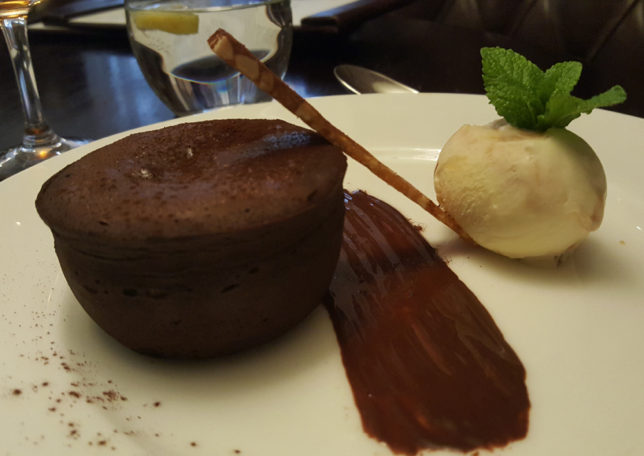 But what about puppy gizmo. He has been perusing a menu of his own. The Arch caters for all pets and welcomes dogs with its well thought out pets menu. The food comes freshly prepared and warm enough to take any pooch to seventh heaven.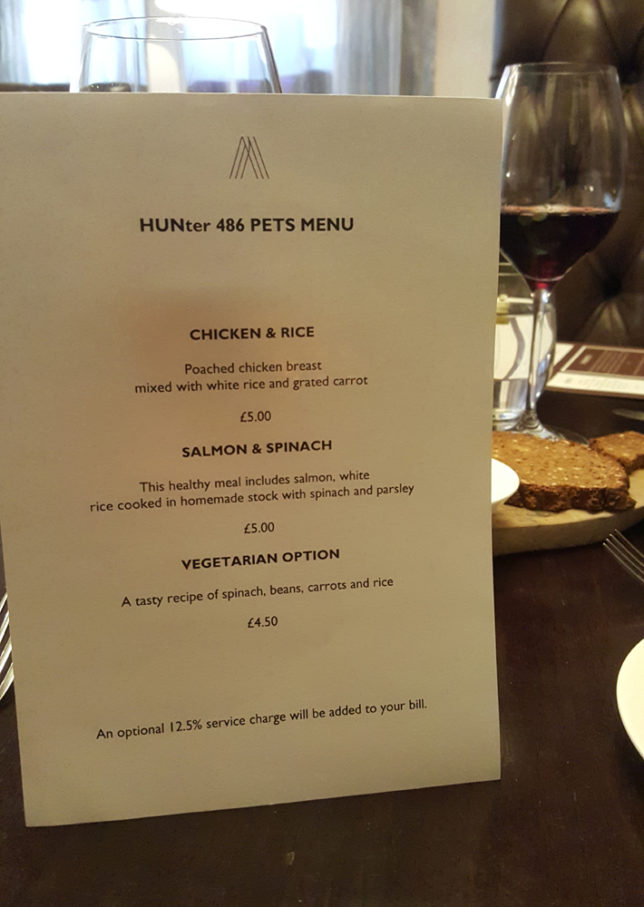 Puppy Gizmo shares his enthusiasm for the menu by sitting and wagging his tail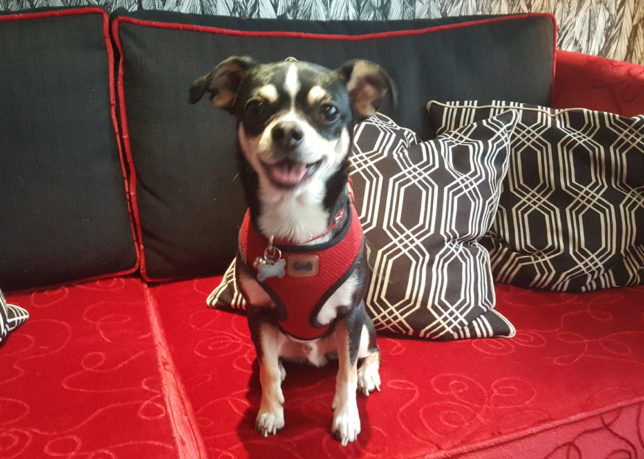 It all looks so good but how could i possibly eat all that food. The generous portions seem overwhelming at first, but puppy gizmo is a seasoned professional and…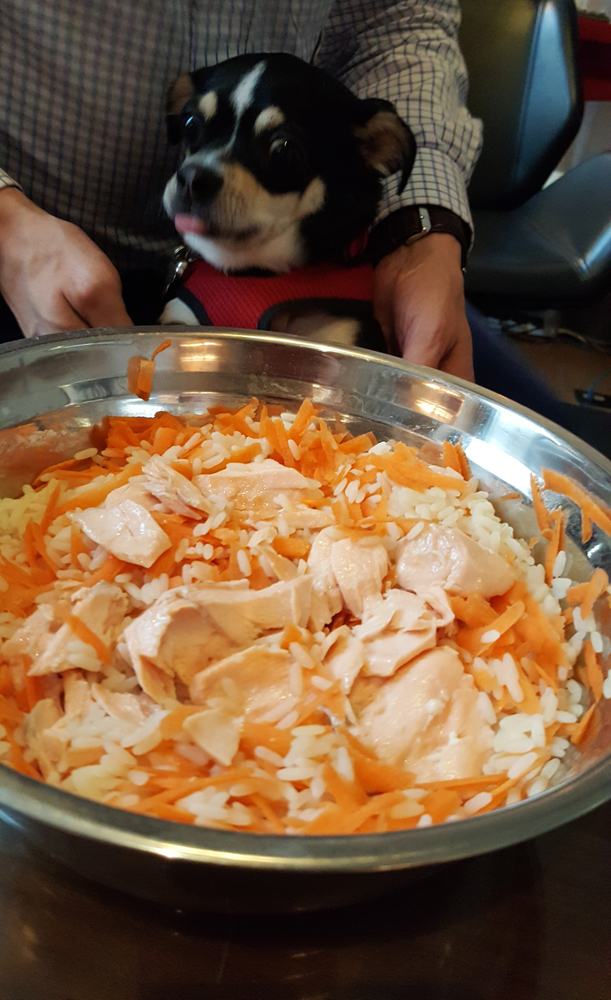 now unfazed Puppy Gizmo tucks into his bowl of Salmon rice and carrots. He is in doggy seventh heaven.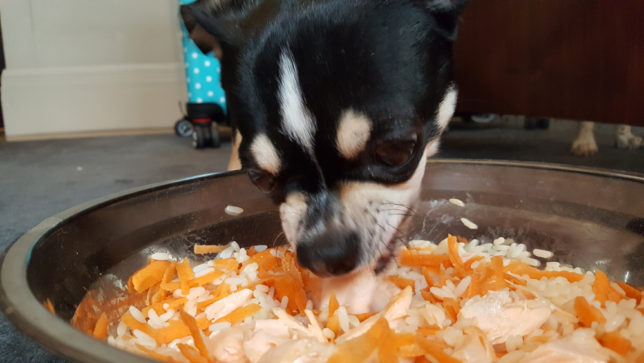 Puppy gizmo was too full to comment on his lunch but with Regents Park so close by, he was soon able to walk it off.
A thoroughably enjoyable stay from start to finish. The Arch is a home away from home where all your loved ones are catered for no matter how many feet they have!
The Arch London
50 Great Cumberland Place, Marble Arch, London, W1H 7FD
0207 724 4700
www.thearchlondon.com
@thearchlondon