Inspired by the traditional five elements of Balinese design, Mövenpick Resort & Spa Jimbaran Bali is the first Mövenpick resort in Indonesia which opened at the beginning of 2017. The resort features 297 comfortably appointed and tastefully furnished rooms and suites, each featuring private balconies, complimentary WiFi and a subtle Balinese sense of art, colour and style courtesy of the fabrics and materials utilised in the design.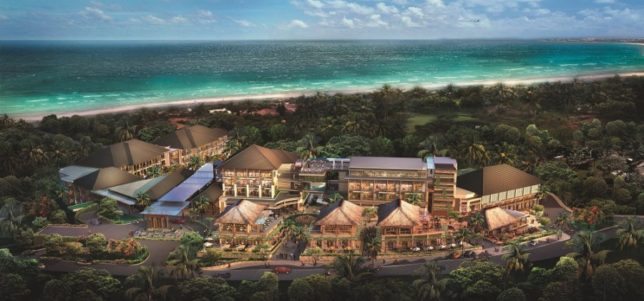 The newly built hotel is a short three-minute stroll to Jimbaran Bay in southern Bali, renowned for its four kilometre stretch of pristine beach and located approximately 20 minutes from the island's Ngurah Rai International Airport. Arrival at Mövenpick is a special occasion, leaving the hustle and bustle of the busy roads from Bali airport and stepping into an oasis of calm tranquility in the hotel lobby. As we walked up to the reception we were given a beautiful Balinese welcome with chilled welcome drink and a garland of flowers to wear.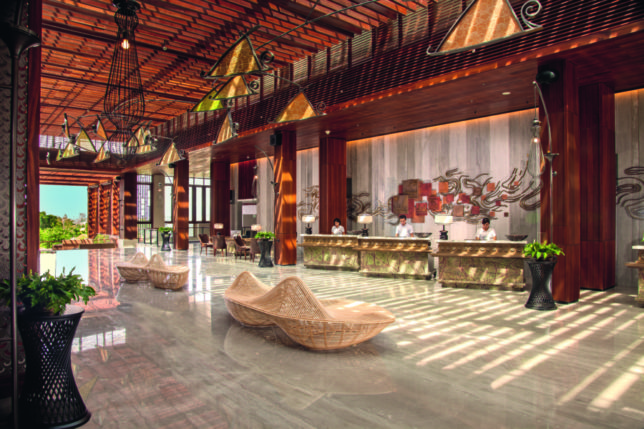 Mövenpick's Jimbaran Bay resort adds to the relaxed ambience with traditional tingklik (bamboo percussion instrument) being played to soothe the soul and let you leave your cares drift away. It is clear from the start that your dreams of a relaxing holiday will be catered for by the ever-smiling staff at Mövenpick who are on hand to make your stay an enjoyable one.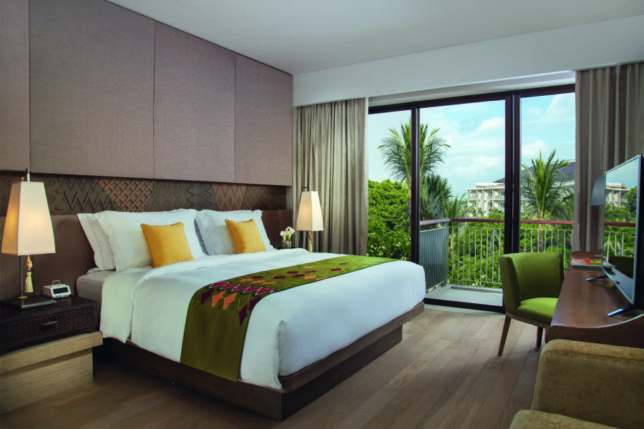 We enjoyed the comforts of the impressive 52 sqm Junior Suite during our stay at Mövenpick Resort & Spa Jimbaran Bali surrounded by breathtaking panoramic pool and garden views and a relaxing luxury bathroom. The balcony provides stunning views overlooking the hotel pool and stretching out across the breathtaking beauty of Jimbaran Bay. The suite is spacious with a well-appointed luxury bathroom including rain shower which makes you feel like royalty.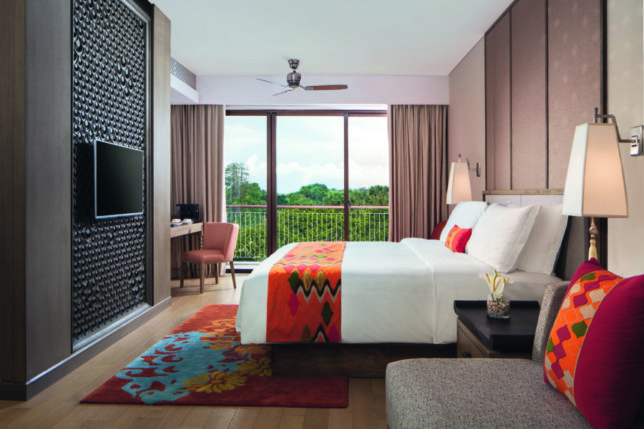 Bali's newest lifestyle and dining destination, the Samasta Village shopping complex, is located next to the resort with its shops, cafes, restaurants and entertainment performances, complete the Balinese experience for visitors. Central to the attractions of the new resort are its extensive family and culinary facilities and activities leveraging the expansive space on which the property is located.  The resort's Katha Lobby Lounge & Library invites guests to unwind over an intimate beverage tapping into the essence of the reputation of hospitality excellence of the Mövenpick brand.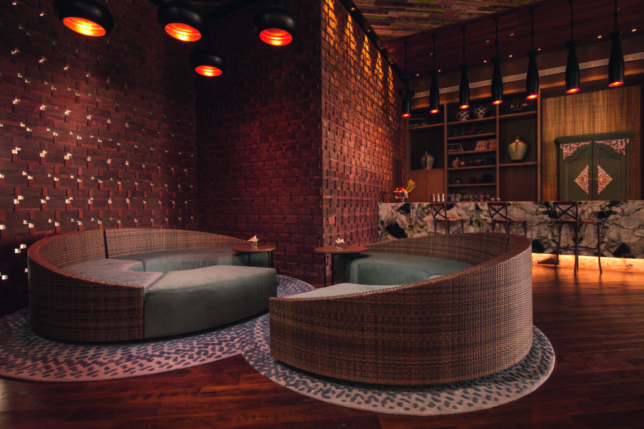 One of the highlights of the resort is its free-form swimming pool which features a lap pool and an artificial beach area with white sand from Australia, offering a total of 2,900 sqm of pure water fun. Guests also have access to the 24-hour gym, whilst those wishing to indulge in a relaxing experience are welcome to visit the spa, which highlights Balinese and Indonesian spa and beauty culture.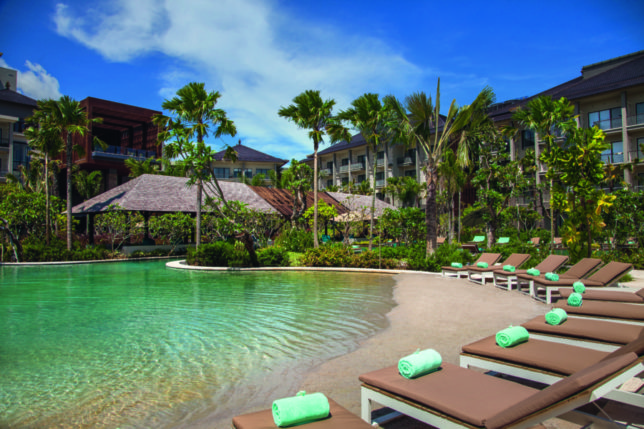 During our stay we were invited to Mövenpick's Arkipela Spa to experience their indulgent couples massage. If you want a heightened sense of relaxation then look no further. From the moment we stepped into the spa our every need was catered for. Starting with a cleansing Foot Ritual, we then we treated to a relaxing Signature Massage, designed exclusively for Arkipela, this intuitive treatment focused on our individual needs and used a combination of Balinese, Lomi-Lomi, Swedish, Acupressure, and yoga-inspired movements which left our mind and bodies back in balance and ready to face the rest of our day revitalized.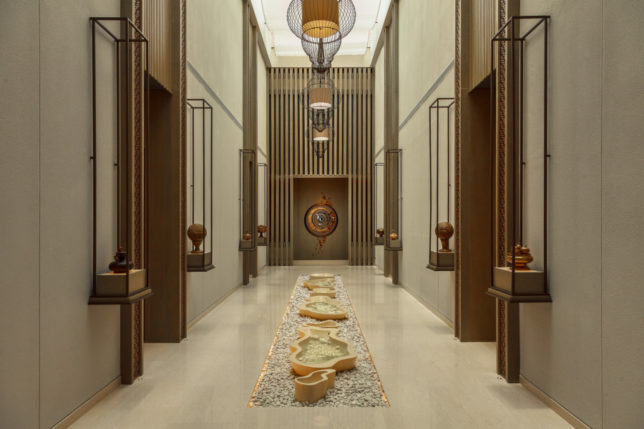 An extensive range of dining and drinking options will cater to every guest's individual tastes including casual bites at JeJaLa Pool Deck which provides a vast selection of refreshments to the pool deck, 213 sun loungers, and eight private cabanas. On one of the nights of our stay at Mövenpick Resort & Spa Jimbaran Bali, we enjoyed a sumptuous Seafood Barbecue Night at JeJaLa Pool Bar.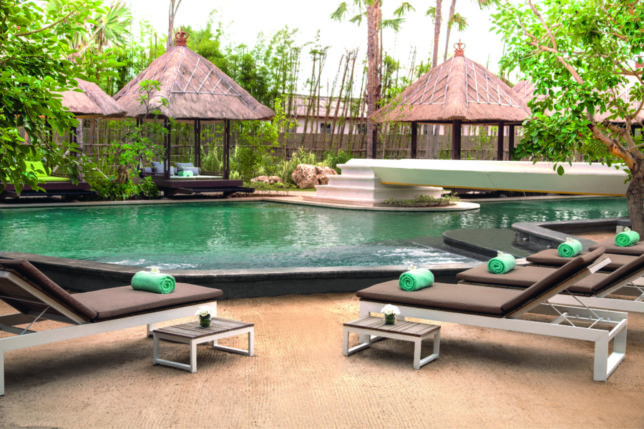 The Mövenpick Café offers a world of delights for children and adults alike. We had timed the afternoon of our arrival perfectly as it was chocolate hour. Every day at 4pm Mövenpick puts on a chocolate spread even Willy Wonka would be envious of. In addition to the decadent chocolate, Mövenpick Café also serves the group's famed coffee and Swiss-style artisanal ice cream.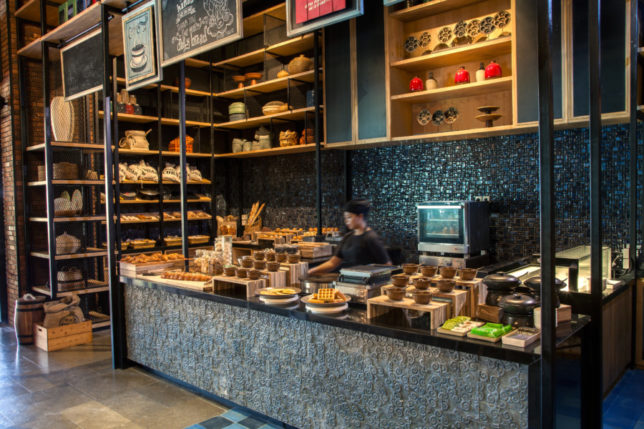 Mövenpick's signature Anarasa restaurant is a venue to be proud of with interactive live cooking stations and internationally influenced a la carte menus. During our stay we were able to sample the delights of this first class restaurant in all forms.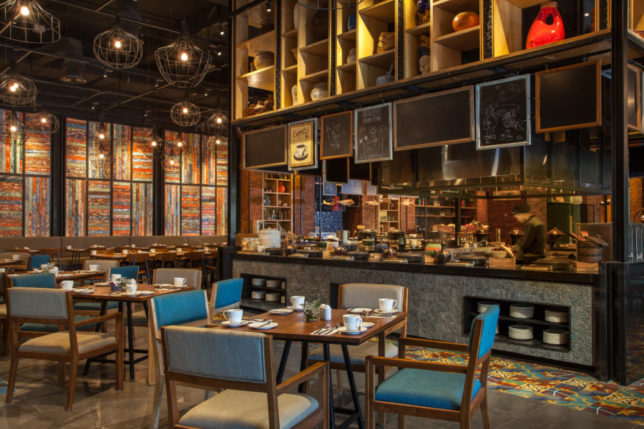 The Robatayaki grill was our favourite especially on the fresh seafood night when every ocean delight is laid out to choose from. The night was made even more special as a team of fire dancers were on hand to add a spark to our glowing night. At dinner we enjoyed a selection of vibrant tasting causas which are mashed potatoes, chili & lime, topped with Kani, Tuna & Betabel. Accompanied by two enticing cocktails including the Mr Sloan's favourite… Whiskey Sour.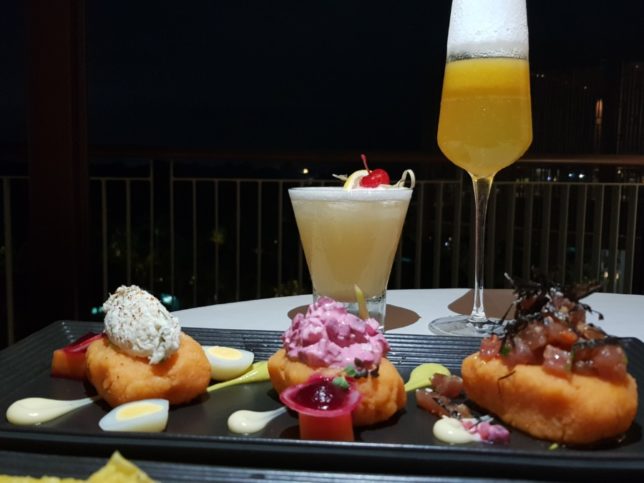 The delicious Causa Kani was Crab meat, Togarashi mayo, avocado, Quail egg with red Huancaína Sauce whilst the Causa Tuna was Tuna tartar and guacamole with red huancaína sauce and Causa Betabel was Beetroot, carrots, avocado, mayo and red huancaína sauce.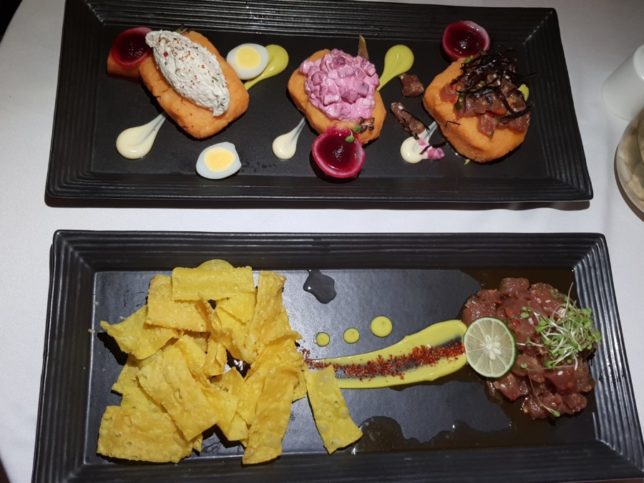 We also enjoyed the Tuna tartar with avocado, coriander, wonton crisps, sesame and red chili-wasabi dressing whilst the Salmon Arroz Negro was a delightful dish of squid inked rice, prawns, baby squids, grilled salmon,
and garlic chips.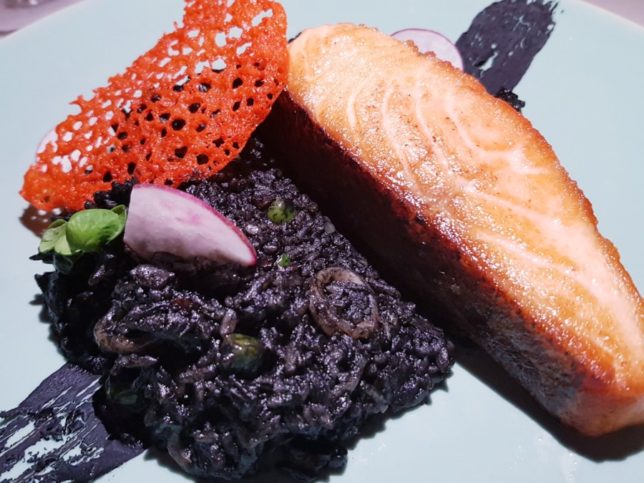 Above Eleven Bali is a unique new rooftop restaurant and bar that pairs breathtaking views with creative Nikkei cuisine within the Samasta Lifestyle Village at Mövenpick Resort & Spa Jimbaran Bali. The new concept restaurant features a quirky maze that leads diners from the entrance through to a generous restaurant space.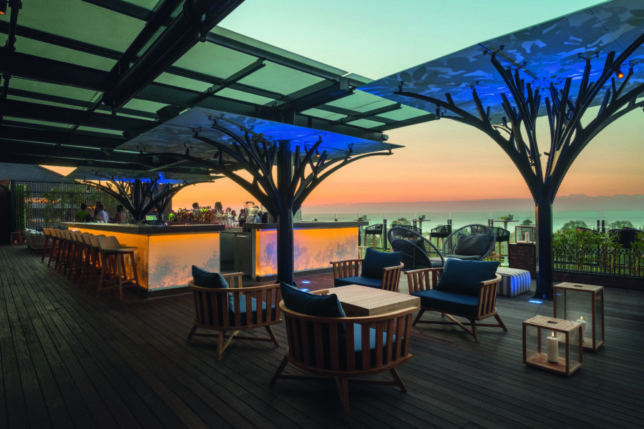 A contemporary park vibe then emerges with lush greenery and sleek design touches and a choice of indoor and al fresco options for casual drinks and dining. Complementing the main restaurant, a green garden tunnel opens onto a funky offshoot named Gramercy Park – a chic additional space housing a trendy food-truck style cocktail and spirits bar, named after New York's fashionable upscale restaurant quarter.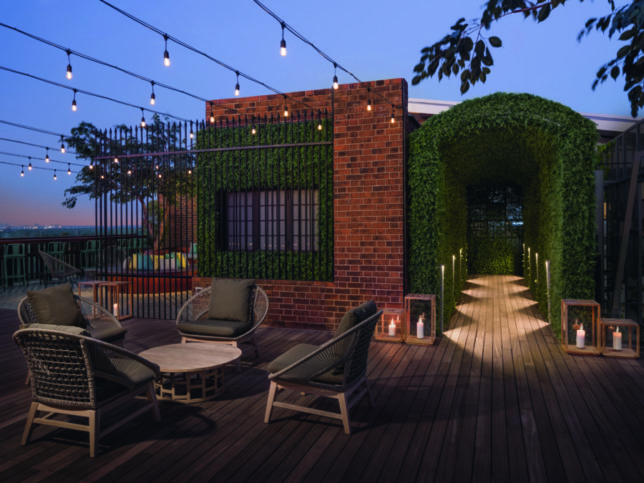 "Mövenpick Resort & Spa Jimbaran Bali is one of our newest properties in Asia, so we are delighted to be able to extend the guest experience we are renowned for at Above Eleven Bali. The Mövenpick brand is known globally for its culinary heritage, and this new restaurant's unique gourmet dining concept is therefore an ideal pairing," said Andrew Langdon, Senior Vice President Asia and Chief Development Officer, Mövenpick Hotels & Resorts.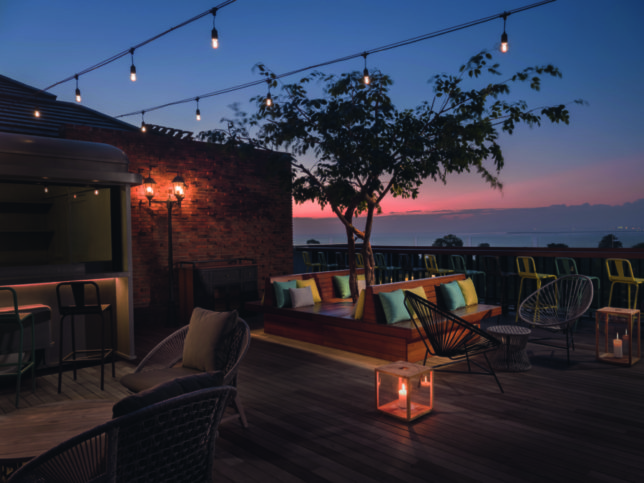 Chef Renzo Vachelli brings a choice of authentic Nikkei cuisine to the menu at Above Eleven Bali, an art he perfected during several years working in the top kitchens of Peru. The dishes offer colourful presentations and exciting flavours that reflect a Japanese influence on Peruvian food culture that dates back over 100 years.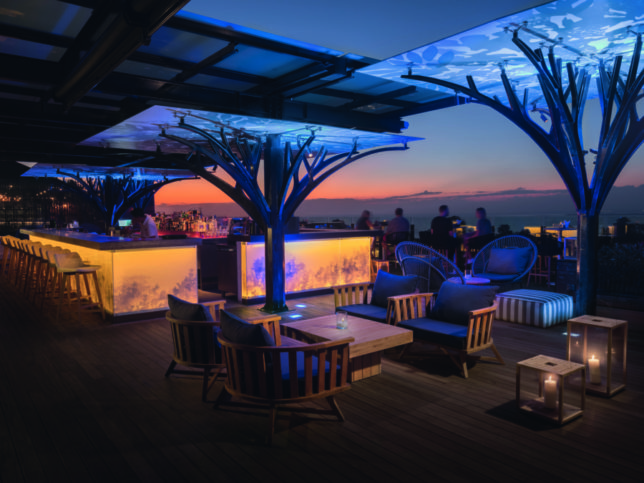 Adding to the sophisticated appeal, Above Eleven Bali serves an impressive list of cocktails, some inspired by the Peruvian Japanese menu, others more tropical or classic. Good music is another mainstay with live DJs on rotation every night, as well as occasional special entertainment line-ups.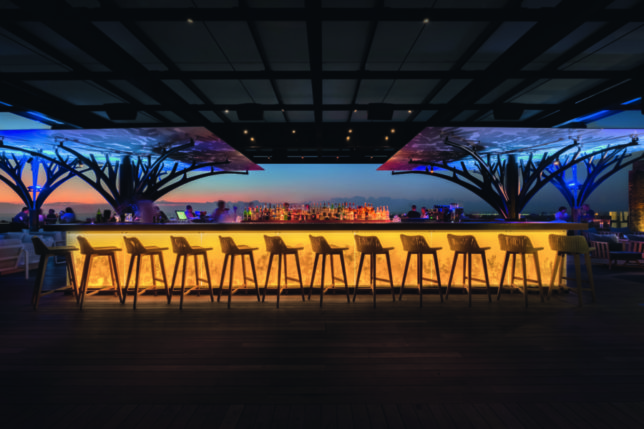 Breakfast at Mövenpick is an impressive affair with everything from pancakes, traditional British cooked breakfast, Balinese food, a fresh fruit station where you can get freshly squeezed juice, an international selection of fresh food from around the world and an interactive dining section where you can choose from a variety of different eggs cooked to order. There really is something for everyone ensuring every visitor will leave fully satisfied and all set to enjoy the rest of their day.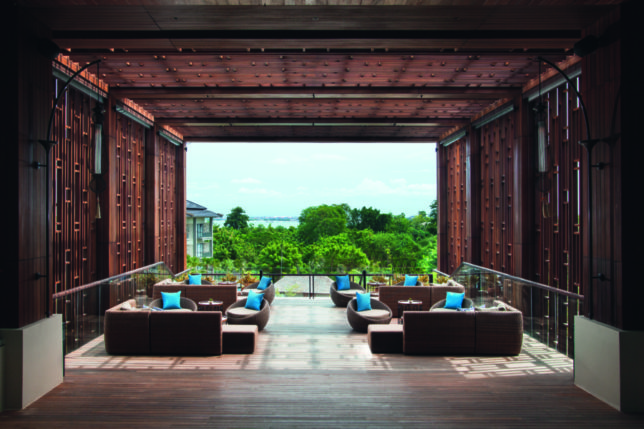 Mövenpick Resort & Spa Jimbaran Bali is another impressive milestone for the Swiss hospitality group as it grows in the region and combines the best of upscale Swiss-inspired service excellence with warm Asian hospitality. We highly recommend a stay at this resort when you visit the beautiful island of Bali.
Mövenpick Resort & Spa Jimbaran Bali
Jl. Wanagiri No. 1, 80362  Jimbaran, Bali, Indonesia
+62 361 4725777
www.movenpick.com
@movenpickbali