Jazzgir is a fabulous Mediterranean restaurant to arrive on the London food scene, offering a vibrant serving of jazz to accompany fresh dishes and sharing platters in the heart of Canary Wharf. Don't be put off by its decadent styling and lush interiors… although the restaurant interiors are luxurious the food menu consists of affordable dishes that look and taste as decadent as their surroundings.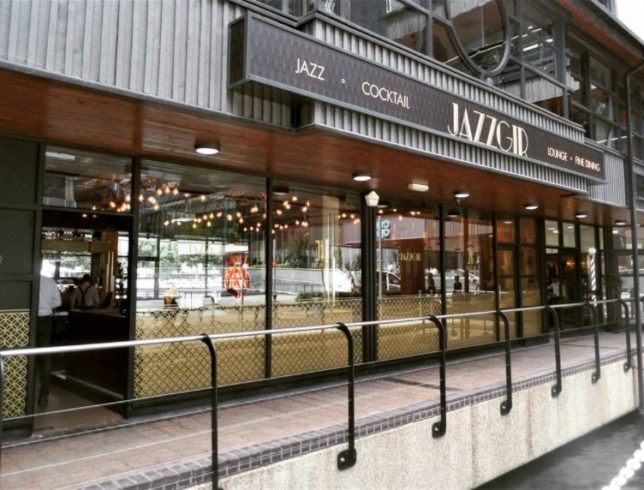 Situated harbour side, Jazzgir overlooks the water and offers an easy-going ambiance to reflect the laid-back Mediterranean lifestyle. Jazzgir's interiors feature warm, neutral colours combined with golden notes, wooden features and leather sofas, to provide a welcome escape from the harsh lines and grey palette of city life.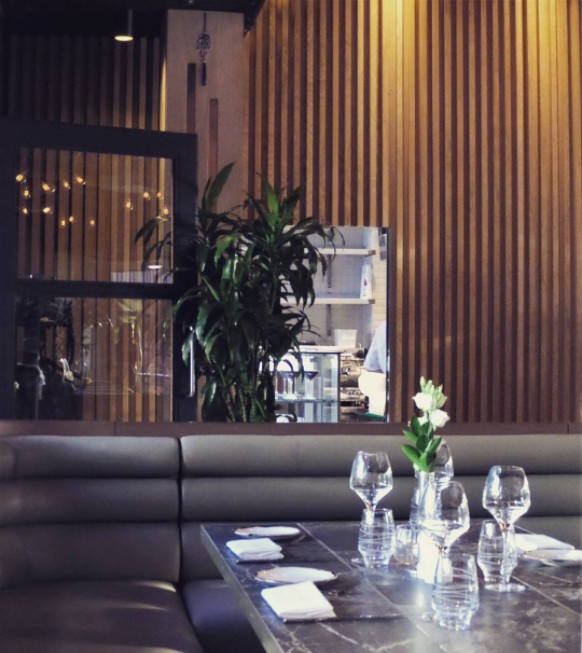 Following in the successful footsteps of their previous restaurants: Kilikya, Bellaria and Bacco, Jazzgir adds a unique addition of drinks-to-dinner entertainment to their culinary portfolio. What makes this Canary Wharf eatery unique is the accompanying live jazz music to be enjoyed every evening from 5pm. Jazz is at the heart of Jazzgir's character and the restaurant hosts some of the most talented musicians on the London Jazz scene, including 'Canary Three' – the UK's top female jazz trio who have previously performed at top events such as Coachella and Glastonbury.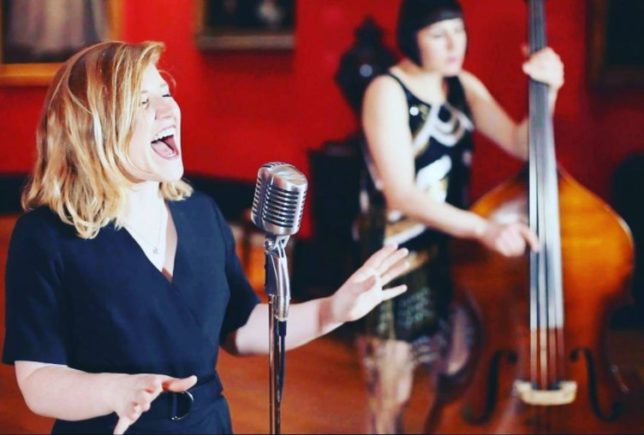 Each evening Jazzgir's live music starts with acoustic piano creating the perfect backdrop to chilled cocktails and relaxed dining, with live jazz bands swinging into action from 7-9.30pm followed by a DJ set until late, allowing guests to kick-back and enjoy a vibrant and lively evening.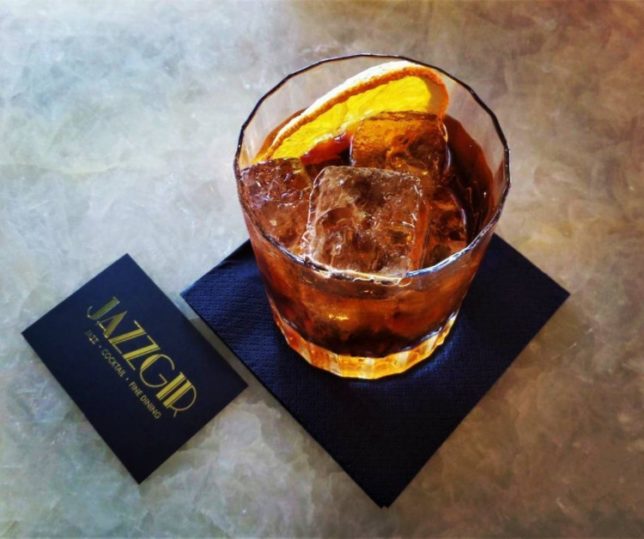 The restaurant's marble covered bar offers classic cocktails with a contemporary twist – said by discerning New Yorkers to serve some of the best drinks this side of Manhattan which makes Jazzgir the perfect venue for an after-work drink with work colleagues and the ideal location for late night Thursdays and Fridays after a demanding week for high-powered City workers.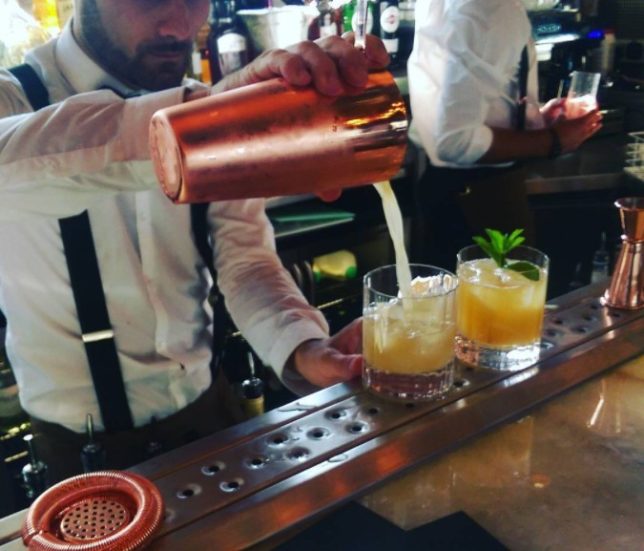 Talented Head Chef Raffaele Biancarddeu made his name working in some of the finest kitchens in Italy and the UK. At Jazzgir he has curated a menu which celebrates the best of Mediterranean cuisine with dishes created around a sharing concept to embrace the European culture of sharing food and enjoying music with friends.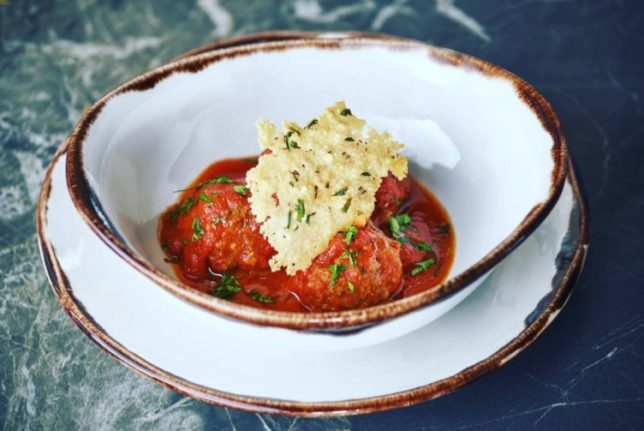 Talking about his carefully created menu, Biancarddeu  told us: "It's a trip in Mediterranean cuisine, all the flavours need to be there, we love organic products, especially from small farms. Quality food is a key, we don't accept any compromise, our guests deserve the best ingredients, always fresh and seasonal. All the recipes have been created taking inspiration from our family, what can be better than grandmother's food?"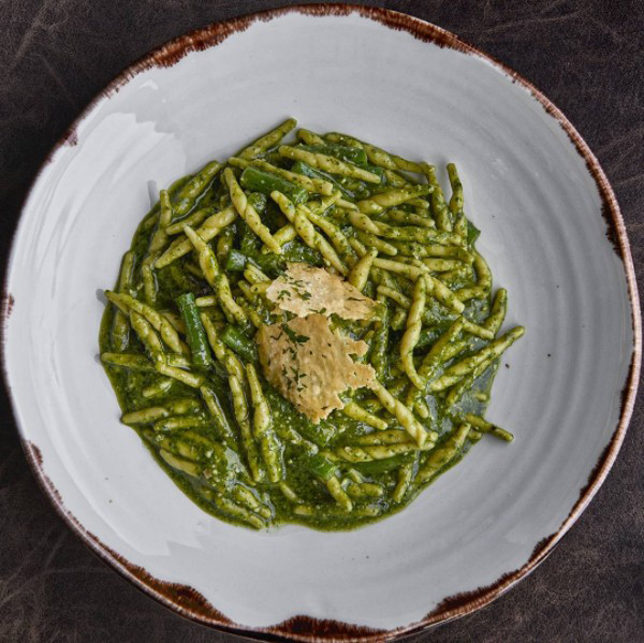 One of his stand out dishes is the fresh Pappardelle with a White Rabbit Ragu which offers an indulgent and rich Italian experience with the perfect balance of rich game flavours with the handmade pasta.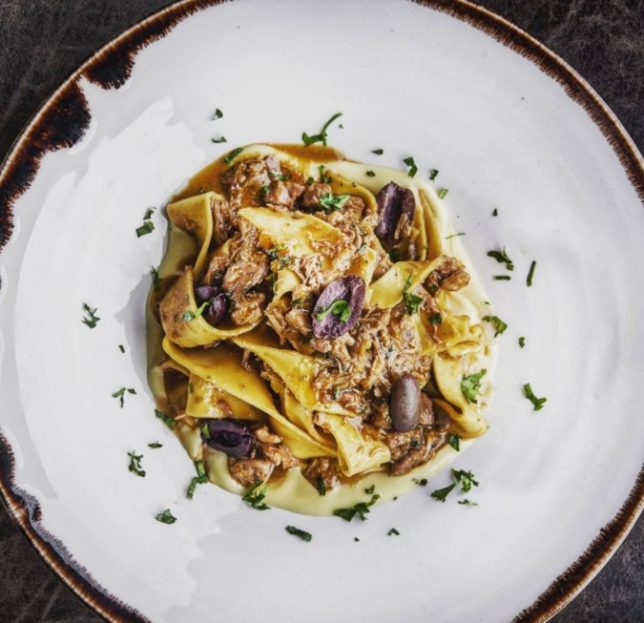 Accommodating Canary Wharf's business population, Jazzgir also offers its City neighbours a bespoke corporate menu. This menu is available to those organising parties of any scale, as well as offering daily meals for local offices on a take-away basis.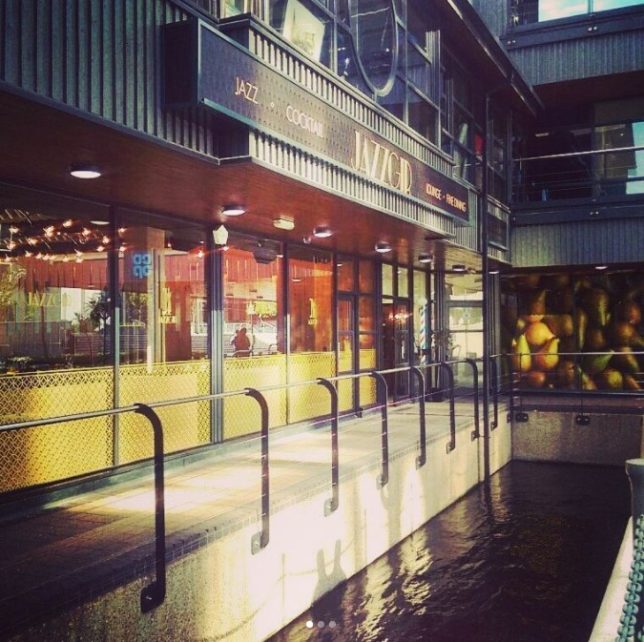 Throughout the evening of our visit we were delighted to engage in conversation with Michael Frassine, Jazzgir's Director of Marketing, Communications and PR, who made us feel most welcome and fascinated us with tales of the inspiration and design of the restaurant and his hopes for this unique drinking & dining destination. Over dinner we talked about everything from fine art to the choice of the restaurant's plates.
To begin our Jazzgir experience, Michael introduced us to the Head Bartender who served a couple of delicious and refreshing aperitif cocktails to kick off our evening in style. We were told that a discerning New Yorker exclaimed on her visit to Jazzgir that their cocktails matched up to the best in NYC… and after tasting these beauties, we have to agree.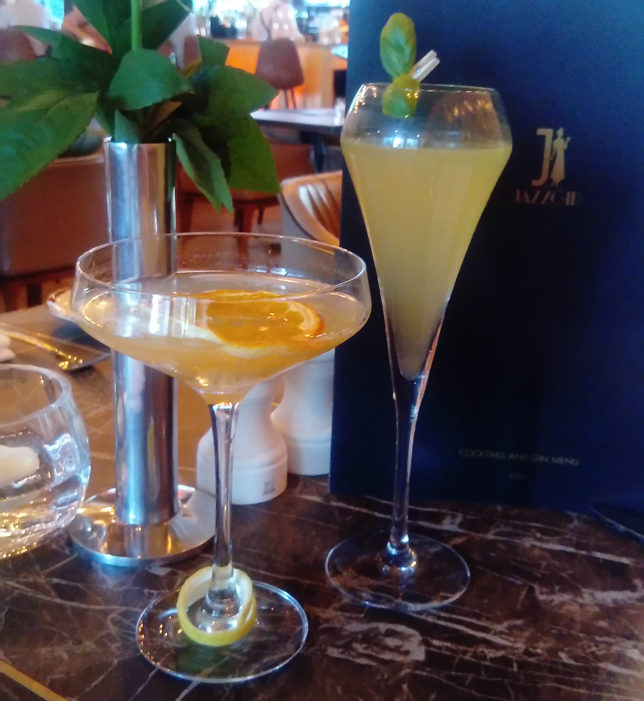 It was then time to meet Head Chef Raffaele Biancarddeu to hear more about the menu from its creator and get an insight into the inspiration for some of his favourite dishes… many of which are based on family recipes handed down through the generations made lovingly with the best British and Italian ingredients. We were honoured that Raffaele had planned an indulgent tasting menu for us showcasing Jazzgir's culinary highlights.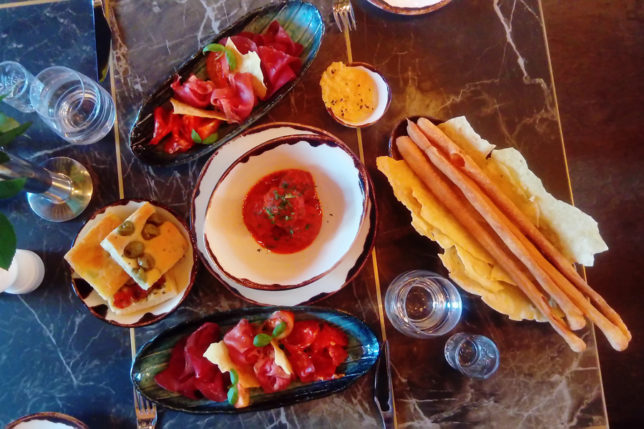 We began with antipasti dishes. First to arrive at the table were olives, platters of delicious Italian charcuterie including Prosciutto San Daniele DOP, Bresaola IGP, Culatello di Zibello DOP served with a selection of breads – Grissini breadsticks, Olive Focaccia and wafer thin Carasau.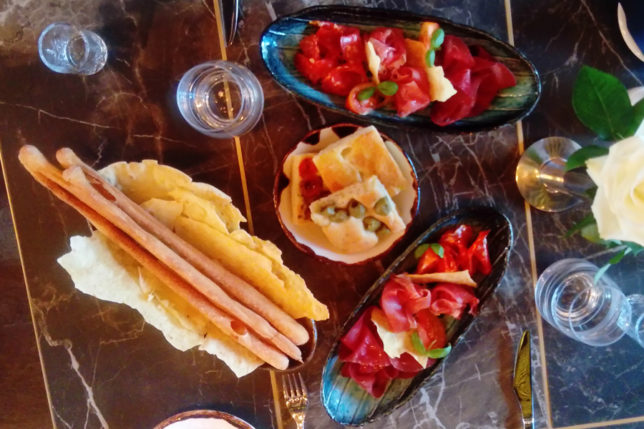 The charcuterie was superb and really demonstrated the exceptional quality of Italy's Protected Designation of Origin and Protected Geographical Indication cured meats.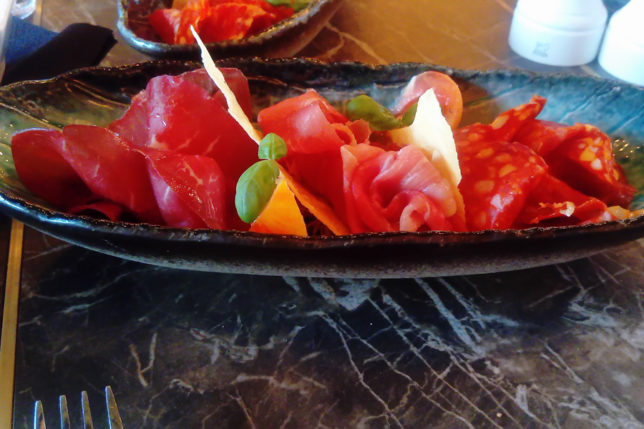 Next up was classic dish of homemade Veal Meatballs served with a Parmesan Crisp. Made to Raffaele's grandmother's original recipe, the texture and flavour of the meatballs was heavenly.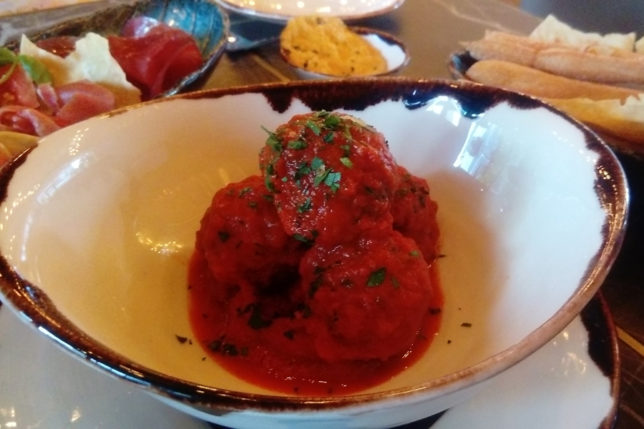 The next dish to be served was Raffaele's signature Fresh Pappardelle with Rabbit Ragu served with Kalamata Olives and Cherry Tomatoes. A dish to make his grandmother proud!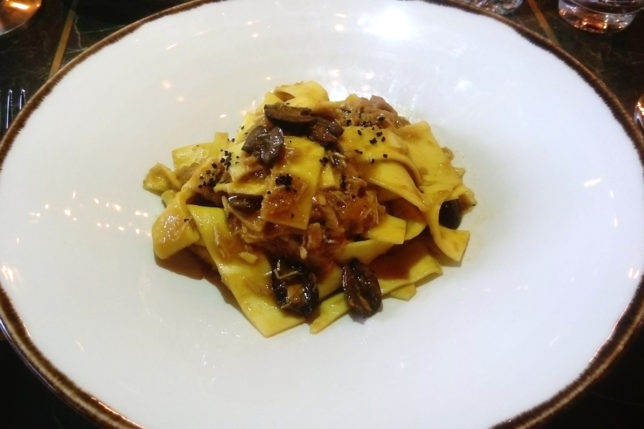 My dining companion was served one of his favourite dishes – Grilled Squid with Green Herbs Purè, Frisèe salad, Roasted Red Pepper and Tropea onion all'Amaretto all dressed with a zingy vinaigrette.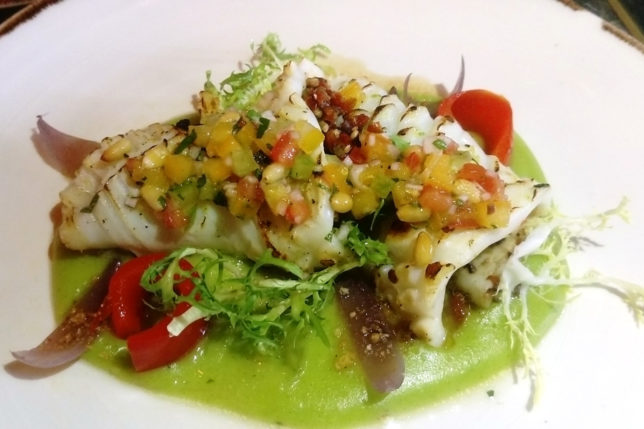 Check out just how succulent that squid is… it tasted even better than it looked!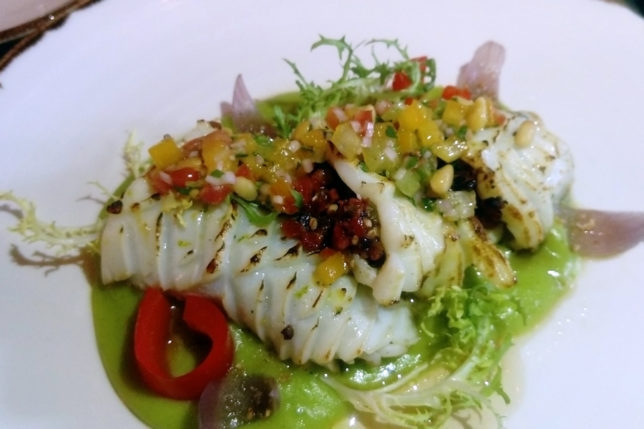 To bring this delightful feast to a close, Raffaele brought out a platter of decadent looking Baklava and Strawberries. A sweet indulgence that was the perfect end to a perfect meal and at only £4 won't break the bank even if it breaks the diet!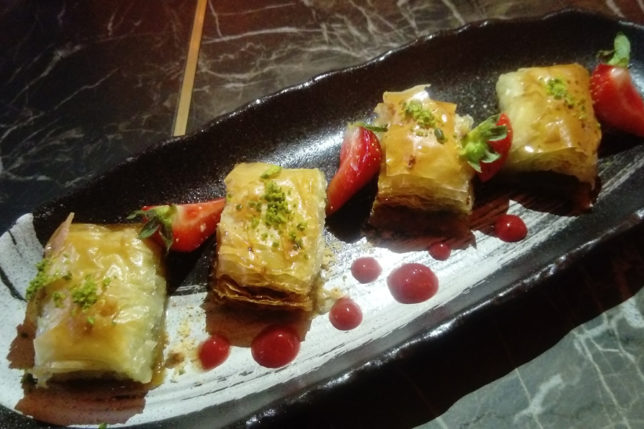 Enjoy a taste of the Mediterranean at Jazzgir this summer with a range of delicious variations of meat, seafood and vegan options sure to please every palate and preference. The Mediterranean menu reflects the diversity of the European coastline and the restaurant serves breakfast, lunch and dinner from Monday – Saturday to the workers and visitors of One America Square just a stone's throw from South Quay DLR Station.
Jazzgir
15-16 Harbour Exchange Square, Canary Wharf, London E14 9GE
020 7001 0400
www.jazzgir.co.uk
@jazzgirlondon