Hunter 486, The Arch London's beautifully designed restaurant, is named after the 1950s dialling code for Marylebone and offers a 'Best of British' inspired menu carefully developed by Head Chef Gary Durrant with award-winning food writer Henrietta Green. With an enticing range of cuisine to suit all tastes, Hunter 486 is the perfect destination for a unique experience showcasing seasonal British cuisine.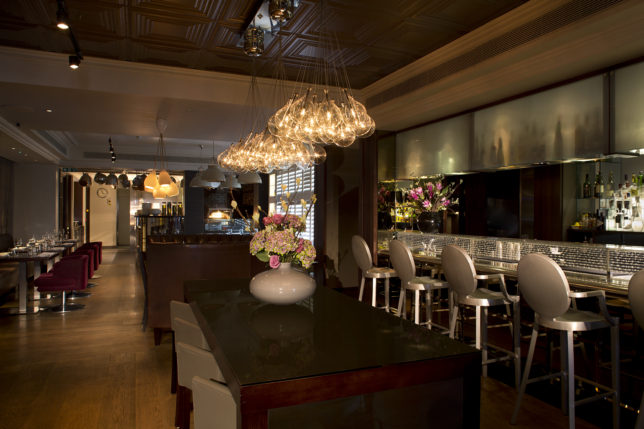 Hunter 486 has been designed with an air of nostalgic London glamour fused with contemporary touches. The restaurant features gleaming leather booths, blown glass chandeliers and statement artwork, plus an adjoining chic Salon de Champagne bar.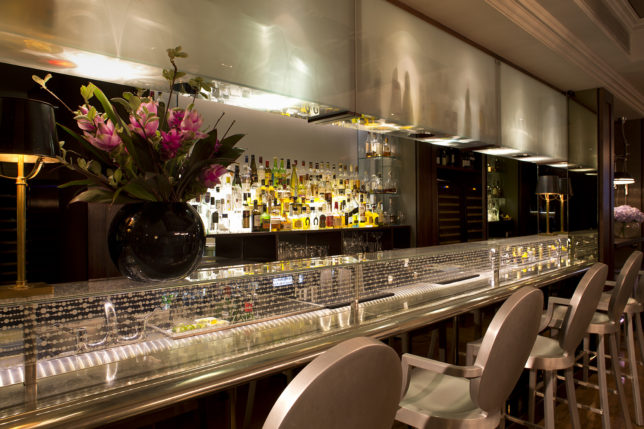 The kitchen is delightfully open plan and airy, allowing guests to watch the skilled chefs at work amongst the gleaming selection of copper pots and pans suspended from the ceiling.  The soft lighting in the evening provides an intimate, romantic setting for dinner and drinks.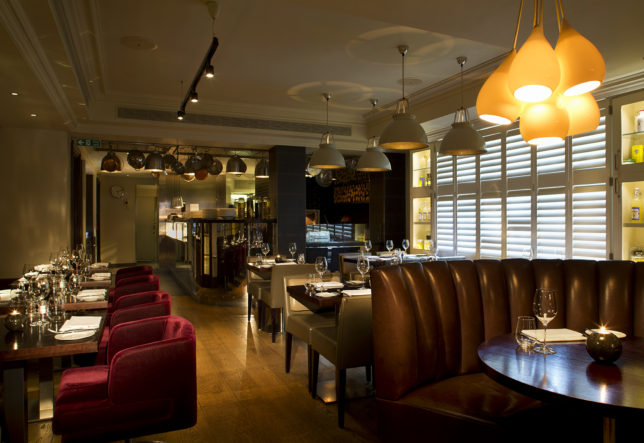 Having taken our seats in the restaurant, we started with a selection of bread and refreshing cocktails before perusing the menu to decide what we would be ordering for the meal ahead.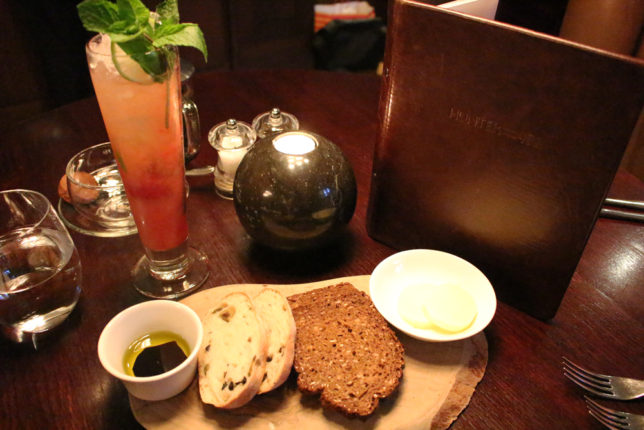 The menu at Hunter 486 focuses on Plates, Pots, Boards and Bowls for one or two share, either at the bar over a cocktail, or in the restaurant as a starter or main course, and include homemade crisps with sage, lemon & sea salt made freshly every day. To start, I chose the dressed Dorset Crab with avocado and pink grapefruit served on a bed of crisp salad leaves.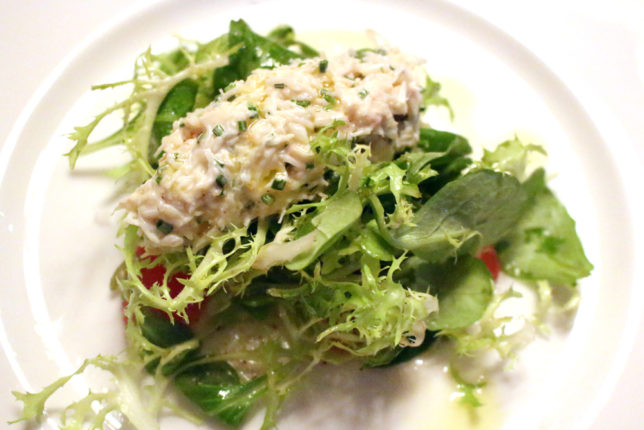 My dining companion ordered a very healthy looking salad of quinoa, rocket, grilled vegetables, Rosary goat's cheese and basil dressing.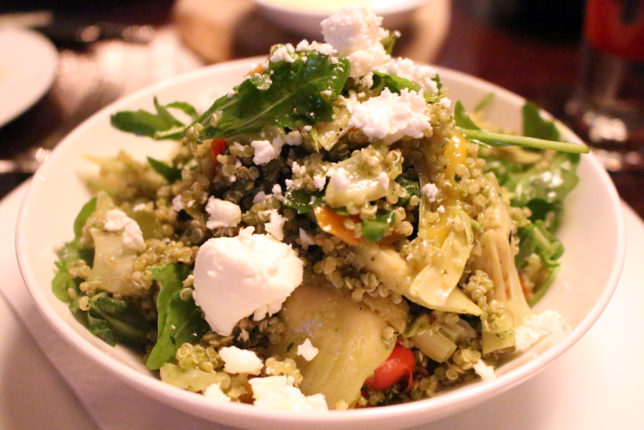 If you're looking for something to share as a starter, you might prefer the Fish Board which comes loaded with potted shrimps, cured salmon, mackerel pate, smoked eel and prawns.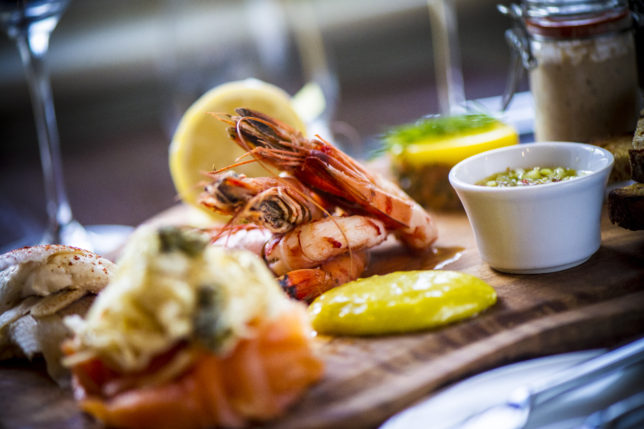 Moving on to the mains, my dining companion chose the steamed lemon sole fillet served on a bed of samphire and smothered in a beautiful brown shrimp butter sauce. It tasted as divine as it looks.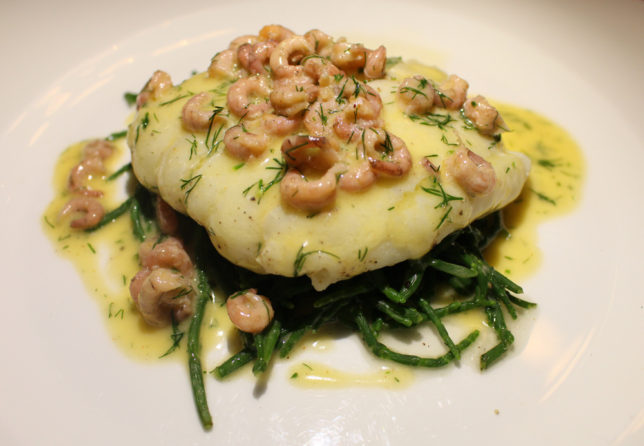 The crowning glory of the Hunter 486 menu is the use of the stone oven.  As it operates at a very high heat, meat and fish are produced with astonishingly succulent results. I went for this juicy looking Rack of Lamb, cooked to tender perfection and served with crushed potatoes, baby vegetables and herb broth. Just one of the many stone oven specialities on the menu.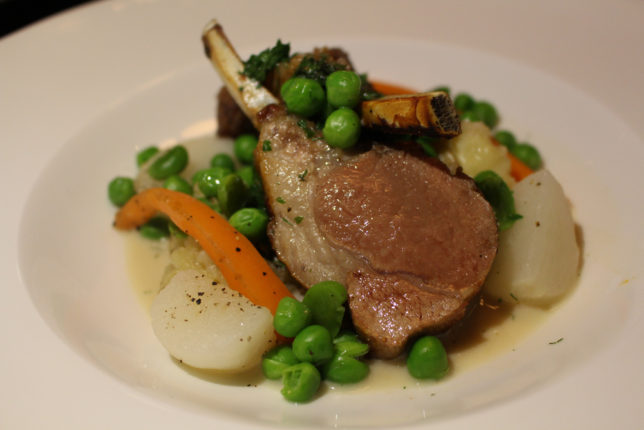 As our dinner began to draw to a close, it was finally time for dessert and a choice of decadent Chocolate Fondant served with caramel ice cream and a contemporary smear of sauce across the plate. Stylish on the eye and satisfying on the palate.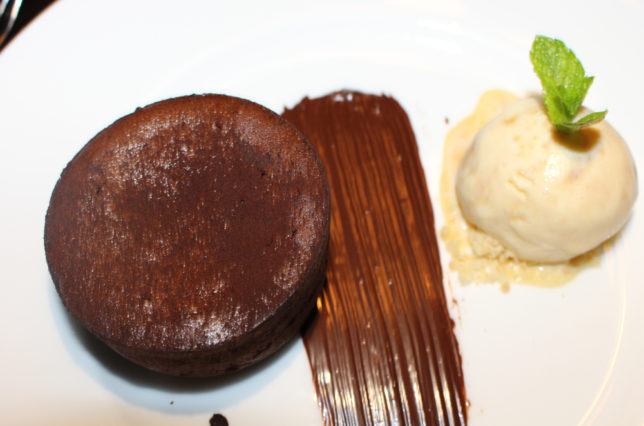 With the last days of summer drifting by, who could resist trying the Eton Mess made with British strawberries still in season. This creamy concoction was a delightful end to our delicious meal.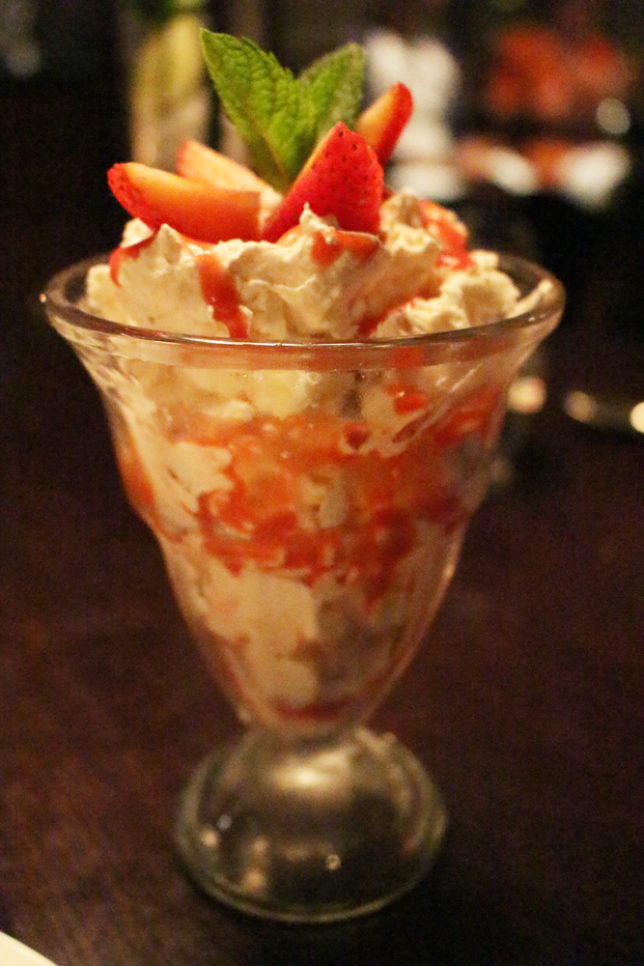 For those who prefer cheese instead of something sweet, we would recommend the Cheese Board which comes with British farmhouse cheeses, quince jelly and homemade oatcakes.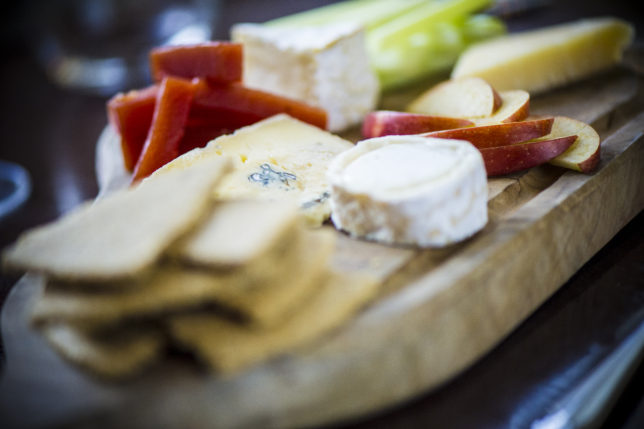 Serving award-winning food and fine wine, Hunter 486 is the perfect destination for laid-back luxury dining and drinking. With their new wine by glass menu thanks to the Coravin Model Two Elite, diners can now enjoy over 20 wines and champagnes served by the glass without having to commit to the whole bottle. Hunter 486 is somewhere you can return to again and again in the certainty that the dishes will always impress and the service will always be excellent!
Hunter 486 at The Arch London
50 Great Cumberland Place, Marble Arch, London, W1H 7FD
0207 724 4700
www.thearchlondon.com
@thearchlondon