Yuu Kitchen launched its latest residency at ICEBAR London in Heddon Street at the end of June. Yuu Kitchen is inspired by the fun and freshness of flavours from south-east Asia and the Pacific Rim and the team from Yuu Kitchen Spitalfields are delighted to bring their new offering to a more intimate setting off Regent Street, W1.
Yuu Kitchen was created by experienced restaurateurs and long-time friends from Australia, Stephen Lowe and Jon de Villa. Head Chef Jon's menu is inspired by his heritage and travels across south-east Asia and brings in his experience from Nobu London.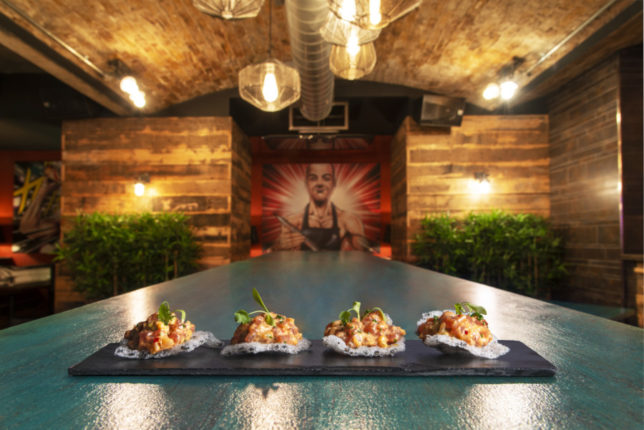 The thrill of the arrival begins at the entrance on Heddon Street, where an atmospheric mural staircase transports you immediately to the edgy underground scene of a Japanese street, lit only by neon, opening out into a basement bar and restaurant with absolute wow factor – the lounge features a long high-top table seating 10-12 and the main dining area is presided over by a back-lit 25 foot long Asian dragon, or Shenlong, created by celebrated Hong Kong artist, Lun Wong.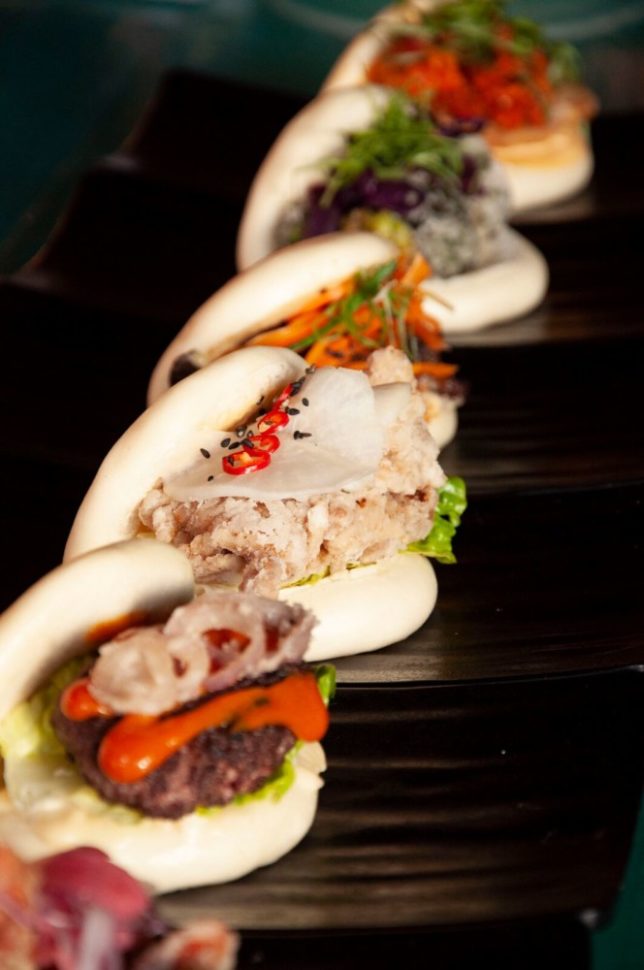 With moody lighting and more art in the booths, it provides the perfect backdrop for some of London's most innovative south-east Asian and Filipino inspired dishes. Continuing the theme from Yuu Kitchen's original restaurant in Spitalfields, the team have collaborated again with artist Lun Wong, known as Lunatic, by commissioning bespoke art pieces for the venue to continue the story of the artwork.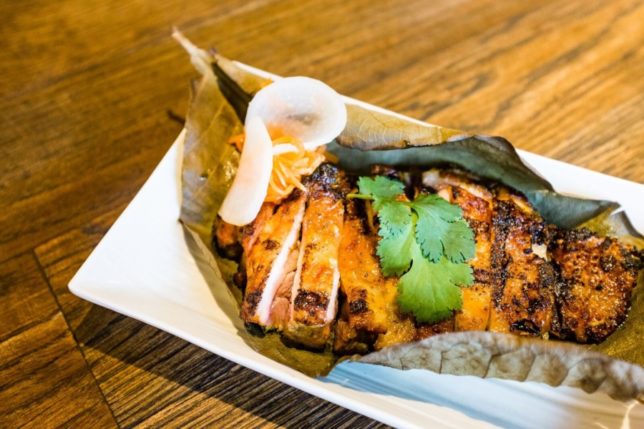 To coincide with the newly relaunched ICEBAR, Yuu Kitchen Mayfair represents opposite themes of heat and ice. The drawing style of the artwork is very similar to the original Yuu Kitchen Aldgate's style but modernised and slightly simplified.
The dragon mural has strong significance both within Asian culture and the theme of fire, as well as running parallel as an eastern dragon to the ICEBAR's western dragon. All artwork revolves around the themes of fire and revenge.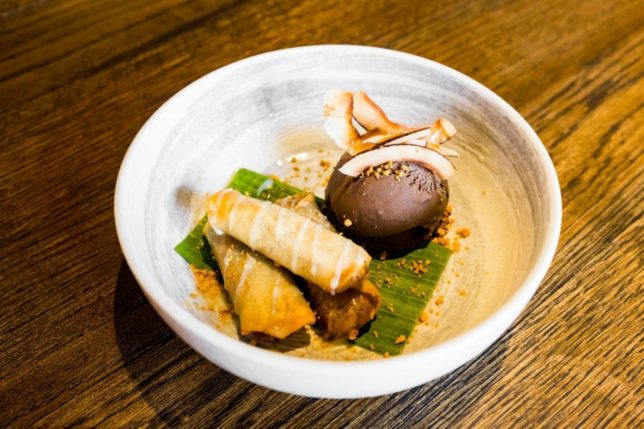 South-east Asian food is at the core of the Yuu Kitchen menu and whilst Japanese flavours feature heavily, the menu also pays homage to Head Chef, Jon de Villa's heritage, with a Pinoy section giving a nod to Filipino cuisine and some of Jon's family recipes handed down over the years. Perhaps south-east Asia's last secret cuisine, Philippine inspired food is mix of Indian, Chinese, Spanish and American influences.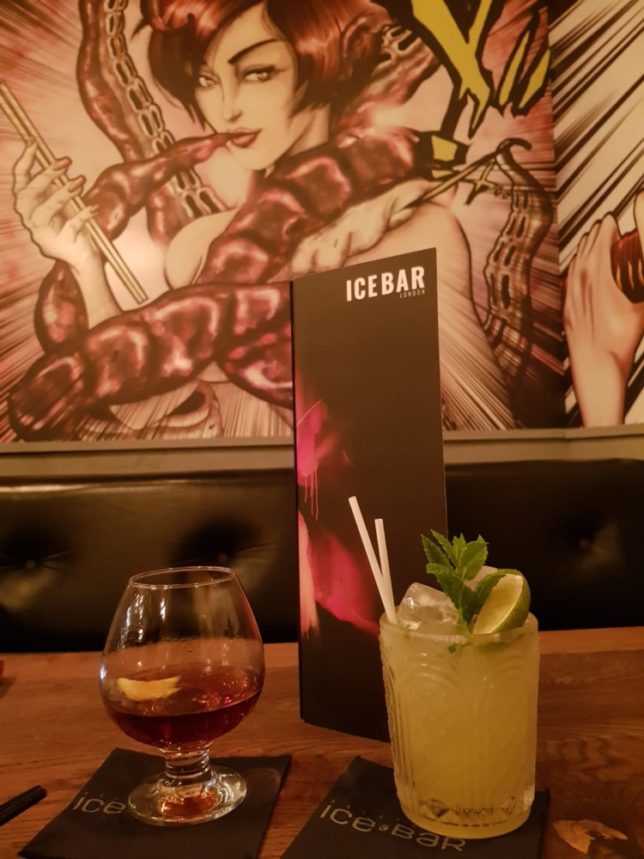 Jon's Pinoy dishes introduces guests to Filipino favourites with a London touch. Torn between the Chicken Karaage and the Baby Octopus Karaage we went towards the seafood version although the chicken is recommended. The octopus had the right balance of softness and bite with a crunchy flavourful texture to the batter and a soft centre.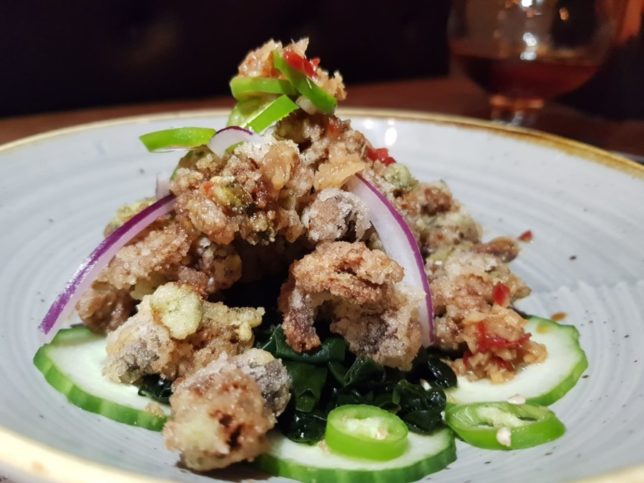 This was joined by a vegan-friendly sweet and sticky eggplant, which was wok-fried with white miso and then topped with crunchy shallots and sesame. One to ask the chef for the recipe as you won't find it in many places. Definitely tops our list for vegetarian & vegan favourites.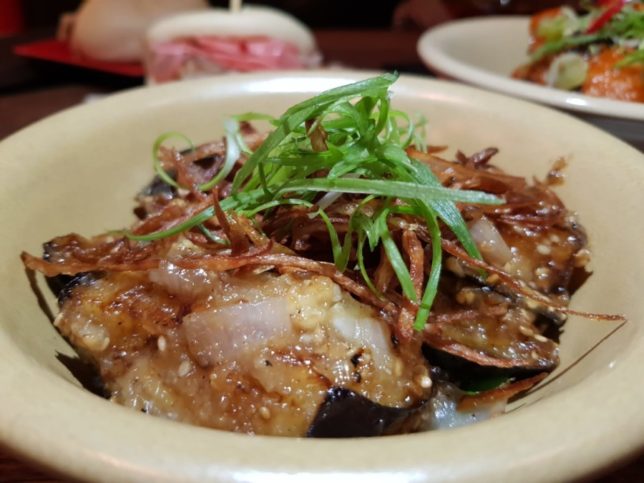 For those who enjoy soft pillowy Taiwanese Bao Buns, these come in a range of fillings including 7Up braised pork belly, buttermilk crispy chicken, wagyu beef, panko jackfruit and mushroom. However, we were drawn to the crispy soft shell crab with lettuce, red onion, radish pickle and wasabi mayo. This delightful dish keeps you coming back for more with each Bao filled with a half shell crab.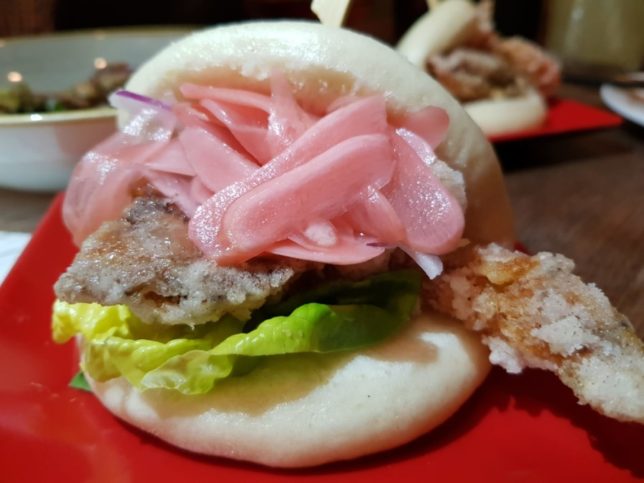 Delicious home-made recipes bring a fresh new take on familiar dishes. For those who want to spice it up a notch, you can't go wrong with the chicken wings in a spicy Carolina reaper chilli sauce although if you are less adventurous you can opt for filipino style sticky adobo wings which has all the flavour but leaves the heat at home.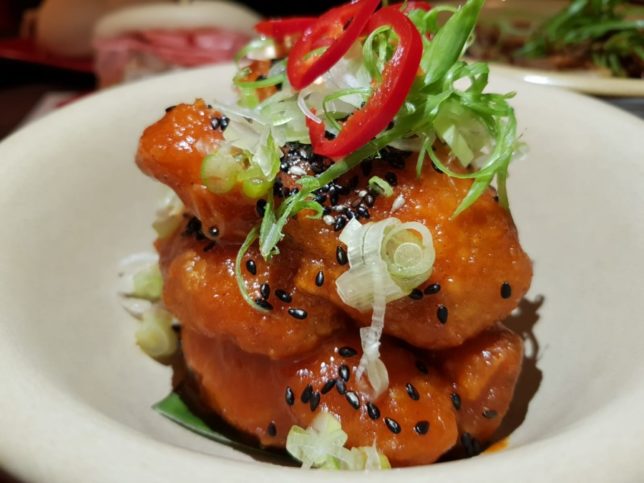 If you want a dish that promises maximum flavour from melt-in-your-mouth slow cooked meats, we highly recommend the Lechon Kawali. This 12 hour braised pork belly comes with Mama Sita's sauce.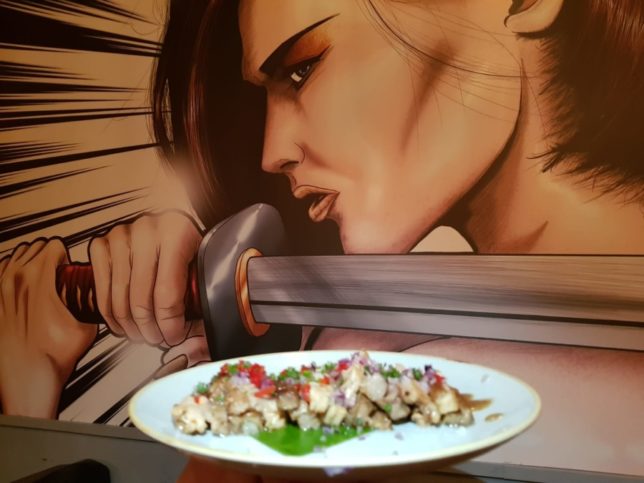 Come in for a closer look of this Pinoy classic with a Yuu twist….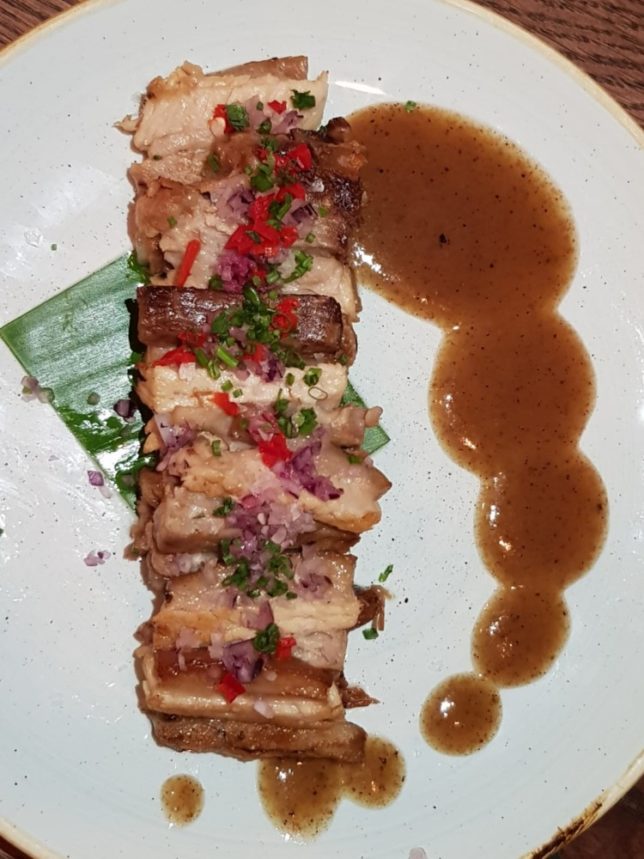 To finish there is a short but innovative dessert menu with unusual items, the Ube Cassava Cake is one to try because it's very rarely on your typical London menu. For those unfamiliar with ube, one of the most noticeable quirks of this dessert is that it is a deep purple. Now how often can you eat root veg as a cake, have it served purple and tasting so sweet. Exactly! That's why we had to try it. Other desserts such as Ice Cream Bao, Coconut Bread Cake and Avocado and Yuzu Parfait will also satisfy any sweet tooth.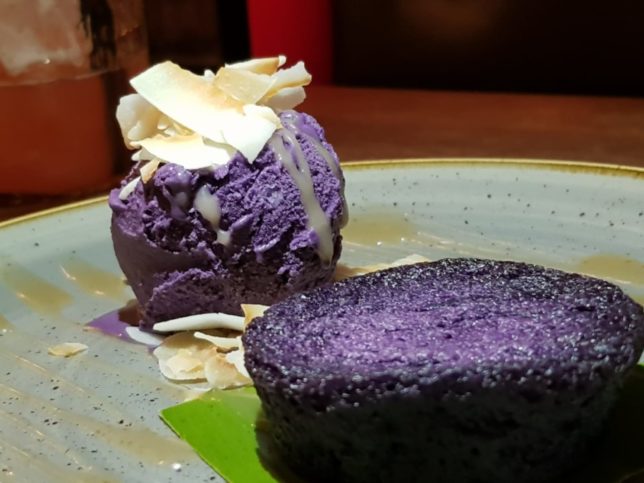 Yuu Kitchen has just launched their Bottomless Brunch in their Heddon Street Restaurant for £37 per person. It comes with the obligatory bottomless bubbles for one and a half hours… and they really do mean bottomless, with constant topping up from attentive staff to ensure all the guests get their fare share of fizz. The menu consists of a 10-course sharing menu created by former Nobu Chef, Jon de Villa.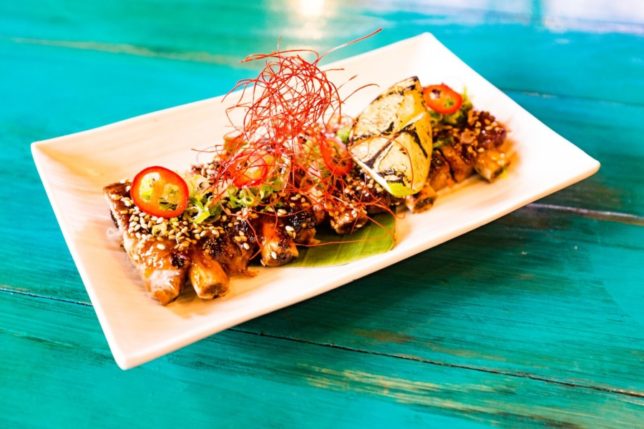 It features Edamame to start followed by a range of sharing dishes including Cauliflower with a jalapeno dressing, Sweet and sticky eggplant, Vietnamese vegetarian Ssam and steamed rice. Their signature dish of Spicy Tuna Tostada is also featured. Then there are the infamous Crispy pigs ears, which are slow-cooked and honey soy glazed plus Chicken Inasal and Baby Back Ribs. If there you're left with any room, a Banana Turon and rich coconut bread cake is offered for dessert.
Yuu Kitchen Mayfair @ ICEBAR London
31-33 Heddon Street, London W1B 4BN
+44 (0)20 7478 8910
www.yuukitchen.com
@yuu_kitchen