Situated within the iconic London Hilton on Park Lane, Trader Vic's London is a Polynesian style restaurant and bar famous for being the Home of the Original Mai Tai®. Trader Vic's enables guests to taste the world through exotic cuisines and imbibe from a collection of over 200 Trader Vic's signature cocktails. The Trader Vic's family of restaurants has locations in 17 countries across the globe.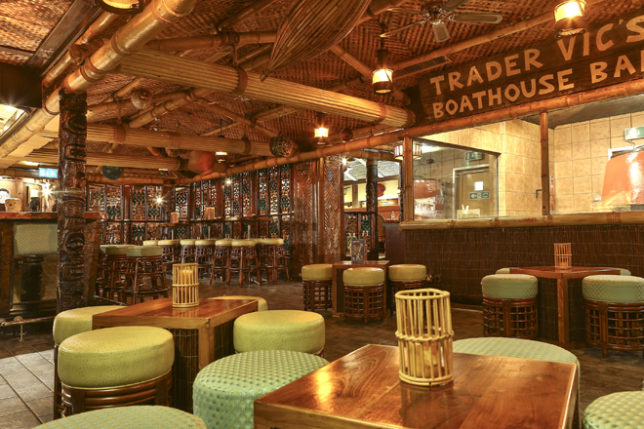 Trader Vic's is bedecked with authentic artefacts and trappings from around the world, treating guests to an island getaway in the heart of London.  Diners are served Chinese and contemporary cuisine alongside a choice of hundreds of signature cocktails, designed using quality ingredients and served in Trader Vic's own oversized vessels, mugs, and glassware.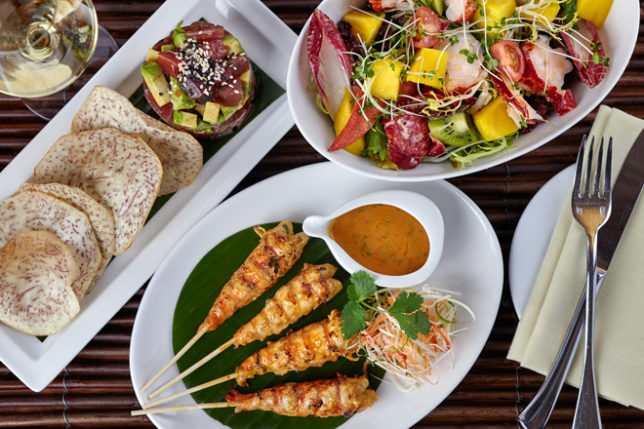 Having been a regular of Trader Vic's since my youth, countless fond memories came flooding back as I stepped down into the basement bar and restaurant to take my place at dinner with my companion. From Sophie Dahl asking to borrow my lipstick to the guitarist playing 'Girl From Ipanema" every time I walked in, such memories brought a smile to my face as we  settled down to enjoy some popcorn nibbles and cocktails. Of course, this included the Mai Tai Wave which is Trader Vic's three favoured Mai Tai's in one ride, Guava, Maui, Mango.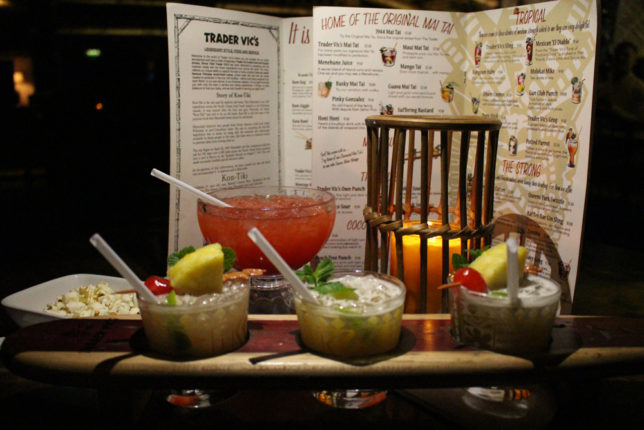 Decades ahead of his time, Vic "The Trader" Bergeron chose to offer Chinese dishes alongside the then contemporary Continental cuisine, creating the original fusion menu. Today, Trader Vic's continues the tradition with an ever-evolving menu featuring dishes from the Mediterranean, the Middle East, Asia, and Japan. After savouring the first few sips of the delicious cocktails, our starters arrived and looked very tasty indeed. We began with a plate of Cosmo Tidbits – "Trader" Vic Bergeron's original pupu platter of Crispy Prawns, Crab Rangoon, Char Siu Pork and fork tender BBQ Spare Ribs. Perfect for two to share!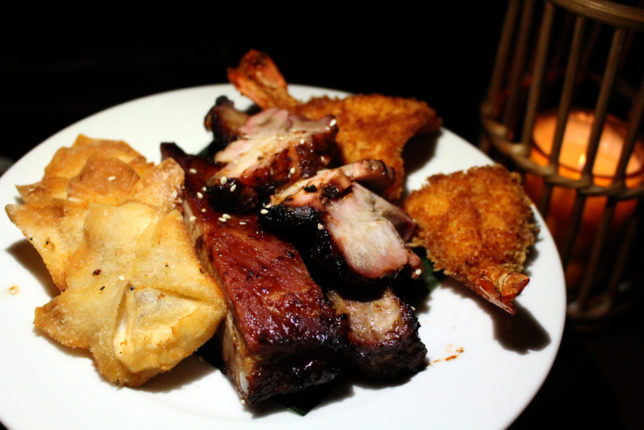 Accompanied by some delicious Chicken Skewers. The meat is marinated in ginger and chilli adding some heat to the juicy chicken strips served with a buttered methi tomato sauce. Methi is the Hindi word for fenugreek leaves.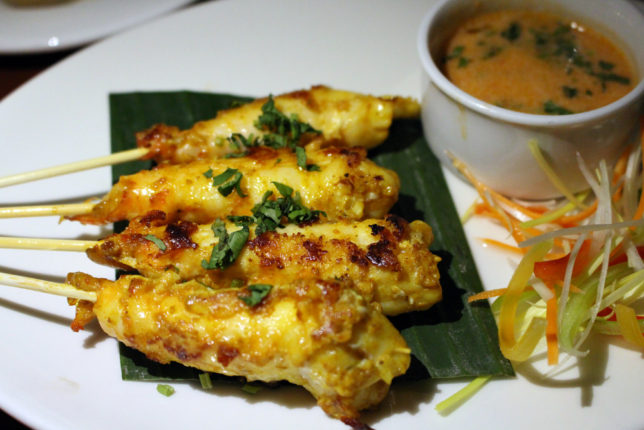 Trader Vic's has a well-deserved reputation for legendary food, service and style. Food presentation at Trader Vic's offers a feast for the eyes as well as a feast for the taste buds! A prime example is this Lobster and Mango Salad consisting of succulent steamed lobster, juicy mango & ripe avocado served over mixed greens and drizzled with a vibrant mango vinaigrette.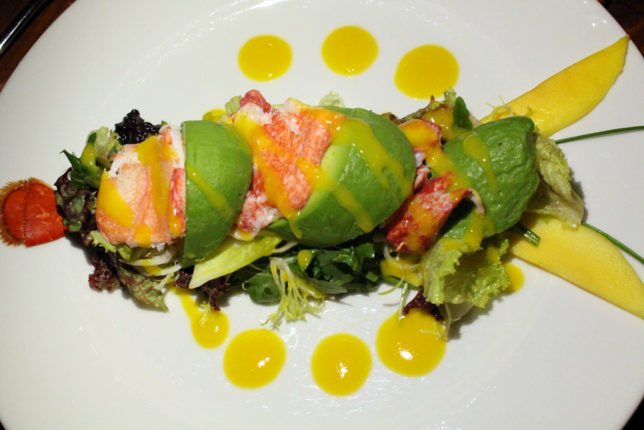 Carnivores can dine with confidence at the impressive range of meat dishes. Guests are encouraged to Taste The World® at Trader Vic's and enjoy the subtle smoky flavors imparted by their Chinese Wood-fired Ovens. I chose the Wood-Fired Rib-Eye Steak served with sautéed spinach and béarnaise sauce.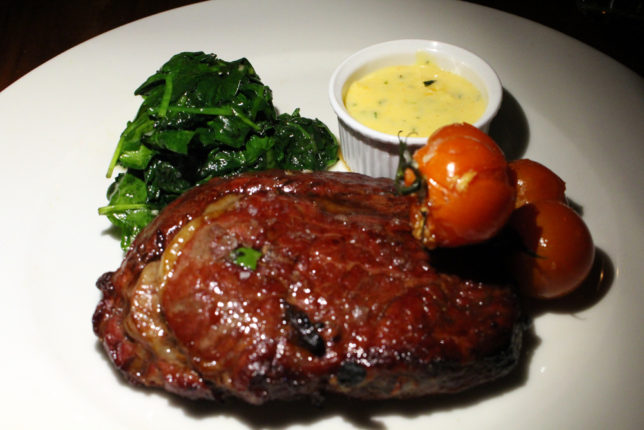 Trader Vic's Chinese Wood-fired Ovens are an ancient cooking method dating back to the Han Dynasty. My dining companion also went for a wood-fired dish – the Indonesian Rack of Lamb. The lamb is marinated with sate & onions before being roasted to perfection in the Chinese Wood-Fired Oven. It is served with spicy Singapore-style curried rice noodles and accompanied by BBQ pineapple, mango chutney and a crowd-pleasing peanut butter sauce.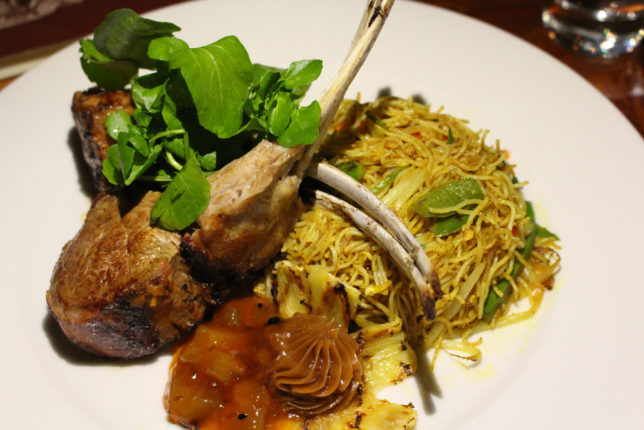 Saving just enough room for dessert, we ordered my number one favourite dessert – the Polynesian Snowball. A Trader Vic's classic dessert of coconut ice cream rolled in toasted coconut and served with chocolate sauce which has been on the menu ever since I first started coming here in the Nineties. Dessert was accompanied by two serves of the flaming Hot Buttered Rum… another Trader Vic's favourite.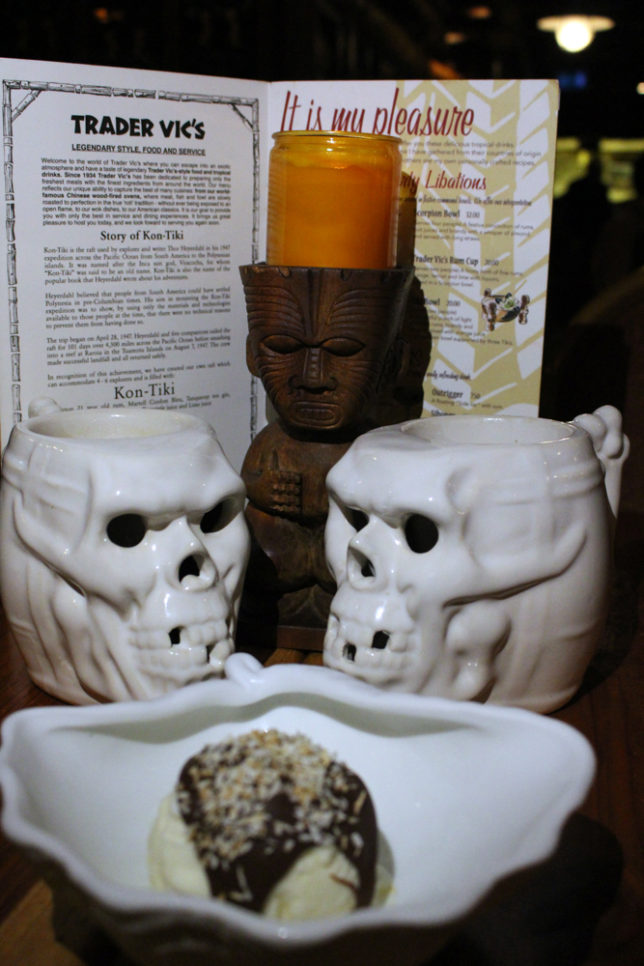 Those Skull Mugs look like they are long overdue a visit to the dentist! I was so busy focusing on them that the dessert was playing second fiddle. I'm not sure Polynesia actually has snowballs but here in London this classic dessert is an all-time favourite of mine and countless others. So here's a closer look at the Polynesian Snowball in all its glory.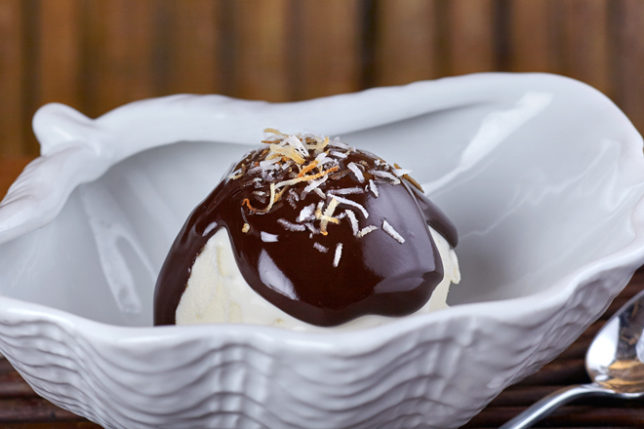 If you're looking for some foodie fun and cracking cocktails this season, look no further than the Tiki Heaven that is Trader Vic's at London Hilton on Park Lane and be prepared to Taste The World® through exotic cuisines and Trader Vic's signature serves!
Trader Vic's
London Hilton on Park Lane
22 Park Lane, London, W1K 1BE
020 7208 4113
tradervicslondon.com
@TraderVicsLDN