Nestled among ancient trees in secluded woodland, set amongst the romantic backdrop of the Sugar Loaf Mountain and the granite walls of one of Ireland's most renowned estates, Powerscourt Hotel Resort & Spa is the picture perfect hotel resort where five-star luxury is a way of life.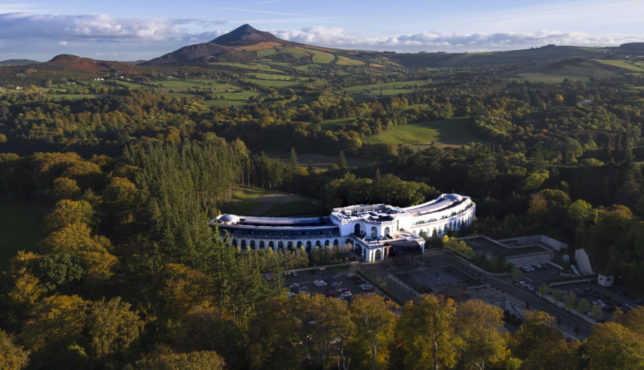 The Powerscourt Hotel curves in an elegant arc of striking Palladian grandeur towards the pyramid summit of Sugar Loaf Mountain across the valley, with the rolling landscape of County Wicklow, what's known as the Garden of Ireland, spread before it.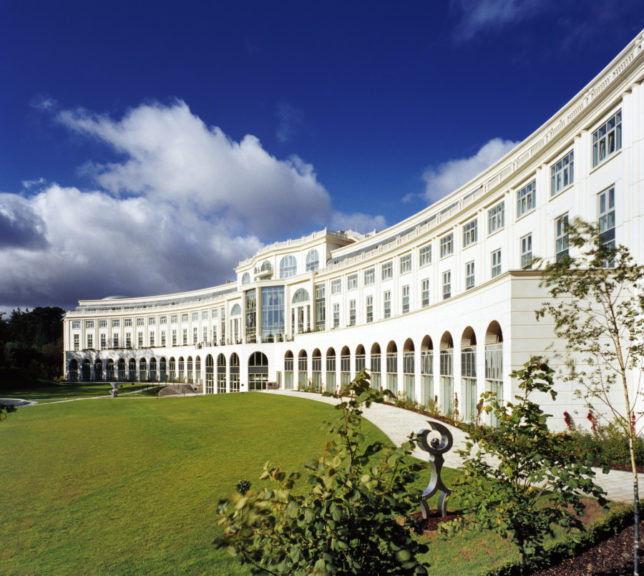 The stunningly opulent interiors and exquisitely landscaped gardens set the scene for an effortlessly elegant county break or special wedding. In fact, it's hard to believe that this enchanted setting is only 30 minutes from Dublin city centre.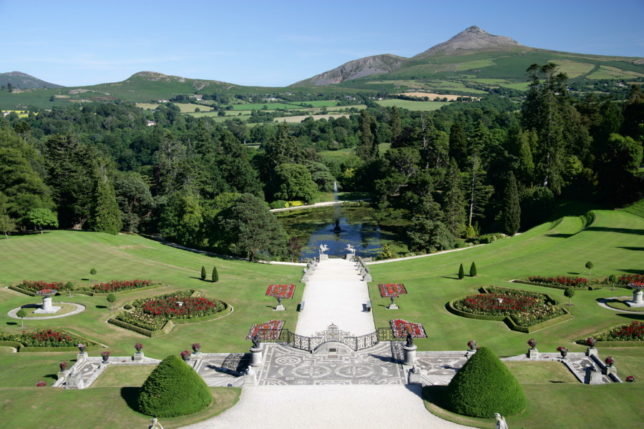 Located on the famous Powerscourt Estate, with its historic house, Ireland's tallest waterfall and the estate gardens, which have been voted number 3 in the world by National Geographic.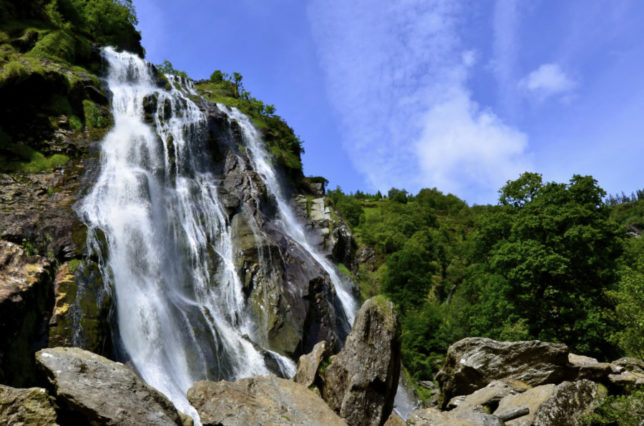 From intimate or lavish occasions to secret escapes for couples or families, the staff are on hand to turn dreams into reality. The resort is also popular with three-day destination weddings, with an impressive choice of luxurious suites, guests can make full use of the resort amenities.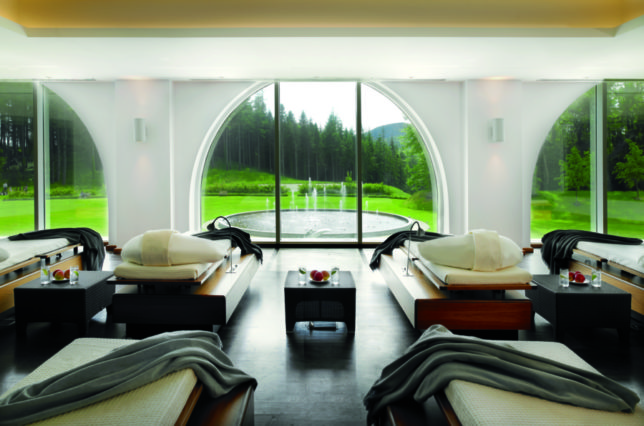 Powerscourt offers a range of spaces in which to celebrate any special occasion. The spacious and strikingly elegant Ballroom boasts spectacular crystal chandeliers and is accessed through a private entrance, offering the utmost privacy for wedding guests. A secluded Secret Garden provides the perfect spot for intimate engagements or champagne receptions.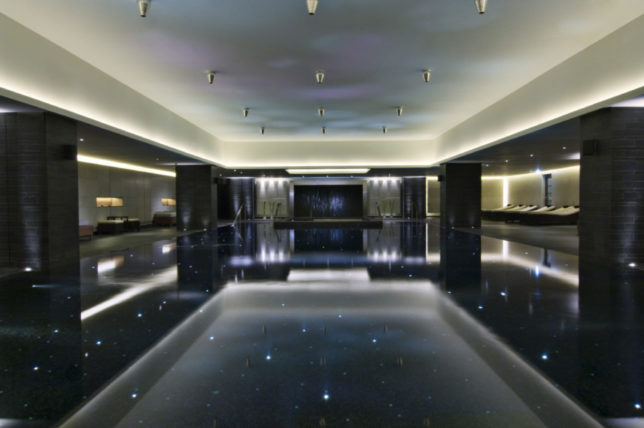 Indulge in a luxurious spa treatment at ESPA, with 20 tranquil treatment rooms, private couples spa suite, and 20-metre heated pool illuminated with Swarowski crystals. Or soak up the charming surroundings sampling quintessential Afternoon Tea in the Sugar Loaf Lounge, experience a traditional Irish pub atmosphere in the hotel's bar, McGill's or dine in the hotel's award-winning Sika Restaurant which champions local Irish produce.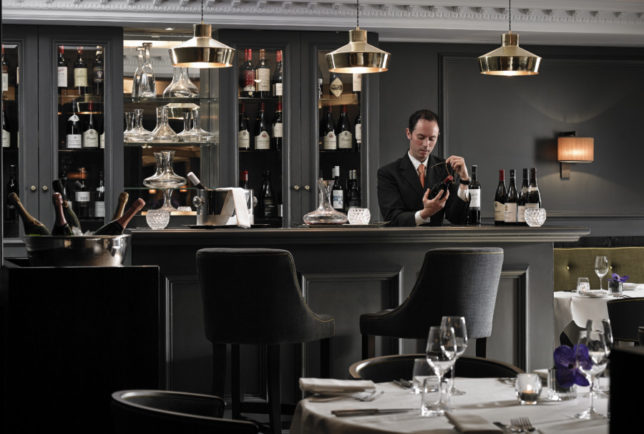 Recently the hotel has unveiled its addition of an outdoor amphitheatre. The tiered seating, accommodating up to 150 people, is the picture-perfect location for weddings and civil partnerships with breathtaking views of the Sugar Loaf Mountain and the thousand-acre neighbouring estate.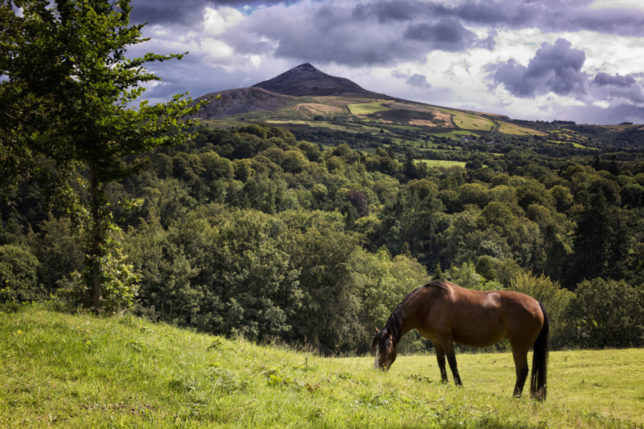 At Powerscourt service is paramount, setting it apart from other resorts. Its distinctive attractions met with unparalleled attention to detail by its dedicated staff, make for the most memorable and care-free hotel stay as we discovered when we checked in to the Mountain View Suite.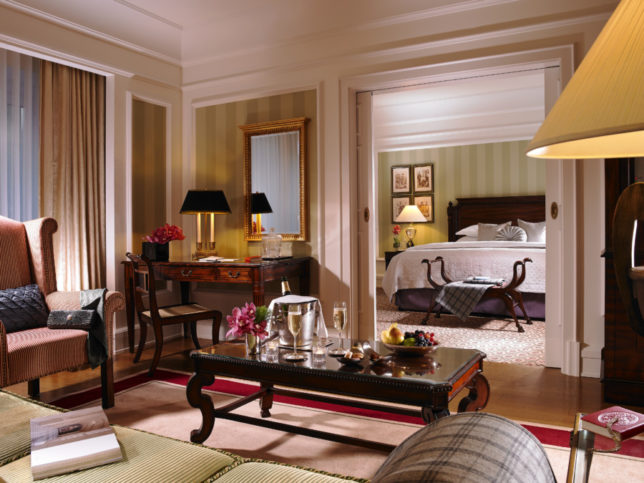 The views from the suite are breathtaking. Comfort, opulence and best of all, Irish charm, combine to deliver a truly unique hotel experience.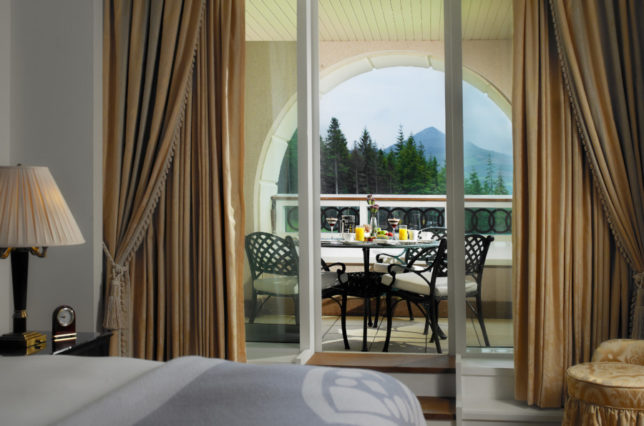 Located on the lobby level of the hotel, the Sugar Loaf Lounge, enjoying impressive views, serves afternoon teas, light meals and cocktails in a relaxed sophisticated ambience. Dinner is served from 6.00pm to 10.00pm nightly Sugar Loaf Lounge.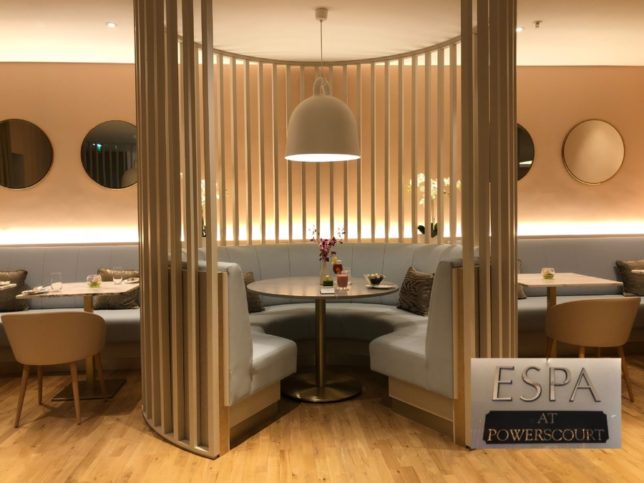 Powerscourt's Sika Restaurant extends its quintessentially Irish flavour, specialising in the finest locally-sourced seasonal ingredients. The Chef's Table gives diners the opportunity to be part of the theatre of the kitchen, watching the hotel's master chefs demonstrate their expertise. The space is as appetising as the menu.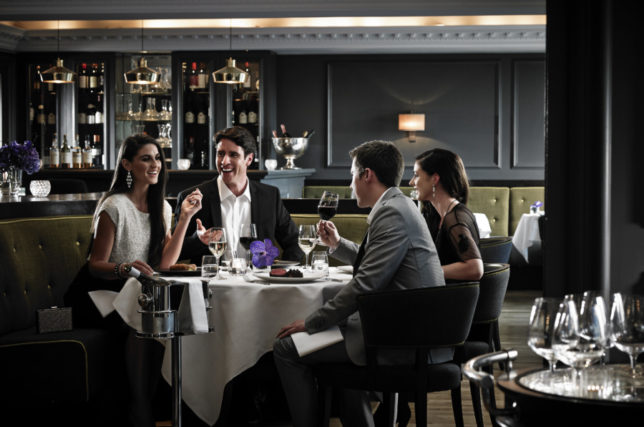 Situated on the third floor of the hotel, Sika's dramatic floor-to-ceiling glass walls take full advantage of the pyramidal Sugar Loaf Mountain. Head Chef Marek Sulg took some time out from the kitchen to answer a few questions for us.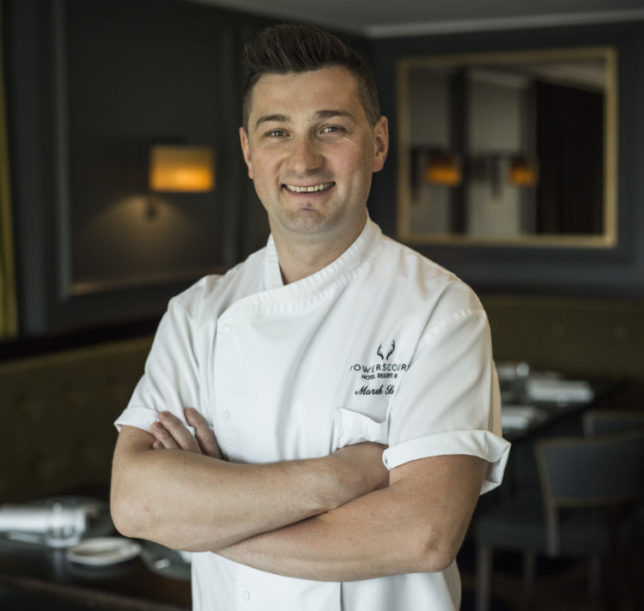 Sloan: What inspires your signature dishes and what new dishes are you looking forward to sharing on the autumn menu at Sika Restaurant?
Marek: "I personally love autumn. Wild game season is here now. Exciting times! Dishes and sauces getting a little bit heavier after summer. As a chef that's the beauty of it, you simply don't get bored because you work with seasons."
Sloan: What is your favourite seasonal ingredient or flavour this autumn?
Marek: "My favourite ingredient at the moment it's definitely Irish seaweed."
Sloan: What are your thoughts on the art of plating and how do you approach it at Sika Restaurant?
Marek: "The art of plating is something that chefs nowadays really work on it. I personally love little extra touches on the plate. Purées in squeeze bottles can draw anything on the plate! So when the food arrives, the customer can see that someone has really been working on it."
Sloan: Tell us more about your culinary experience and training.
Marek: "I been fortunate enough to work with very good chefs. After 4 years studying in Culinary School, I got to practise my skills in Finland for short period at a Michelin star kitchen. I then decided to pack my bag which contained only chef uniforms and knives and bought a one-way ticket to Ireland and the rest is history. After 18 years mainly working in hotels, I have had the pleasure to work with very good chefs and learned a lot."
Sloan: Who have been your inspirational mentors or role models during your career as a chef?
Marek: "One man – Marco Pierre White."
Sloan: What is your view on the challenges and rewards of working as a chef in today's hospitality industry?
Marek: "It's very hard work and not so many young people choose this as a career simply because of the money and working hours. You really must love it. Unfortunately, there are not enough hospitality lovers out there at the moment."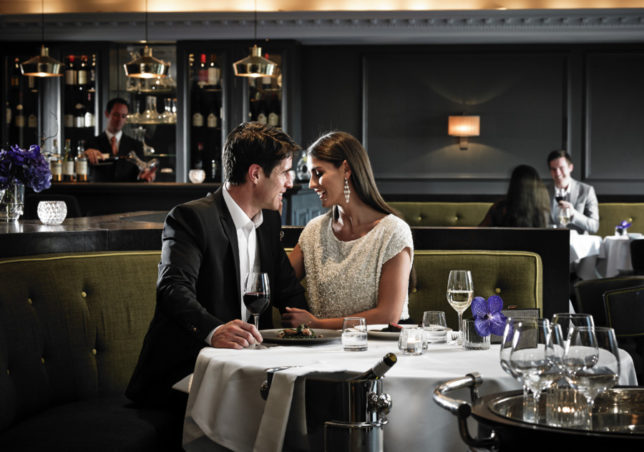 Perception is everything so we took up the challenge to help change perceptions about the hospitality industry with an in-depth look at Sika at Powerscourt Hotel. We dined at the restaurant to discover well-loved classic dishes deliciously prepared and executed with a distinctively modern twist by the kitchen team with Head Chef Marek Sulg at the helm.
We began our dining experience that evening with cocktails to accompany the amuse bouche as we look forward to the delights to come from the autumn menus. The expertly mixed old fashioned was a perfect choice to whet the appetite.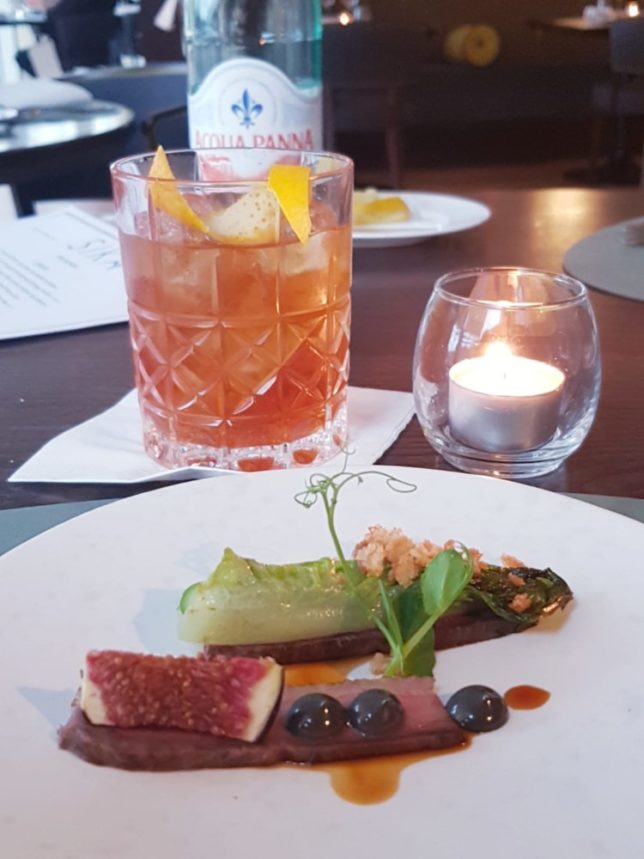 Starters include Smoked Thornhill Duck served with fresh fig, asparagus and gem lettuce hearts set off with brioche croute and balsamic jus. The different elements of this dish all came together perfectly with balanced textures and interesting flavours on the palate.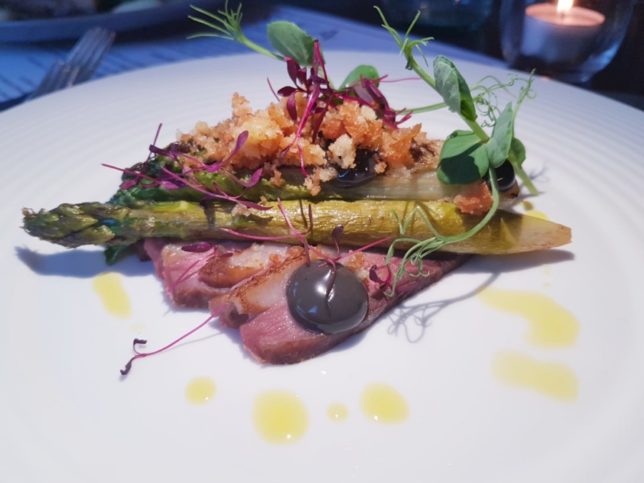 The juicy pork belly is another crowd pleasing starter flavoured with cider and lemongrass served with perfectly seared scallops, velvety cauliflower puree and torched green peas for added texture. The cider jus added another dimension of orchard flavours to complement the meaty pork.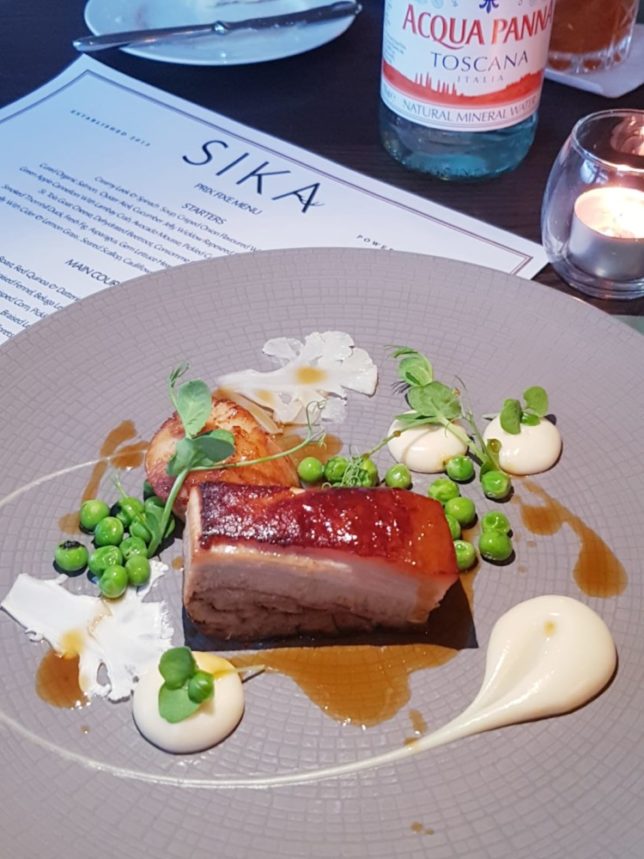 Moving onto main courses, the lightly spiced monkfish tail was nice and meaty served with ocean inspired flavours of sauteed samphire, braised leek in dashi, seaweed pesto cream and coral powder which really highlighted the underlying flavour of the monkfish.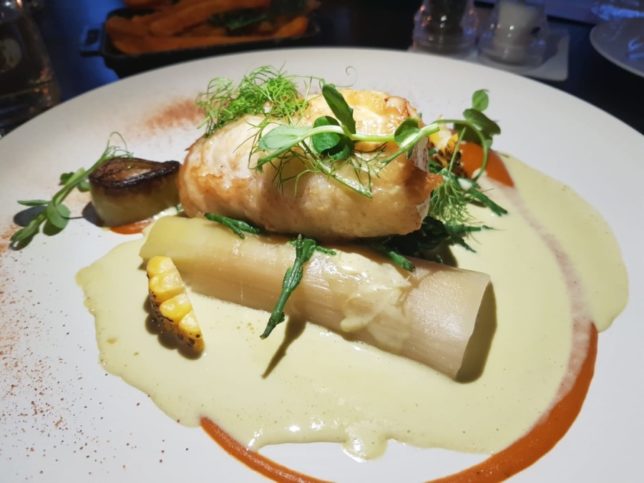 Going from the sea to the land, the 8 oz ribeye of Hereford prime beef will delight any meat lover with it's umami flavours and succulent texture reminding the diner of the exceptional quality to be found in Hereford beef.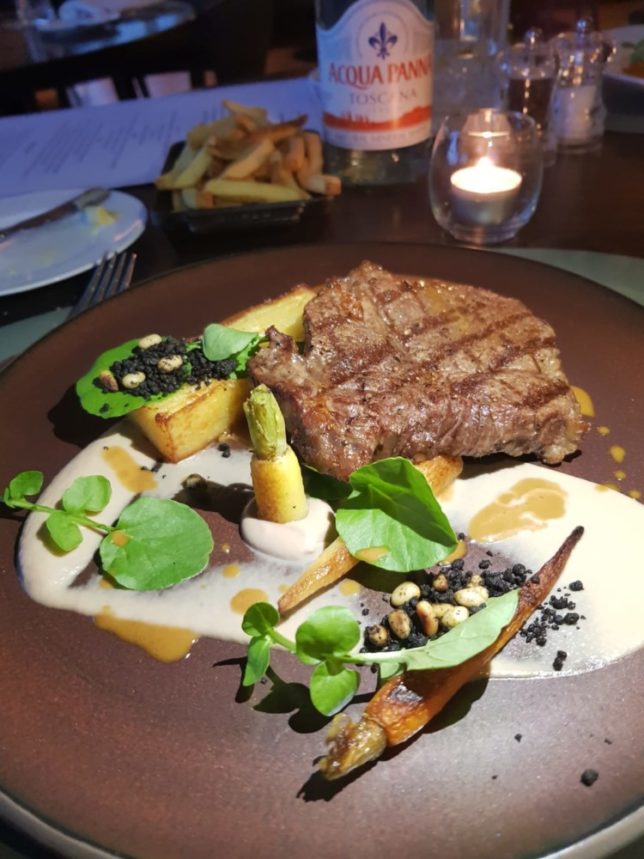 Those with a sweet tooth will not be disappointed by the varied dessert menu. We had left just enough room to share the Raspberry Mille-Feuille which comes with a fruity raspberry sorbet and layers of rich vanilla cream patisserie and Chantilly cream.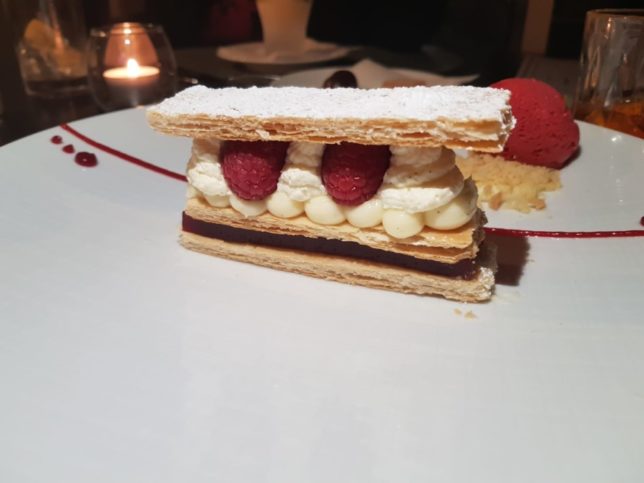 From the rich bounty of the Irish seas and fields to the skilled hands of artisan producers and craft suppliers, Ireland's fresh food credentials are world renowned. With an emphasis on local excellence and seasonality, Sika restauramt at Powerscourt offers the best of Irish contemporary cooking against a spectacular backdrop of Wicklow's hills and mountains. Our thanks to Chef Marek and his team for a wonderful dining experience. A flawless finale to our sumptuous stay at Powerscourt.
Powerscourt Hotel
Powerscourt Demesne, Enniskerry, Co. Wicklow, A98 DR12 Ireland
+353 1 274 8888
www.powerscourthotel.com
@powerscourtHtl