Through collective ownership of exclusive holiday residences, The Hideaways Club combines luxury property investment with a travel lifestyle for discerning travellers. This year, The Hideaways Club celebrates its 10th anniversary having been founded back in 2007 by Stephen Wise, a former Bain & Company Senior Management Consultant, Helmut Schön, a former Corporate Financier with Merrill Lynch and UBS and Mike Balfour OBE, founder of Fitness First. One of their loveliest private villas is La Retraite located in Le Rouret in the South of France.
Over the last 10 years, The Hideaways Club has grown steadily, largely through the recommendation of existing Members and helped by the high profile of their brand ambassador Tim Henman OBE. We caught up with Tim earlier this year and he told us more about what impresses him about The Hideaways Club and the the wow factor of their properties which he has personally visited from their luxury private villas in Tuscany, France and Portugal to his favourite luxury ski chalet in Morzine high up in the French Alps. Click here to read the full interview.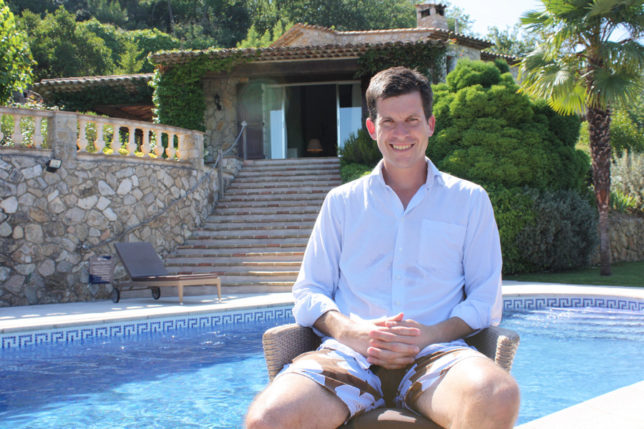 Two Property Funds, Classic and City, offer a diverse selection of exquisite villas, chalets and apartments in the world's most sought-after destinations. Membership of The Hideaways Club unlocks more than the properties themselves – members enjoy the services of a Personal Concierge, in-depth local knowledge and invitation-only member events. The private investment Club brings together financial investment and a luxury travel lifestyle, offering multiple second homes without the management hassles of direct proprietorship.
I recently stayed at The Hideaways Club luxury penthouse apartment in London. Situated on the sought after Kensington High Street in an attractive Victorian building, the apartment offers excellent views of Kensington Gardens and Kensington Palace.
The property is conveniently located for a number of famous shopping districts, the iconic Royal Albert Hall together with the Natural History and Science museums. The district also encompasses Hyde Park, Portobello Road Market and Harrods department store.
One of the privileges of being a Member of The Hideaways Club is having to do nothing but to arrive and enjoy. Your Local Concierge will have your home ready for your arrival and will be waiting to greet you. There's nothing better than coming home to a well-stocked fridge safe in the knowledge that all housekeeping has been taken care of.
On the day of your arrival, you will be meet by your local concierge who will provide a tour of the apartment and explain how key features work including the important health and safety aspects relating to the apartment. Your local concierge has a comprehensive knowledge of the area and can offer you some interesting suggestions on what to do and see during your stay. I was at a conference on the day I was staying at the apartment and the local concierge made a point of meeting me at the London venue of my conference to hand over the keys as I had stayed at the apartment before.
As you would expect in your home away from home, you have use of a fully equipped kitchen with fridge freezer and laundry is made simple with a washing machine & dryer plus iron & ironing board provided. Basic items are already supplied in the apartment such as fresh milk, sugar, tea, coffee, pasta, rice, olive oil, balsamic vinegar, herbs and condiments.
Guests have the convenience of a light grocery shop ready for their arrival thanks to the Local Concierge. The personal shopping service, including selection at the store and delivery to the apartment for your arrival is free of charge, and all you have to do is pay for the items purchased to your Concierge upon arrival. They can even suggest a typical shopping list to help you avoid the hassle of remembering what you might need and are happy to cater for any specific requests.
It was just the two of us but its good to know that the apartment sleeps up to six people. The Master Bedroom has a comfortable kingsize bed with the Second Bedroom set out with twin beds which can be made into a kingsize for couples. The Study contains a sofa bed which makes a small double for extra guests.
There is a hairdryer in each bedroom together with bathrobes for adults. Luxury toiletries from Molton Brown are provided and include Shampoo, Hair Conditioner, Body Lotion, Bath/Shower Gel and Hand Soap. Egyptian cotton linen and luxury towels are supplied to all bedrooms and bathrooms and are re-stocked as needed throughout your stay.
The elegant and supremely comfortable apartment was very tempting to just lounge in all day but there was plenty of time for all that after exploring the wonders that Kensington and the rest of London have to offer. Guests are provided with a neighbourhood guide filled with casual and fine dining eateries covering everything from breakfast to dinner for those who choose not to use the kitchen facilities. After a delicious meal in the relaxed surroundings of one of our favourite Kensington restaurants it was time to retire to our sumptuous bedroom.
For those of you interested in the technology side of things, the media facilities available at the apartment include: Internet & WIFI available · iPad 2 and Printer (synchronised with the iPad 2) · iPod docking station and a high quality sound system · iPod pre-programmed with a wide range of music · Sky Multi-Room (including movies, sports, news, children's, knowledge and music channels) · Apple TV (download movies or programmes you wish to watch using your own iTunes account) · Flat screen TVs in Reception Room, Master Bedroom and Second Bedroom. For the traditionalists who shun the Kindle, there is also a paperback book library stocked with interesting titles such as London's Strangest Tales: Extraordinary but True Stories from Over a Thousand Years of London's History.
For more information about The Hideaways Club, please visit www.thehideawaysclub.com and click here to catch up on our in-depth interview with their brand ambassador Tim Henman which appears in the November 2017 edition of SLOAN!