For many, Paris is the capital of gastronomy and the city has an incredible interest in cuisine with access to the best ingredients in the world at any time of the year. There is a dynamic in the city that drives master chefs to achieve great heights – the highest of those being the award of Michelin stars. The acclaimed Four Seasons Hotel George V, Paris was the first palace hotel in Europe to be home to three Michelin-starred restaurants.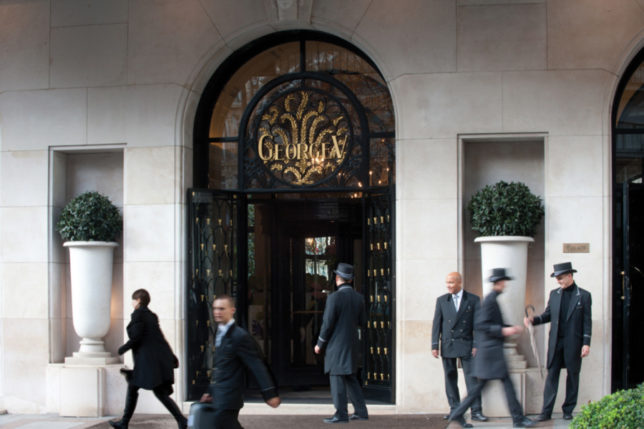 Having collectively been crowned with a total of five Michelin stars at the start of 2017, Le George and L'Orangerie were awarded their first Michelin star joining the Hotel's French haute cuisine restaurant, Le Cinq, which retained the highest accolade of three Michelin stars for the second consecutive year.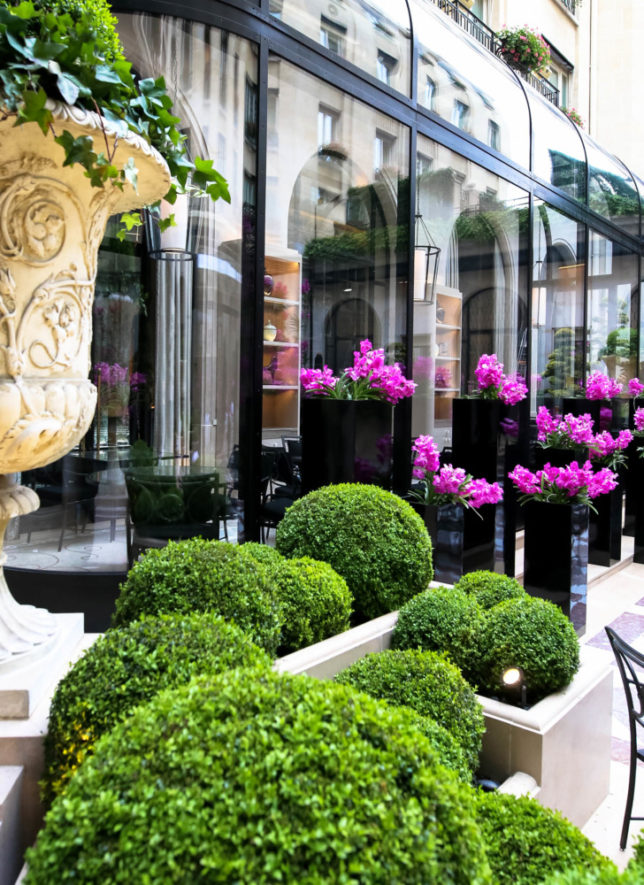 David Bizet, Chef at L'Orangerie, received his first Michelin star in February 2017, less than eight months after the opening of L'Orangerie. He says, "During my 17 years in Le Cinq's kitchens, I have forged a passion for excellence and it is with the same quest for perfection that I have worked on L'Orangerie's menu. The Michelin Star received just eight months following our opening, is a reward that honours the tireless work of our teams to create dishes that pay homage to nature and the changing seasons."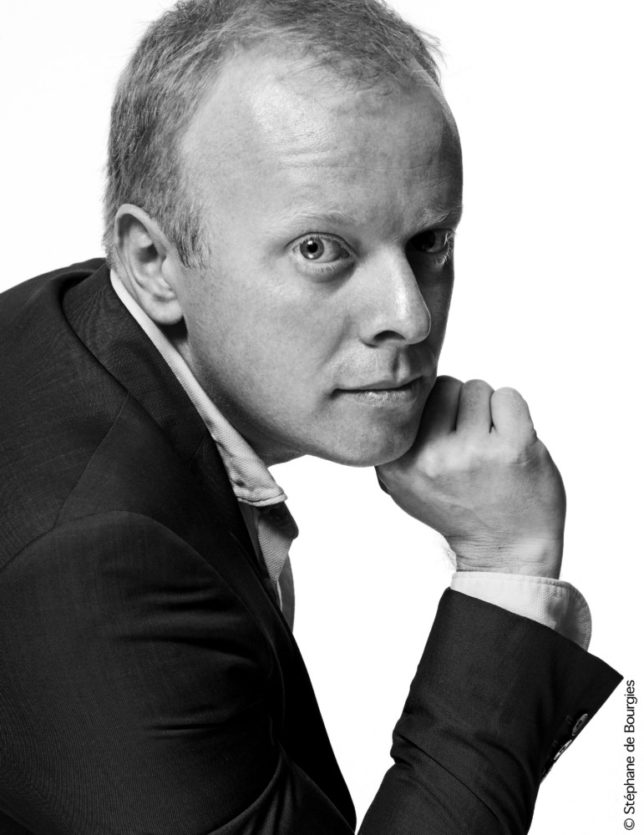 Drawing inspiration from nature and bringing the best out of seasonal and local garden produce, Chef David Bizet's menu complements the changing seasons, offering what he likes to describe as "a traditional French contemporary cuisine of elegance, refinement and femininity."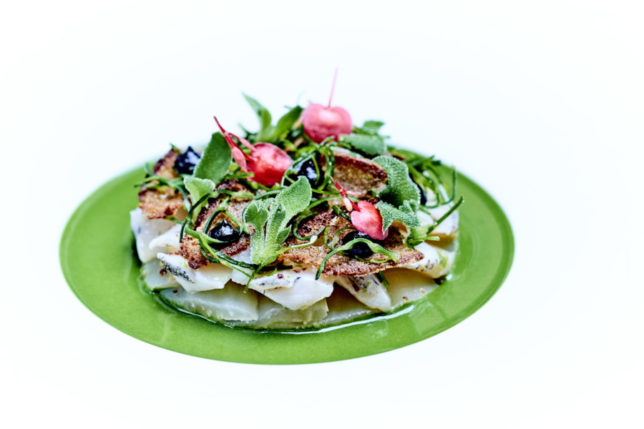 Bizet's culinary creations are often described as an artistic composition. The colours and arrangement of the food in his plates come into their own like the palette of a painter whose artistic sensibility lingers on the taste buds. We couldn't wait to try some of these dishes on our recent visit to Paris and time spent at Four Seasons Hotel George V.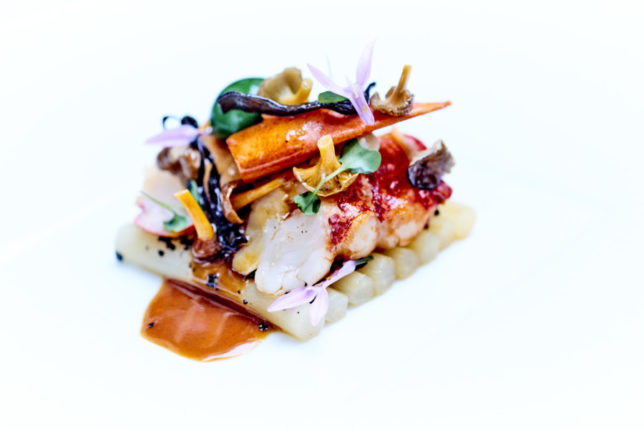 The menu is further brought to life with Pierre-Yves Rochon's intricate interior design, overlooking the famous Marble Courtyard. 160,000 Carrara marble mosaics cover the floor of the restaurant and 2.5 tons of glass were required in the construction of L'Orangerie, certified by the architectural heritage body Bâtiments de France.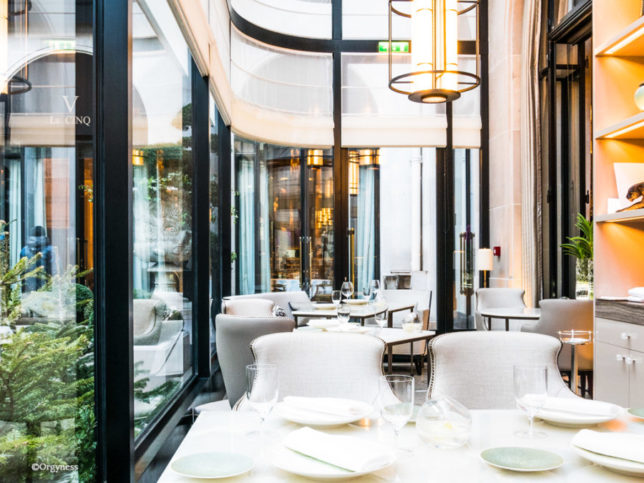 Each guest enjoys a magnificent view of the 400-square-metre (4,300 square foot) Marble Courtyard designed by Jeff Leatham, the Hotel's talented and long-standing Artistic Director. Chef David Bizet requires his teams to come up with a new dish every day with 5 hours devoted to research and development in the kitchens of L'Orangerie on a daily basis.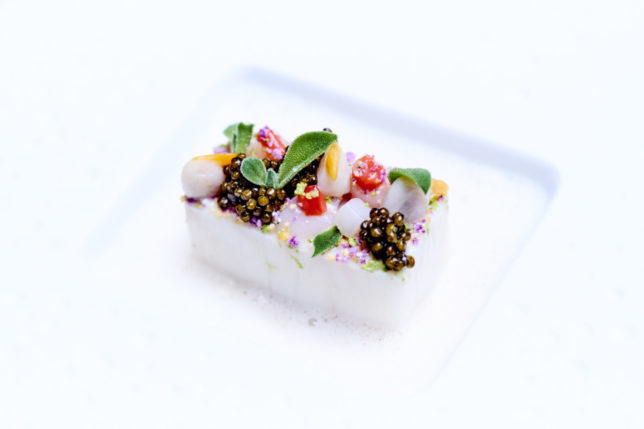 David Bizet grew up in Normandy in a family with a passion for cooking and using local ingredients throughout. Bizet's own love of cuisine was triggered by a desire to pass on this family tradition that valued what was in the plate. He draws inspiration from nature and makes as much use as he can of seasonal and garden produce. His childhood environment taught him to respect nature and its equilibrium.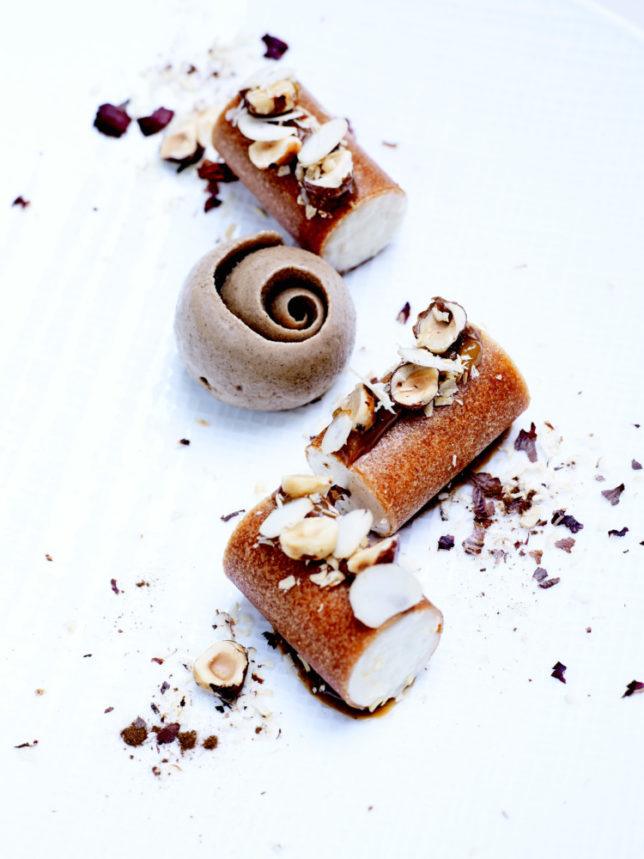 During his military service in Paris, he was impressed by the team of chefs at the French Senate, all of whom held the Meilleur Ouvrier de France (Best Craftsman of France) title. This team led him to the brigade at Taillevent restaurant, where he met the man who would become his mentor and inspire his career, Chef Philippe Legendre.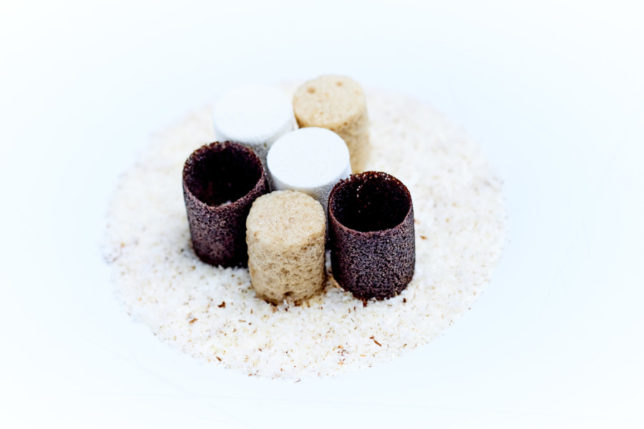 In 2016, he rose to a new challenge when he was appointed Chef of the latest signature gastronomic restaurant at Four Seasons Hotel George V, L'Orangerie, a light-filled dining room overlooking the Hotel's famous Marble Courtyard. Bizet's goal is to offer a menu in perfect harmony with the Four Seasons.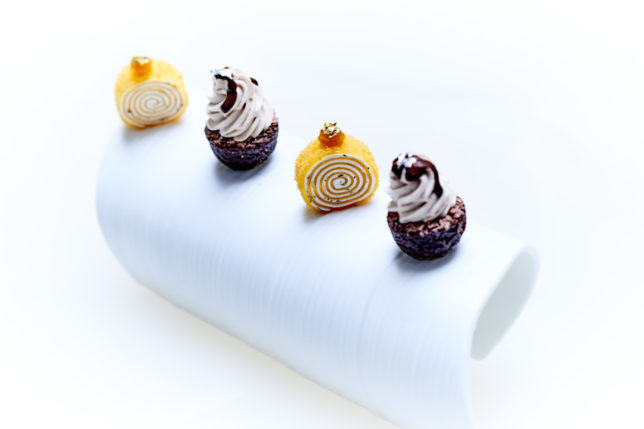 Chef David Bizet says, "As someone who loves nature, it is important for me to work with the wonderful products of the French regions. My cuisine has a particular elegance and subtlety, and my take on the product can be appreciated in both its taste and visual appearance."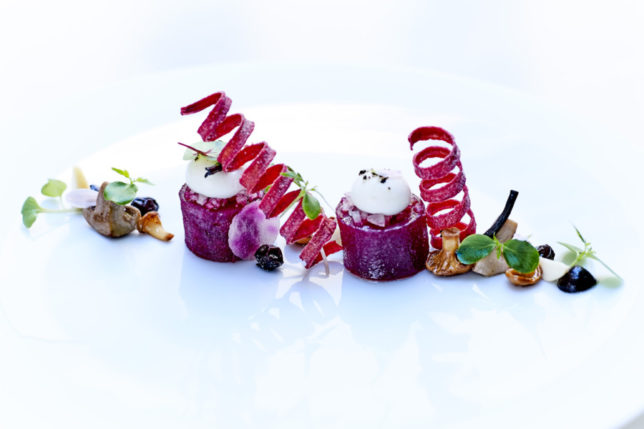 And just like that we were sitting at our table with a fabulous view across the famous Marble Courtyard bursting with anticipation for the sure-to-be marvellous meal ahead.
To start, some amuse bouche that definitely amused our bouches paired with Laurent-Perrier Cuvée Rosé – one of our favourite pink champagnes.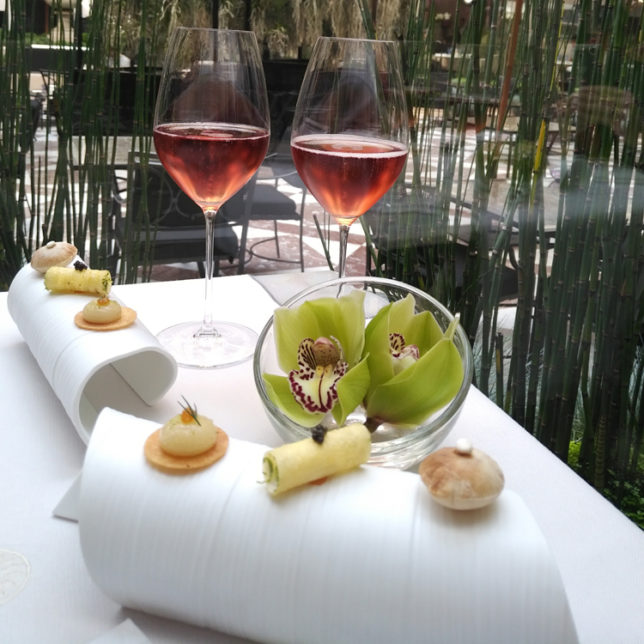 The bread course was delicious even for something so unassuming. L'Orangerie's Michelin Star excellence begins even before the starters are on the table with this amazingly light yet crisp exterior of the bread yielding to a soft tender interior – warmed of course and served with beautifully presented butter.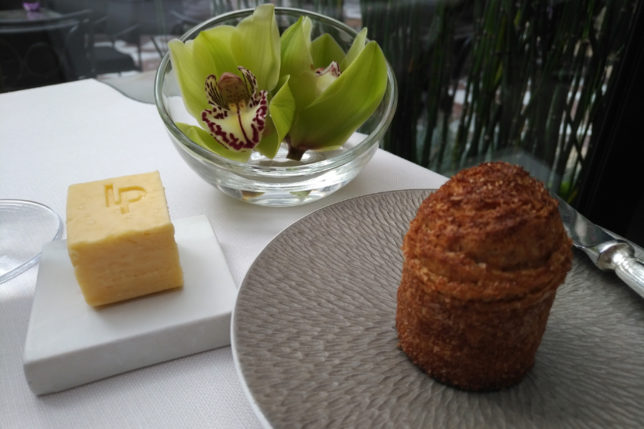 Starters looked amazing – almost too good to eat… but not quite! I was delighted with my Poached Langoustines with seaweeds tartar and creamy roasted hazelnut. The Langoustine was so delicately cooked its soft texture was akin to a hot knife through butter.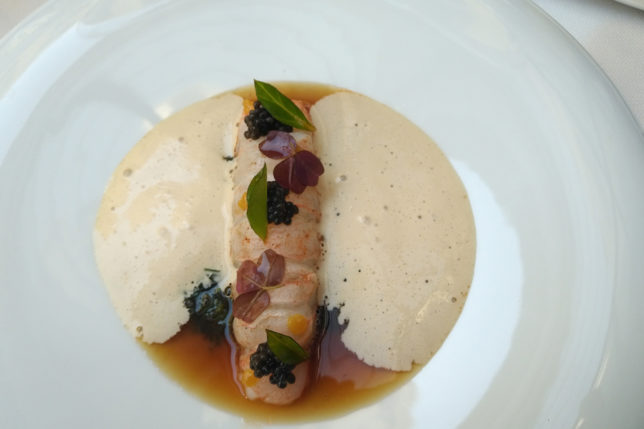 My lovely lady had the signature dish of Abalone from Finistère with seaweed, black garlic and herbaceous sauce which was such a deep satisfying green and the abalone had a fantastic texture and flavour.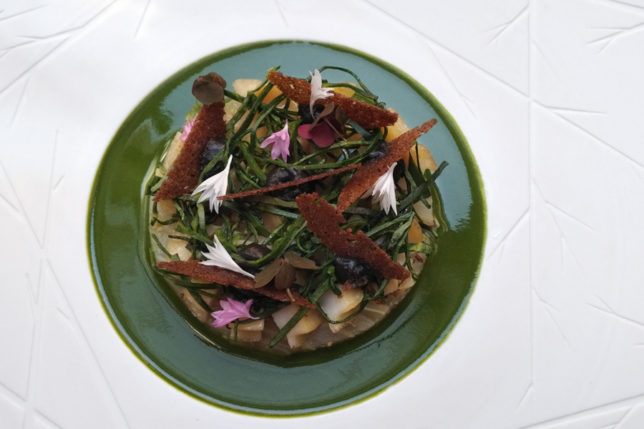 The next course was the fish. I had another of the signature dishes of the Blue Lobster with salted butter, young carrots with orange and tarragon.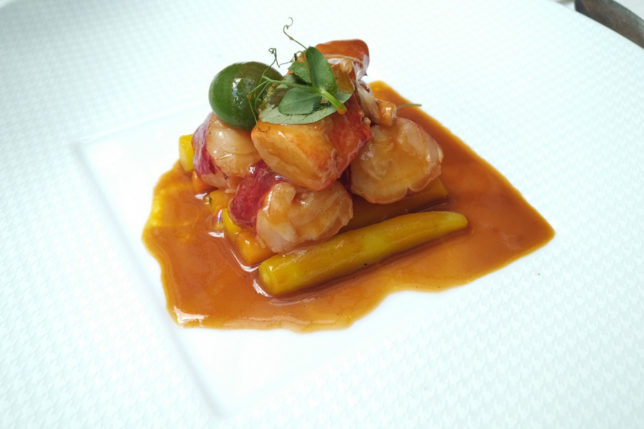 My lady had the Red Mullet à la royal with butternut, olive and foie gras – an inspired choice to pair the fish with the creamy texture of foie gras.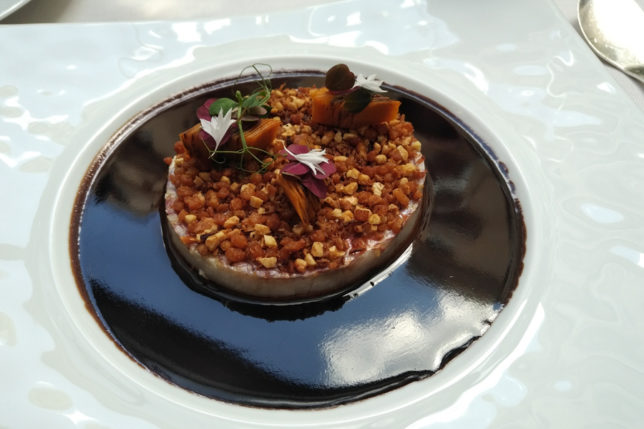 Mains were Pigeon in a bran crust for me, served with turnips, truffle and black olive. The richness of the sauce and earthy truffle complemented the gamey flavours of the pigeon balanced by the saltiness from the black olive.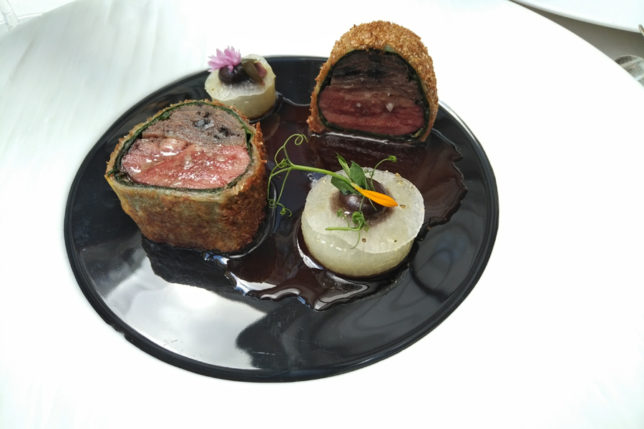 My lady had the Roasted mallard duck, chanterelles, fig and spiced anchovy.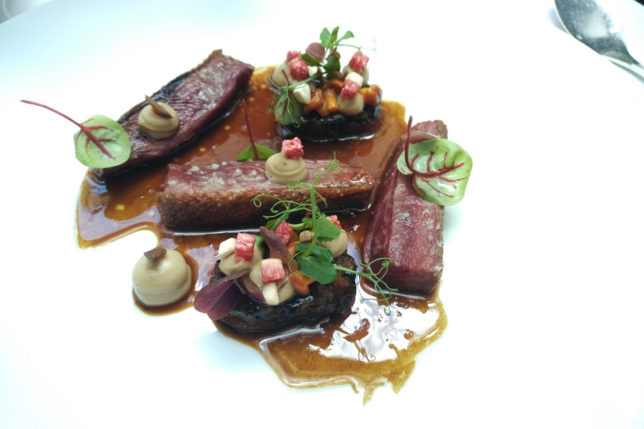 Moving on to dessert, the showstopping Meringue Flower with fresh raspberries and minty peppermint playing delicately amongst the delicate petals of this visually arresting dessert.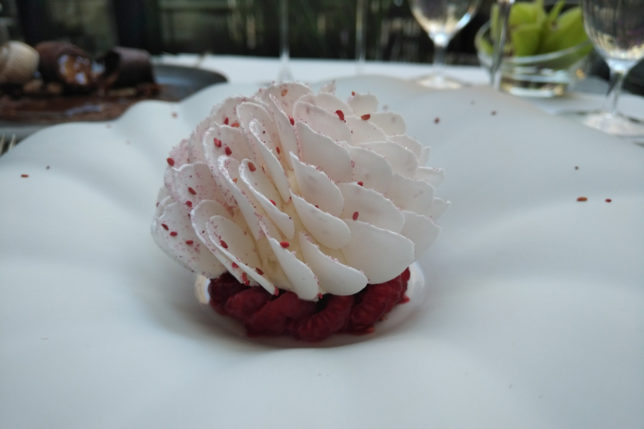 Each flower petal inserted by hand… such dedication to the culinary craft is worthy of L'Orangerie's Michelin Star and the dessert is definite Instagram material.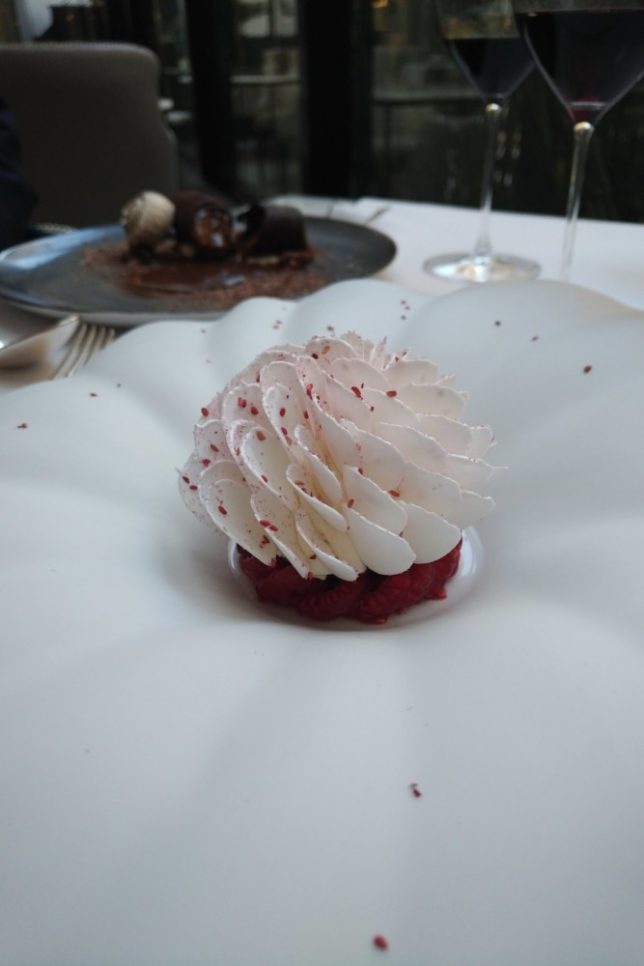 I had the Chocolate Leaves and Soufflé with Peruvian dark chocolate and black Cardamom. The juxtaposition of crispy chocolate against the deliciously light chocolate souffle was balanced by the rich dark chocolate sauce  and the creamy cardamom ice cream swirl.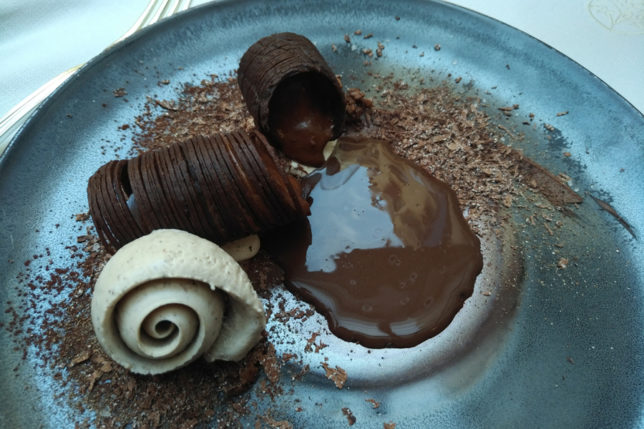 To finish, delicate petit fours presented in the same carefully executed manner of all the stunning culinary creations of the entire luncheon. Each dish was paired perfectly with its own wine specially chosen by L'Orangerie's sommelier to complement the flavours of each dish especially notable was the Gran Reserva 1986 Bodegas Albala dessert wine which was served with my chocolate dessert.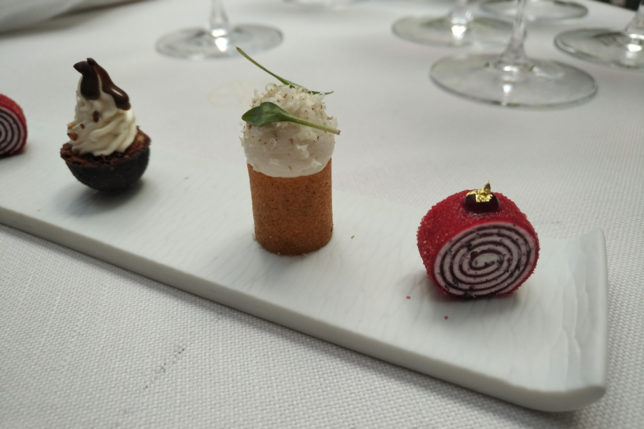 Even after such awe-inspiring lunch dishes, we couldn't help but wonder at the afternoon tea selection as we walked passed Galerie. Such delectable delights are worthy of the French description Thé Et Goûter which sounds so much more refined that our British version… one might say as refined as these cakes and sweet treats looked!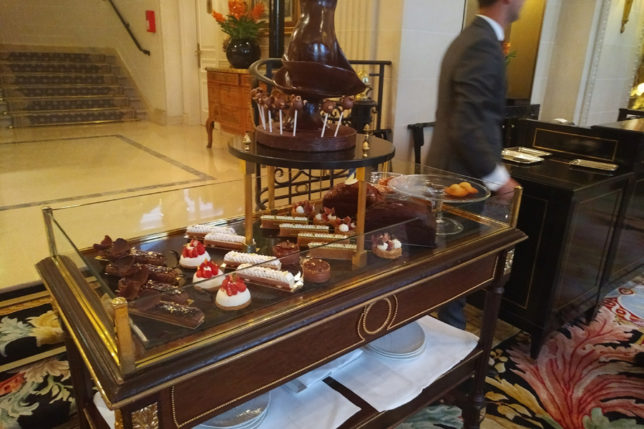 Chef David Bizet said, "Being Chef at Four Seasons Hotel George V is about bringing an international and Parisian clientele an interpretation of contemporary French cuisine that people can relate to. It's a real daily challenge; you have come up with new ideas all the time and always improve yourself. My ambition is to surprise, to challenge traditional preconceptions, and give French cuisine a contemporary elegance."
We have to say Bizet has definitely achieved this ambition to surprise, challenge and present a menu of contemporary elegance here at L'Orangerie. We can't wait to return to Four Seasons Hotel George V to sample more of his innovative French cuisine with a modern twist.
L'Orangerie
Four Seasons Hotel George V, Paris
31 Avenue George V, 75008 Paris, France
+33 1 49 52 70 00
www.fourseasons.com/paris
@FSParis