Jack Blumenthal's Jerk Chicken
Jack Blumenthal says, "I produced this recipe when I was a chef trainer at the University of West London. The students and customers loved it."
Ingredients
1

scotch bonnet

cored and roughly chopped

3

spring onions

chopped

80

g

root ginger

peeled and chopped

2

cloves

of garlic crushed

20

g

tomato paste

3

sprigs of thyme

leaves picked and stalks discarded

2

tbsp

dried parsley

1

tbsp

ground cinnamon

1

tbsp

ground allspice

1½

tbsp

smoked paprika

1

⁄2 tbsp cayenne pepper

1

⁄2 tbsp white pepper

4

tsp

sea salt

150

g

muscovado sugar

150

g

Canadian maple syrup

1

tbsp

rapeseed oil

2

kg

chicken wings

(ask your butcher to remove the tips)

330

ml

premium lager

(San Miguel or Red Stripe works great)

3

limes

zested and juiced

2

limes

cut into wedges

Fresh coriander leaves
Instructions
Using a food processor, blitz the scary hot scotch bonnet, spring onions, ginger, garlic, tomato paste, thyme, parsley, spices, salt, sugar, maple syrup and oil together until a loose paste forms.

Find a large tray big enough to fit all the chicken wings in, or several suitable containers. If you have food-safe gloves, get those bad boys on. If not, wash your hands before you go to the toilet, or you're in a world of pain.

Smother all the wings in the paste. Do not be shy and ensure every part of every wing is covered. Cover the chicken and refrigerate for 6 to 12 hours. Ideally, prepare this the day before and marinate overnight.

When you're ready to cook, preheat the oven to 160°c and prepare a skillet. Alternatively, get the barbecue roaring.

Line a baking tray with a baking sheet or greaseproof paper. Take the wings out of the marinade, keeping everything left in the containers, and place them on the lined baking tray. Bake the wings for 15 minutes in the preheated oven.

In the meantime, put all the remaining marinade into a saucepan. Do not waste a drop; this is flavour town. Add the beer and all the lime zest and juice with a splash of water. Bring to the boil then turn down to a simmer.

Cook until the amount has reduced by half to create a glaze.

Once your skillet or barbecue is roaring hot (nearly smoking) remove your wings from the oven and get them cooking. You should hear a very intense sizzle.

Cook the wings for 1 to 2 minutes on each side until they turn a deep dark charred colour, then apply the thick jerk glaze to each wing. Serve with the lime wedges and fresh coriander leaves.
This recipe appears in From Beder's Kitchen, a charity cookbook containing a collection of recipes and reflections from amazing foodies around the world including head and executive chefs at some of the UK's leading restaurants; MasterChef winners; TV chefs; food bloggers; nutritionists; best-selling authors; a Great British Bake Off winner and mental health advocates. There are 90 contributors in all, who have donated recipes and shared their personal experiences and words of advice about looking after their mental health and how food has played a part in that.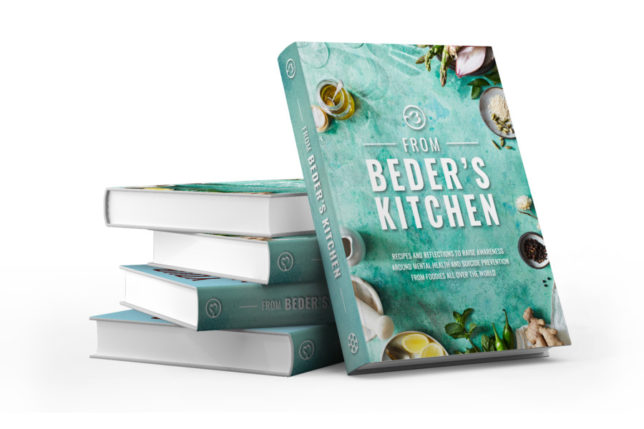 From Beder's Kitchen is £22.50 at www.beder.org.uk, Harrods, Whole Foods Kensington, Daylesford Organic Farm Shop and Virgin Megastore (Al Maryah Island, Dubai Marina Mall, Yas Mall, Dubai Mall, Mall of the Emirates).
Click here to read the article by Razzak Mirjan, Founder of Beder, to find out more about the charity and cookbook.