Open 24/7 and located on the 40th Floor of 110 Bishopsgate, Duck & Waffle is the highest restaurant in UK, offering incomparable views of London. Designed by award-winning architects CetraRuddy, the restaurant features include a 24 seat "inside out" bar, a bustling open kitchen and a private dining room that seats up to 18 people. The décor is also playfully injected with modern influences: stainless steel and frosted glass are juxtaposed by Old World materials including white marble, rustic metals, weathered wood and ceramic tiles.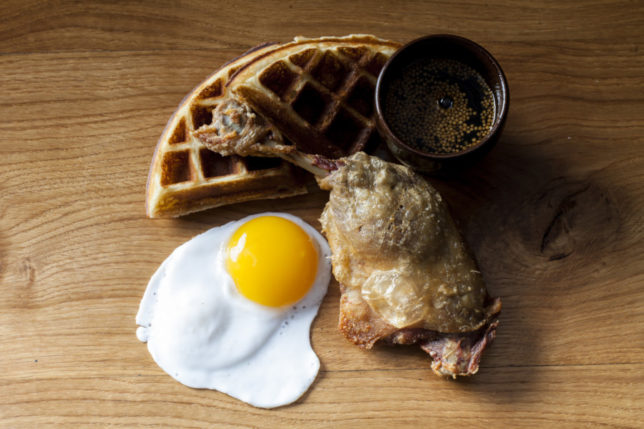 The restaurant offers a playful take on traditional British cuisine with broad European influences emphasizing local, rustic, seasonal and sustainable ingredients. Offering a cheeky twist on classic and well-known dishes, the menu is designed for sampling and sharing and is complemented by an inventive cocktail experience served in a vibrant atmosphere.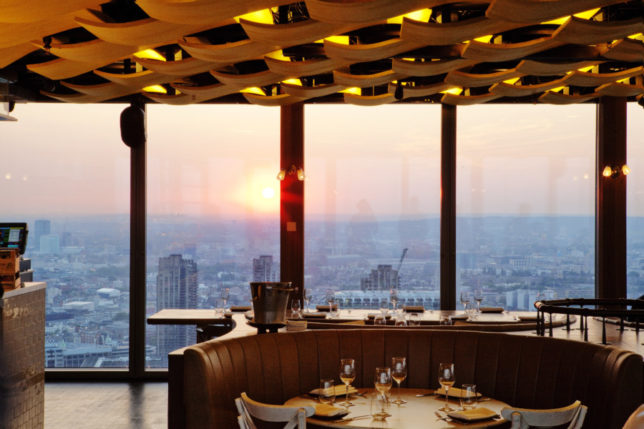 Appointed Executive Chef in December 2018 after steadily rising in the ranks in the Duck & Waffle kitchen thanks to his passion, commitment and creativity, Daniel Barbosa says, "I've always been inspired by the fact that food, quite simply, makes people happy. And food that is thoughtfully prepared and presented only deepens that sense of happiness. At Duck & Waffle, we're empowered to be creative with access to premium local, seasonal and when possible, sustainable ingredients. It's truly a gift, every day."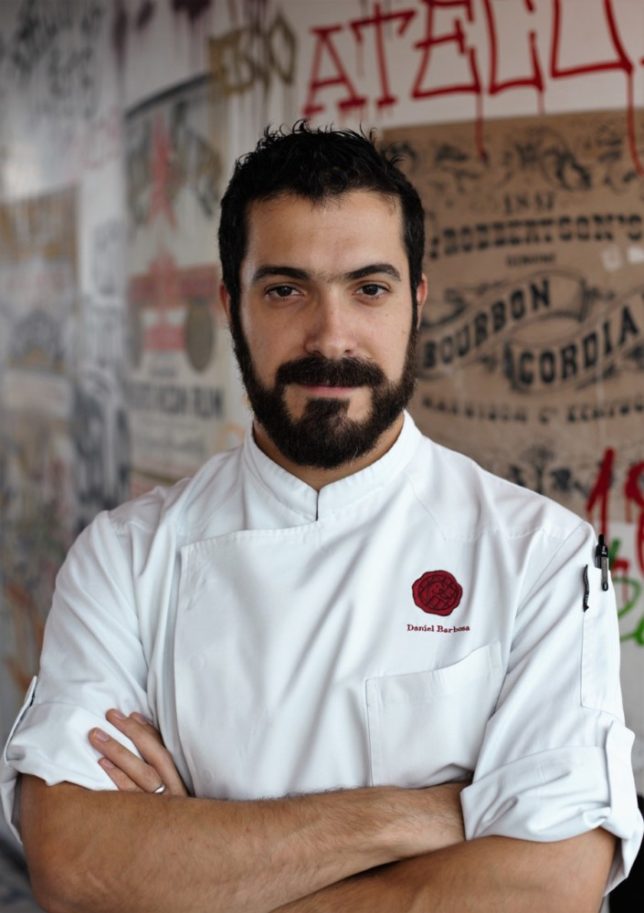 Remaining humble and modest about his role as Executive Chef, Daniel goes on to say, "My goal is to keep favourite mainstay dishes like the Fois Gras Crème Brûlée and the Nduja & Gruyère bread and add my own inspirations,' he says. 'I'm excited to enhance Duck & Waffle's reputation for playful flavour combinations and fun twists on traditional European dishes, whilst tapping into the creativity of the talented chefs I have the pleasure of working alongside."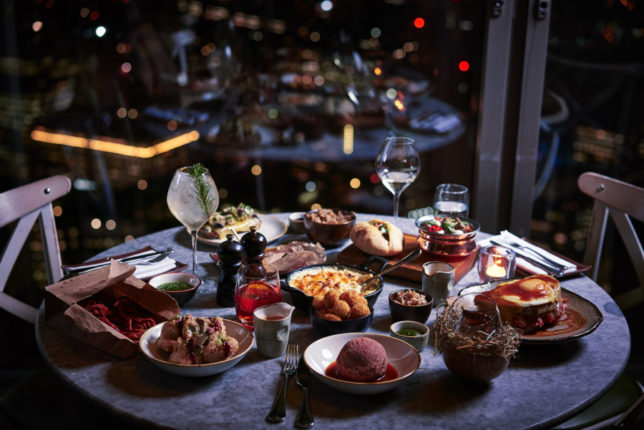 Duck & Waffle is committed to serving up creative cuisine and highly innovative cocktails 24 hours a day, 7 days a week, 365 days a year. So much so that savvy night owls never have to think twice about where to eat and drink during the wee hours now that the iconic 40th floor restaurant has revitalized the 24/7 experience with a fresh slate of savoury new menu items, available daily from 11.30pm to 5am. Not to be outshone by the food, a hardy selection of Duck & Waffle's iconic cocktails will fuel the buoyant and buzzing nocturnal scene.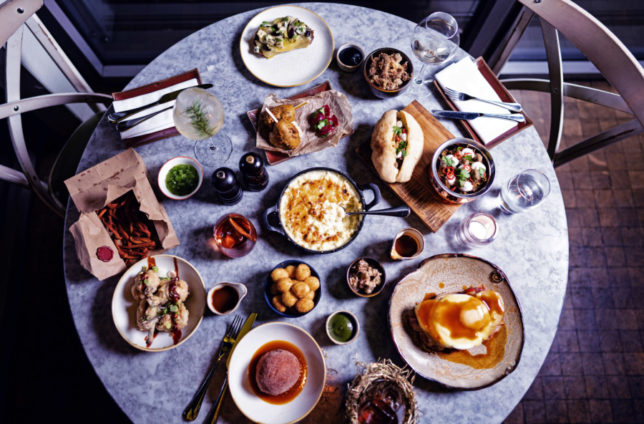 The new culinary additions to the Duck & Waffle late night menu reflect the brand's signature culinary style under the direction of Executive Chef Daniel Barbosa. From the Bites section of the new Late Night Menu, we enjoyed sharing the FRIED BOCCONCINI MOZZARELLA served with sage mayonnaise.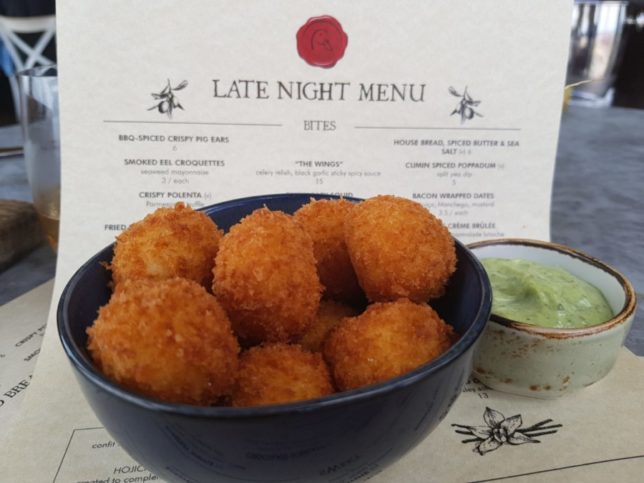 For those looking for other dishes to snack and share, there is an array of Bites smaller dishes including "THE WINGS" – chicken drumsticks with celery relish, black garlic sticky sauce.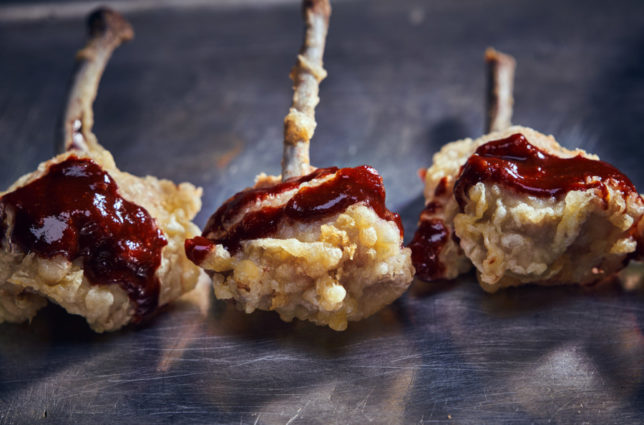 Also worth a try from the Bites menu is the CRISPY BABY SQUID with fermented black chilli, mayonnaise and lime. In the background, you can see the 'NDUJA & GRUYÈRE BREAD – one of six freshly baked breads served at Duck and Waffle.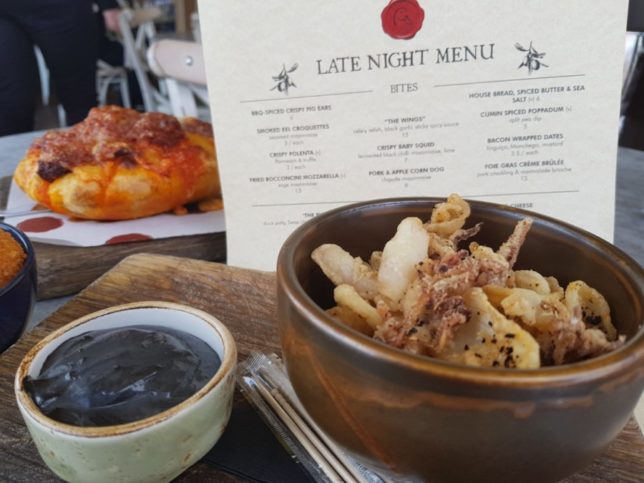 Other small plates include the PORK & APPLE CORN DOG with chipotle mayonnaise. Don't these look scrummy?!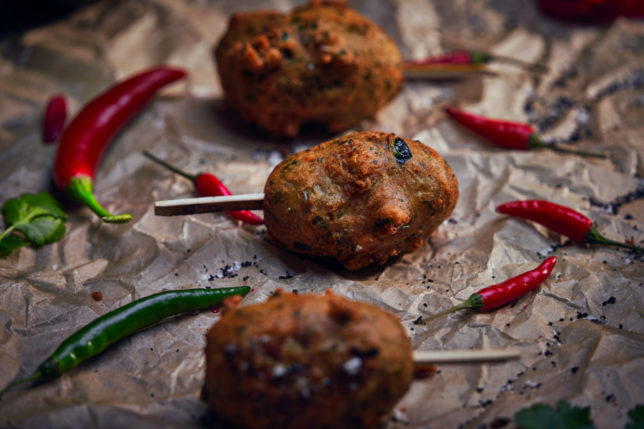 These small plates make for the perfect start to your meal for sharing with your dining companions to spark conversation and encourage connection over these delectable delights whilst enjoying the stunning views across the London skyline at Duck & Waffle.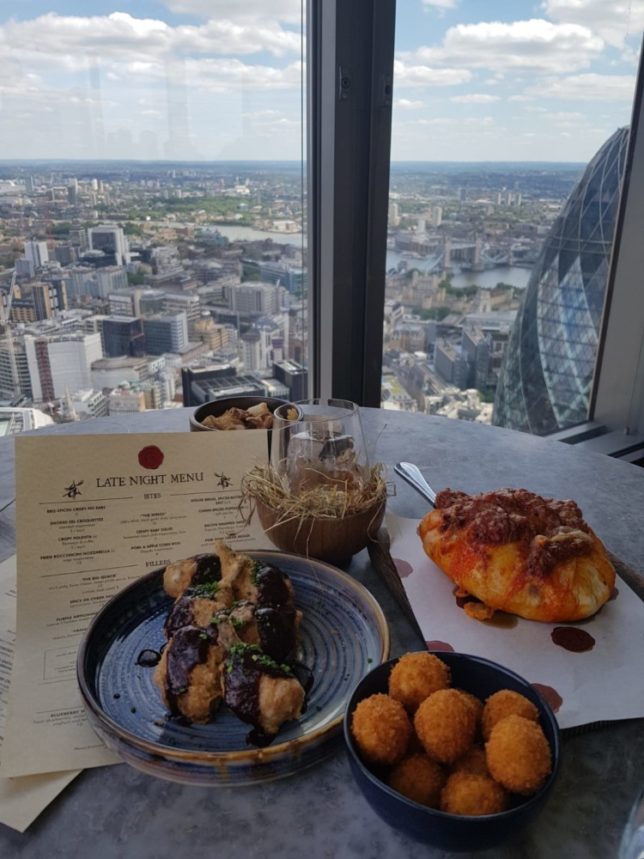 For lovers of foie gras, we would recommend trying the FOIE GRAS CRÈME BRÛLÉE with pork crackling & marmalade brioche for a very different yet delicious way to serve this indulgent ingredient.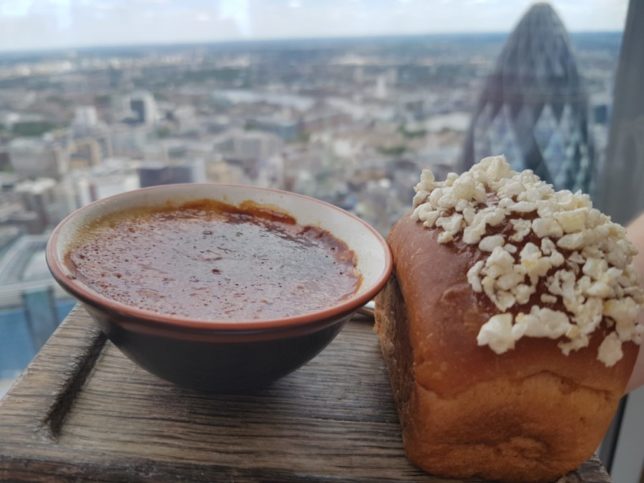 A small plate from the All Day menu which is one of our personal favourites is 'NDUJA SEARED OCTOPUS with whipped yellow lentils, fennel & green sauce – a seafood lover's delight!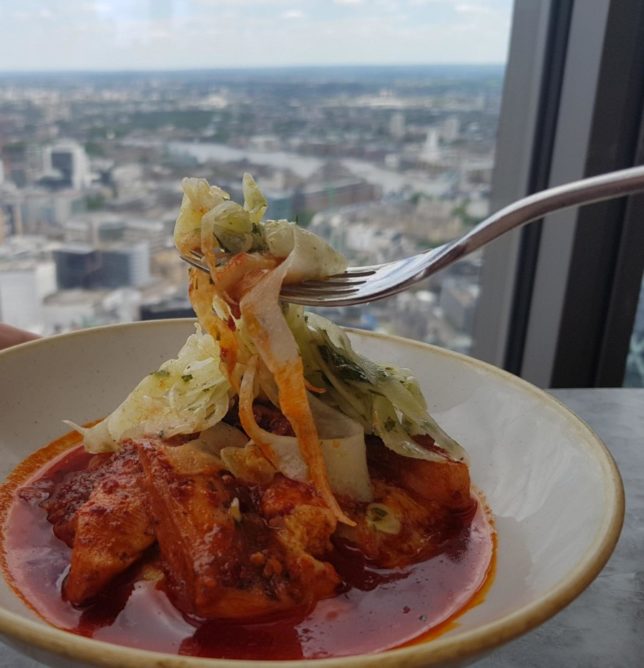 The restaurant's signature dish of DUCK & WAFFLE also appears on the Late Night Menu and is something every diner should (and must!) order with its crispy duck leg confit served on a pillowy soft waffle topped with a fried duck egg and drizzled with mustard maple syrup. Oh yum!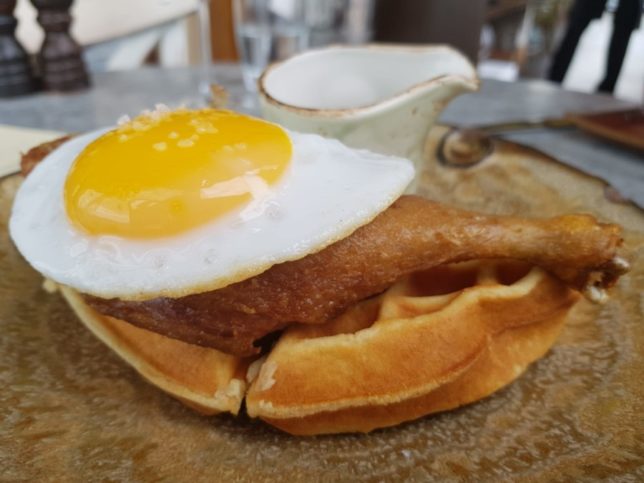 For the "I'm not sharing " diner, Duck & Waffles "fillers" include the decadent "FRANCESINHA", a bacon, beef, and linguiça sausage sandwich topped with Gruyère, duck egg and beer sauce.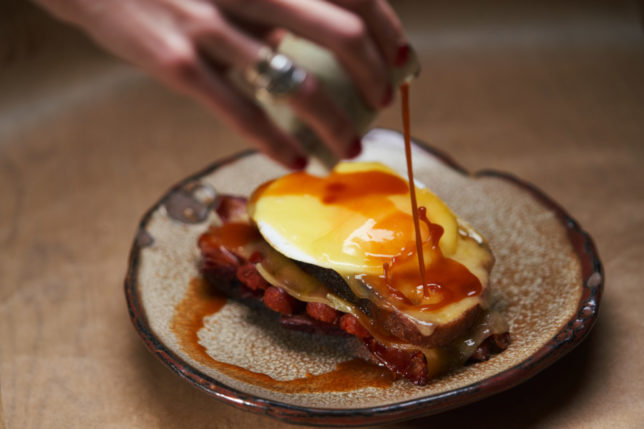 For something equally as meaty on the All Day menu, try the SALT MARSH LAMB CHOP with wild fennel, seaweed tapenade and jus. Daytime visitors are in for a treat!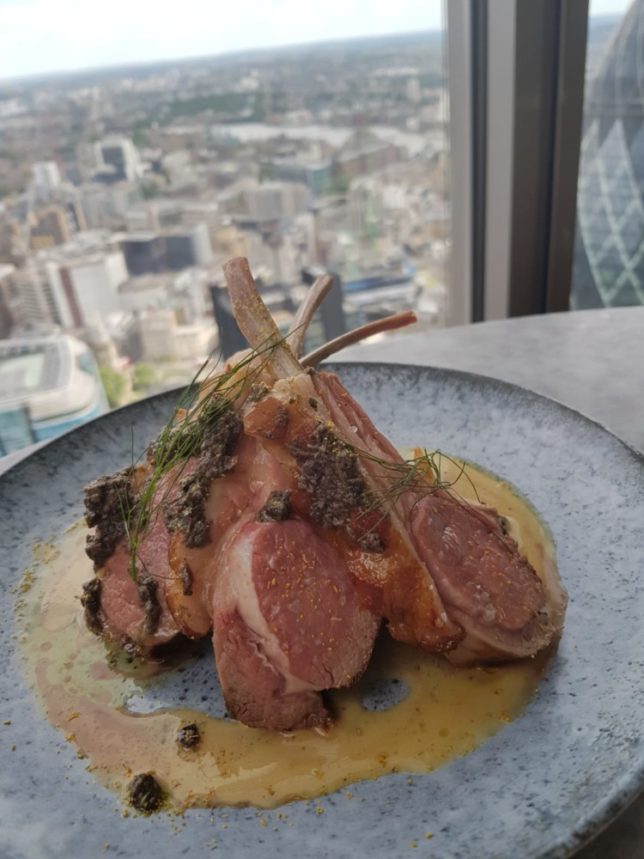 Late-night lovers of lamb can also enjoy this popular meat with the PULLED LAMB pita bread, charred aubergine & whipped feta cheese from Duck & Waffle's Late Night Menu.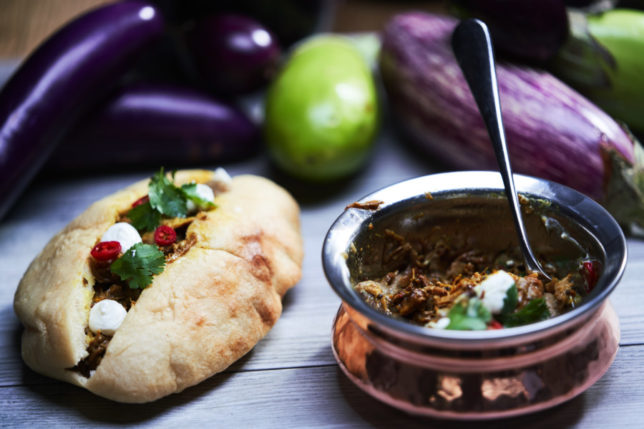 With all this meat, let's not forget our vegetarian friends who will surely love the PURPLE ARTICHOKE GRILLED SANDWICH with mature Cheddar, sweet confit onions, ranch, and Kalamata olives.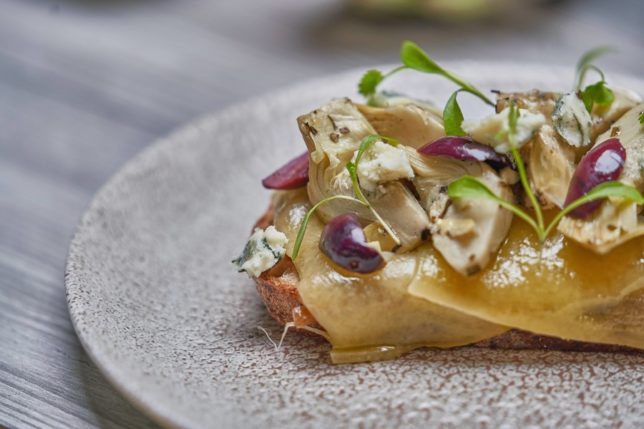 For those looking to indulge in deluxe comfort food, the DUCK 'N' CHEESE hits the spot with confit duck leg, macaroni, American cheese, and a drizzle of Mornay sauce. This dish takes Mac 'n' Cheese to the next level!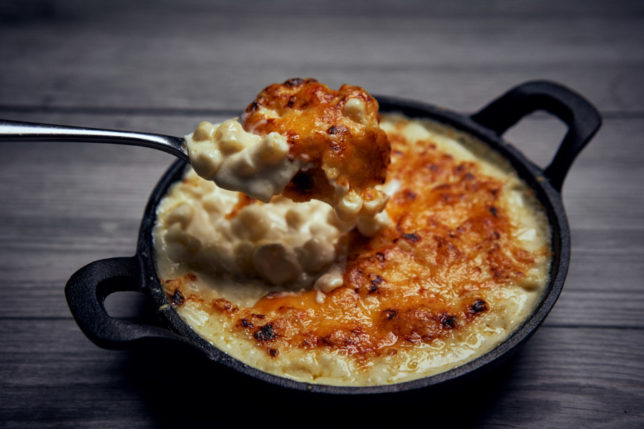 Dessert lovers can tap one of two waffle desserts – our favourite would have to be the CARAMELISED BANANA WAFFLE with housemade hazelnut chocolate spread, vanilla ice cream, and peanut crunch. In addition to the sweet treats on the Late Night Menu at Duck & Waffle, diners have a few more dessert options to choose from elsewhere on the dessert menu.
This includes the restaurant's hero dessert – THE FULL ELVIS. A seasonal version is always on the menu and is described as a waffle smothered with PBJ, caramelised banana, Chantilly cream and all the trimmings. Definitely a dessert worth splurging the calories on… "The King" would be proud!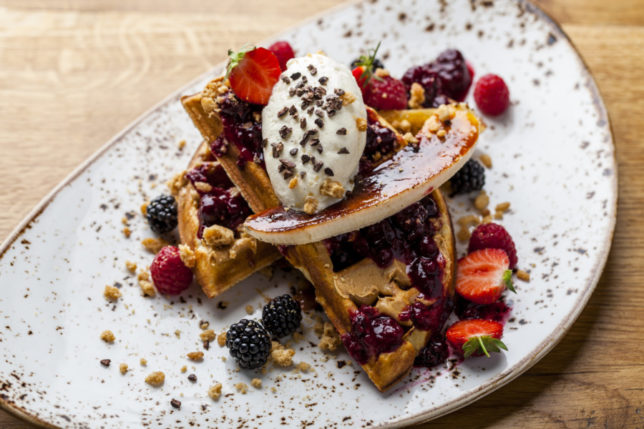 In celebration of Wimbledon, Duck and Waffle were offering an ace serve on our menu – PIMM'S ETON MESS with strawberry, meringue, lemon Chantilly, Pimm's jelly and a cucumber sorbet. They inspire and surprise with their topically themed yet delightfully tasty dessert.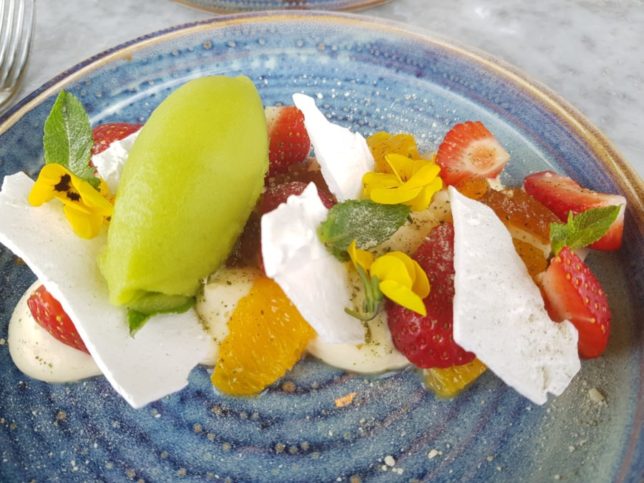 Sadly the Eton Mess is no longer on the menu but we highly recommend the RASPBERRY DRIZZLE CAKE which is also vegan. It has pistachio 'rice' cream, dark choc tuille and raspberry sauce, Clementine & Dark Chocolate Martinez.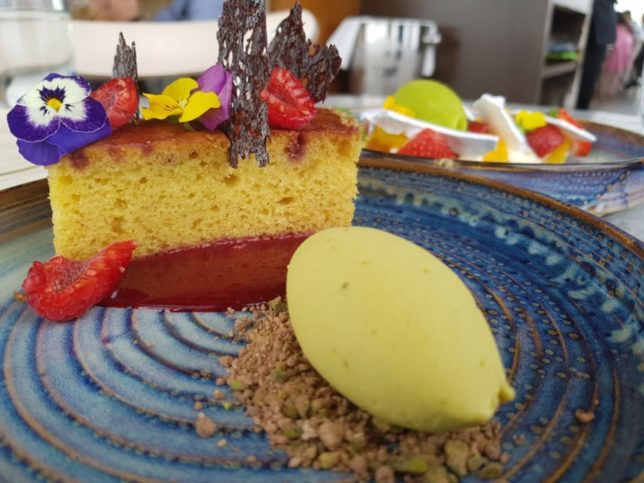 Under the creative leadership of award-winning Head of Spirit and Cocktail Development Rich Woods, Duck & Waffle's cocktail list takes an avant-garde approach to mixology which transcends definition. Duck & Waffle bar is open 24/7 serving the full range of cocktails combining nostalgia with seasonality, inventiveness with a sense of exploration, and an incomparable range of ingredient diversity. Highlight on the cocktail menu include Rich's seasonal twist on the classic Negroni.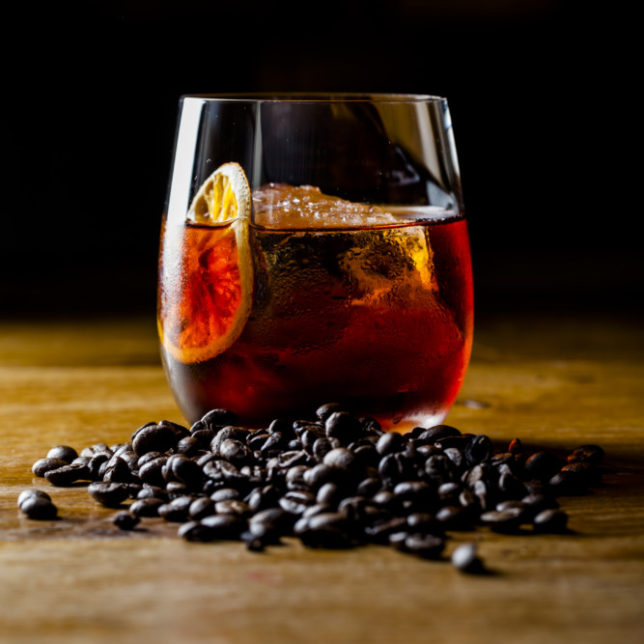 Created by Rich to complement the late night menus, Late Night cocktails include the FIG & CHESTNUT MANHATTAN with Caramelised Fig-Infused Woodford Reserve Bourbon, Punt e Mes and Charred Chestnut in addition to the PINE NEEDLE LEMONADE Bombay Sapphire Gin, Distilled Lemon, Clarified Citrus and soda, served long in a flavour painted glass.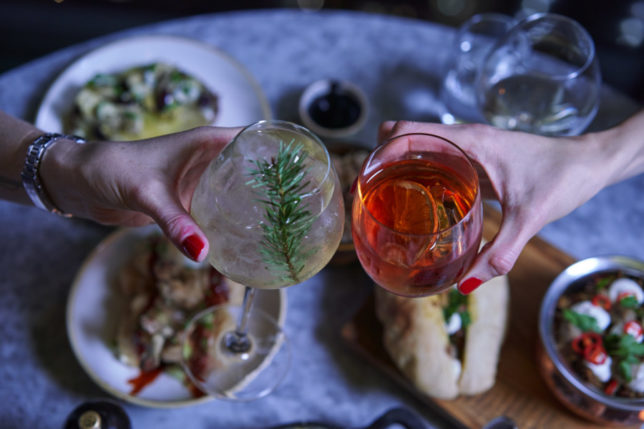 During our visit to Duck & Waffle, we enjoyed the BLACK CHERRY GODFATHER with Monkey Shoulder Scotch whisky, black cherry liqueur, dry & caramel bitters. The HAY OLD FASHIONED was also a tasty tipple presented in an interesting way.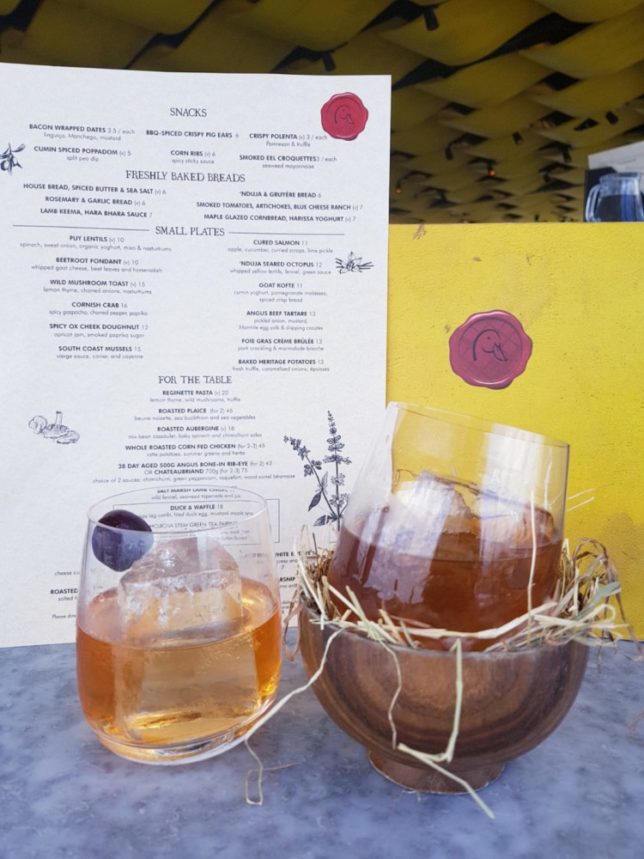 If you have a severe case of midnight munchies, late-night bar food highlights include the fan favourite of BACON WRAPPED DATES with linguiça, Manchego and mustard, CRISPY POLENTA with Parmesan & truffle, and 'THE BIG QUACK', a duck patty with Swiss cheese and sweet pickle sauce served in a brioche bun.
So whether you pop in after painting the town red or simply want to indulge in a midnight feast with some exceptionally delicious dishes, make your way to Duck & Waffle this evening after 11.30pm for a meal you'll remember long after the last bite.
Duck & Waffle
110 Bishopsgate, London EC2N 4AY
+44 203 640 7310
duckandwaffle.com
@DuckandWaffle