Bloomsbury Street Kitchen is an all-day dining destination in the heart of London serving an exquisite selection of contemporary Mediterranean and Japanese small plates, complemented by a diverse variety of wines, sake and signature cocktails. The restaurant & lounge bar is just moments away from London's most iconic theatres, museums and boutiques, making it an ideal place to enjoy a relaxed lunch or pre-theatre dining experience when in town.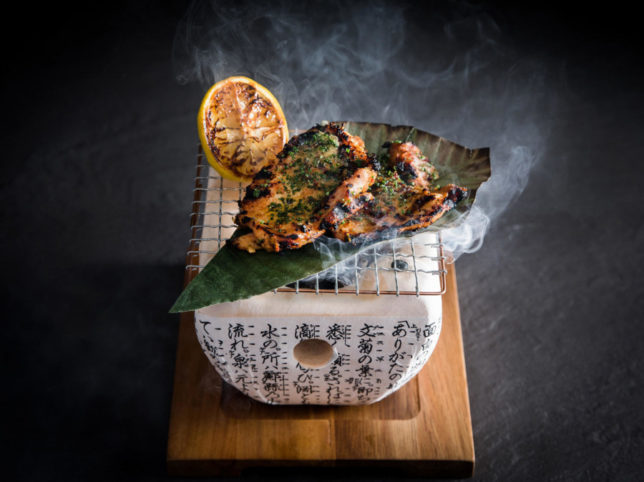 Kicking off with cocktails, Kyoto Sour is a mix of Suntory Toki Whisky, ginger, apple, citric cordial, yuzu, rosemary and a foamy egg white. Strong, flavourful yet refreshingly energizing on the palate. For the designated drivers, we highly recommend Yuzu and Ginger, which is a combination of Seedlip Spice, yuzu vanilla & honey cordial, ginger, apple juice and lime. Again a refreshing start and it pairs perfectly with the contemporary Japanese dishes on the menu.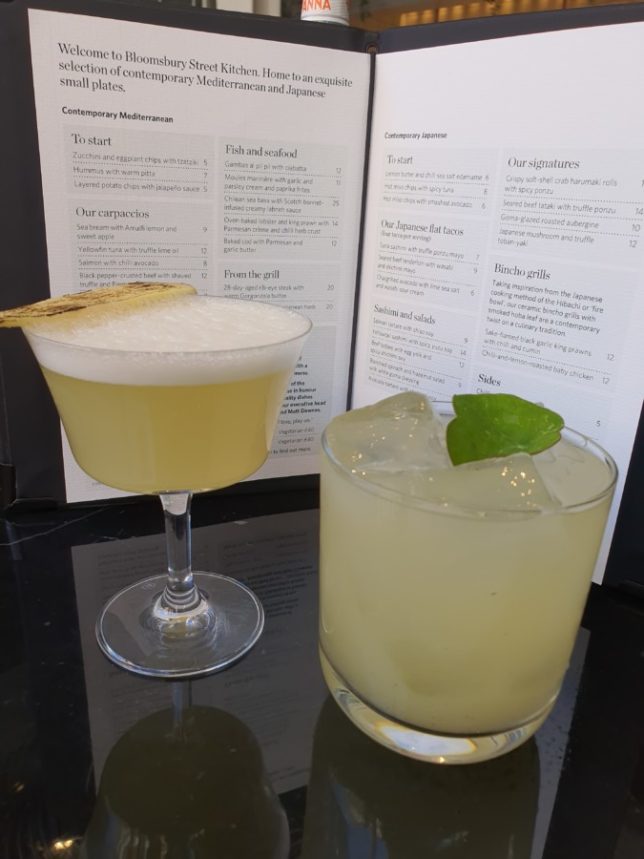 Yellowtail sashimi with spicy yuzu & soy was a delicate way to start the meal.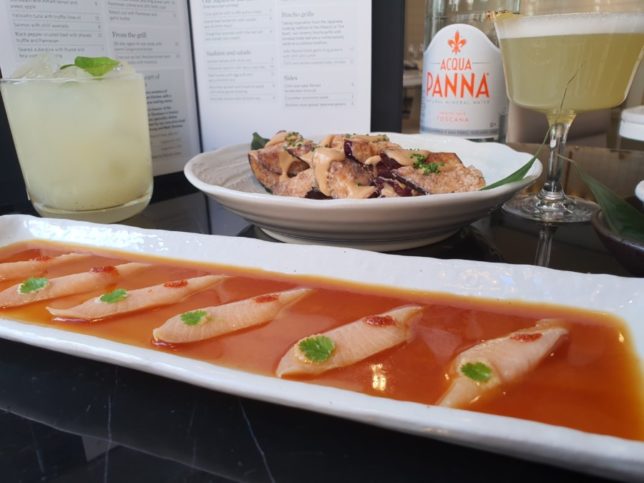 Goma-glazed roasted aubergine is a must for vegetarians and carnivores alike. Crunchy on the outside and mouthwateringly soft in the centre.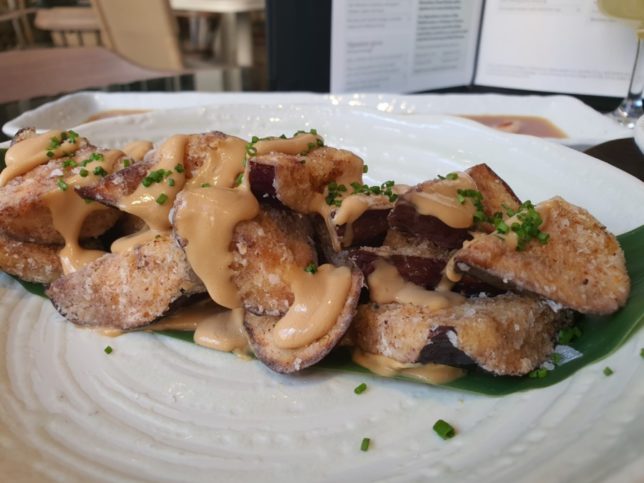 I preferred the delicateness of the Yellowtail sashimi but if you are looking for warmth in the mouth, Crispy soft-shell-crab harumaki rolls with spicy ponzu is a dish you mustn't miss. My dining companion said it was very comforting and loved the heat.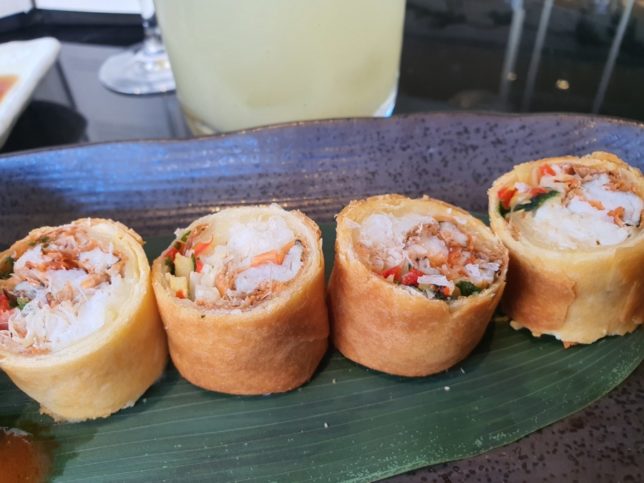 For those who enjoy smoke with your drink, the Hoba Smoked Old Fashioned on the Signature Cocktails list is both theatrical and tasty. The choice of Laphroaig mixed with Diplomatico rum really brings an added dimension to a traditional old fashioned. The secret ingredient is Mozart Dark Chocolate liqueur which is complemented by dark chocolate pieces. This drink whisks you away to a gentleman's lounge in your lunch break.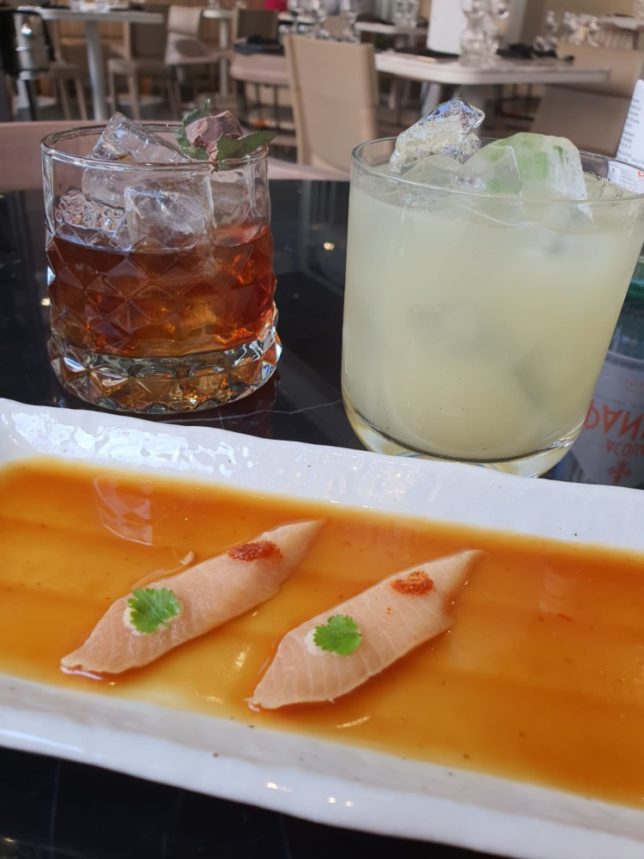 We were recommended to try the Signature Gyros. They have three varieties. 2 meat options – Chicken, chilli fries and tzatziki or Slow-cooked lamb shoulder, chilli fries and lemon feta yoghurt. For vegetarians, there is the very moreish Halloumi fries with tzatziki and coriander mint dressing. We went for the lamb. Quite a generous portion so make sure you have room or a dining companion who is happy to share.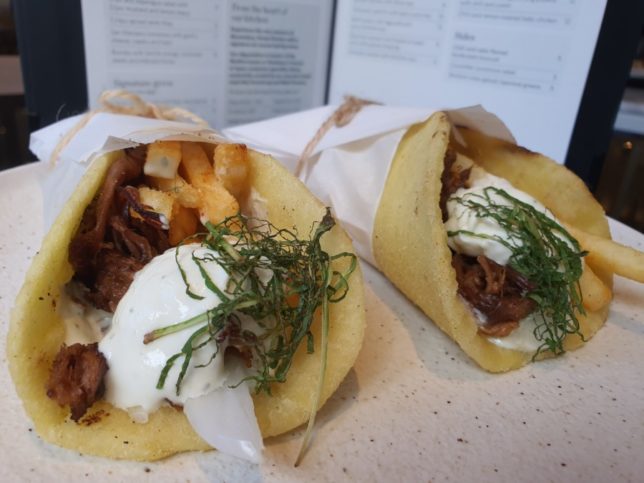 For those who love fish & seafood, we were torn between the Chilean Sea Bass and the Oven-baked Lobster & King Prawn. Both dishes appear on the Kitchen Table Experience degustation menu and are clearly chef favourites. We decided to first try the Chilean Sea Bass with Scotch bonnet-infused creamy labneh sauce and were pleasantly surprised that the scotch bonnet did not blow our bonnets off!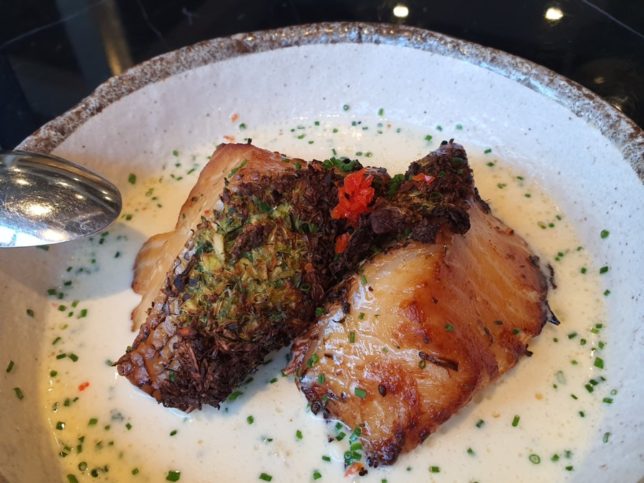 The Oven-baked lobster and king prawn with a parmesan crème and chilli herb crust has a luxury feel and was our favourite.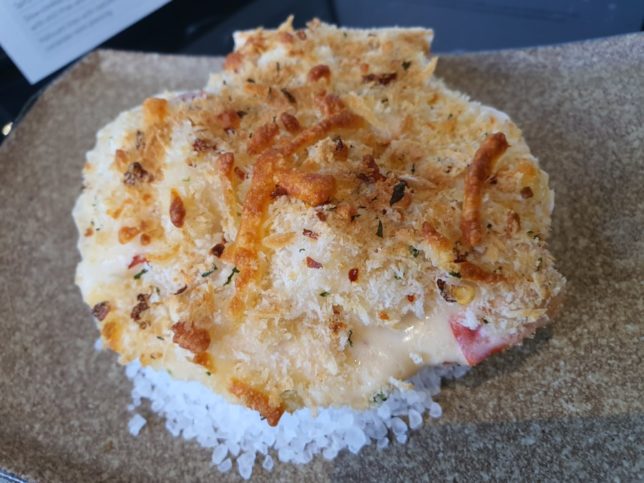 For the carnivores among you, it is such a hard choice between the 28-day-aged rib-eye steak with gorgonzola butter and the Seared beef tataki with truffle ponzu (served cold). I cheekily chose the former but asked for some truffle ponzu on the side. Wow, what a combination!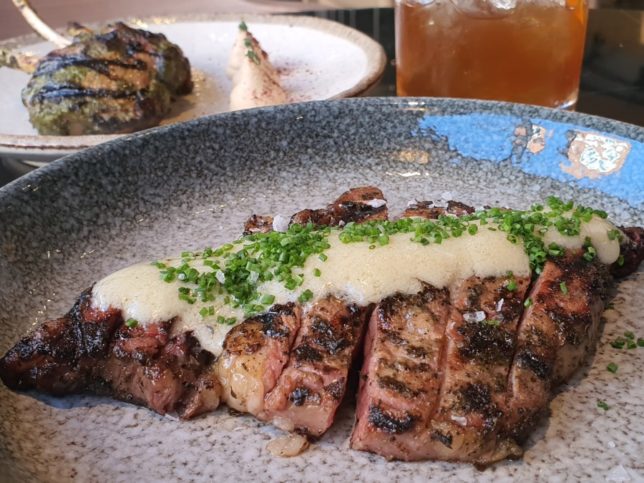 My dining companion chose the Charcoal-grilled Mediterranean-herbed lamb cutlets with hummus. For those with a lighter appetite, you may prefer to choose the Crispy-spiced lamb bites.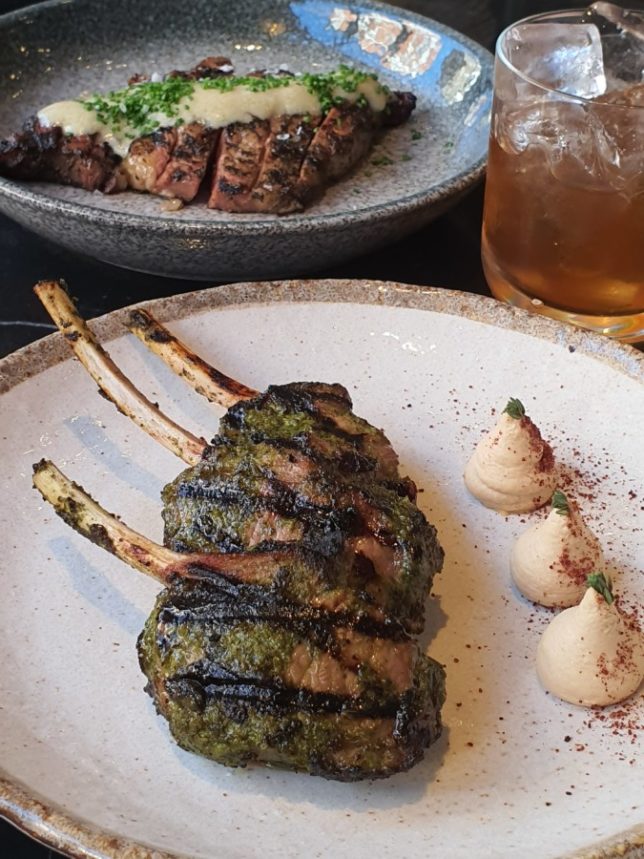 Who could resist the Yoghurt  and white chocolate cheesecake for dessert interestingly served with an activated charcoal sorbet. There are a couple of interesting sakes to choose from to complement this dish.  The Junmai Yamahai Yamato Shizuku is a fruity but elegant sake with hints of marzipan whereas the Yuzu Sake Nakajima Shiroku is a clean, tart junmai, full of the flavour of yuzu. What would you choose? Whatever you choose, make sure to save room for dessert or at least have one to share. It is, after all, a sharing concept in Bloomsbury Street Kitchen!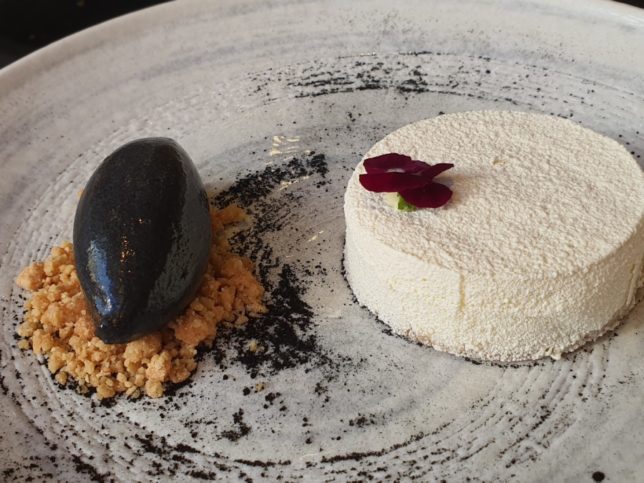 The restaurant team at Bloomsbury Street Kitchen clearly have a talent and passion for food & drink which starts in the kitchen and extends out to Front of House. All that's required from you is to sit back, relax and savour the delicious dishes and creative cocktails on offer.
Bloomsbury Street Kitchen
9-13 Bloomsbury Street, London WC1B 3QD
+44 (0)20 7666 2044
www.thekitchensrestaurants.co.uk/bloomsbury-street-kitchen
@bloomsburystreetkitchen