Pan-Indian dining destination Baluchi offers dining with a difference – a taste of traditional India in the heart of London. Located in luxury boutique hotel, The LaLiT London, this is the perfect escape from the hustle and bustle of the city combining Indian culture with quintessential British charm.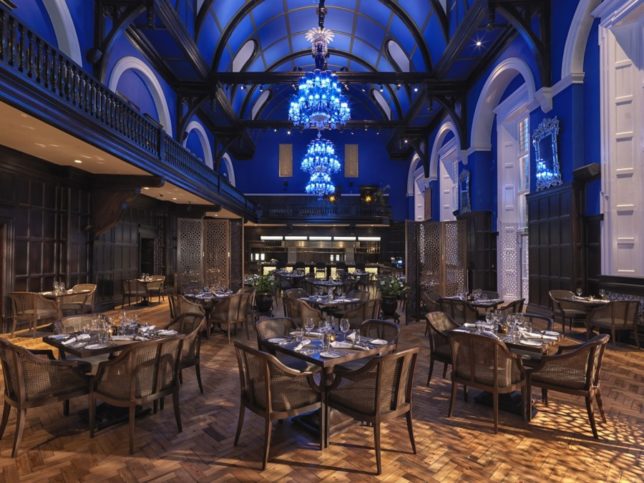 The 120-year-old neo-baroque Tooley Street building used to be the home of 19th Century St. Olave's Grammar School and the remaining architectural features such as the high ceilings and the original windows are reminiscent of the Victorian institution. Just a stone's throw away from Tower Bridge, the hotel is discreetly tucked away in the heart of city and conveniently close to many of London's stunning attractions and business hotspots.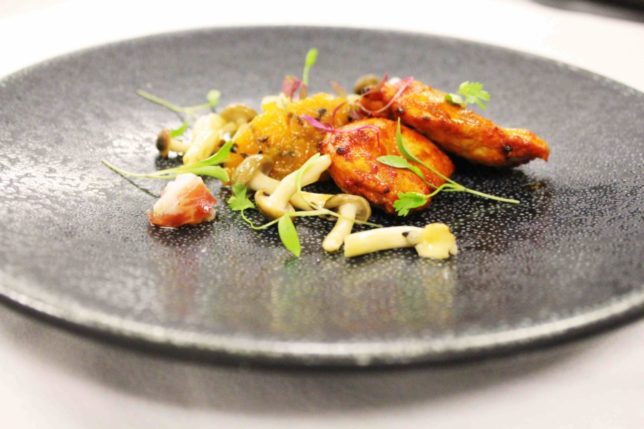 At the helm of the kitchen at Baluchi, Executive Chef Santosh Shah has launched new autumn menus bringing fresh seasonal flavours and beautiful presentation to the table. Overseeing all food served at The LaLiT London, Santosh has also designed the High Chai menu of delicate dishes served for afternoon tea in The Gallery, and a new Indian street food menu on the hotel's al fresco Terrace.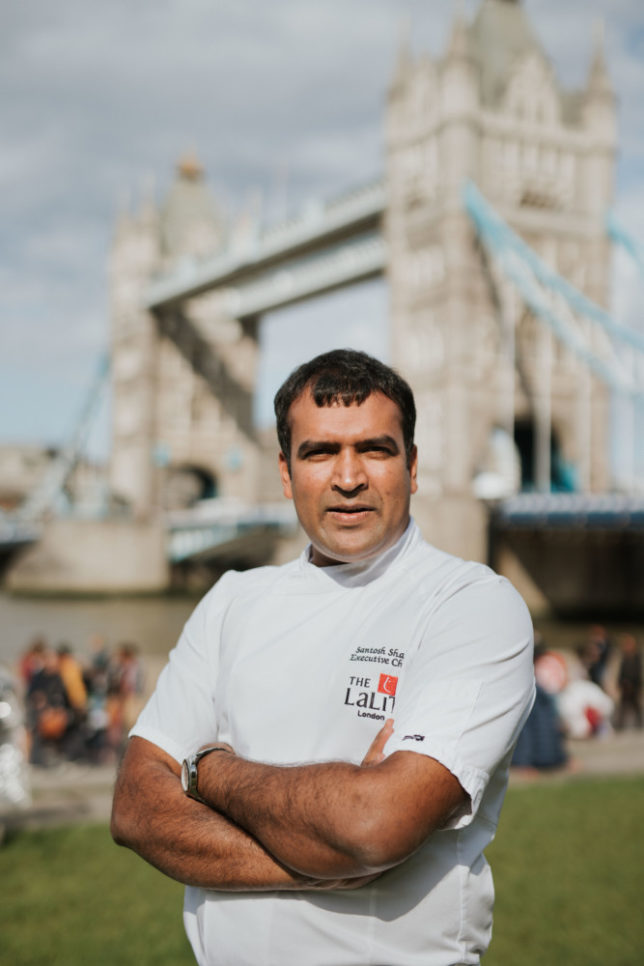 Inspired by the rich curries of the North-West Frontier, the fine dining restaurant pairs the best of international culinary concepts with the complex and innovative flavours of India, each dish rich with history and authenticity.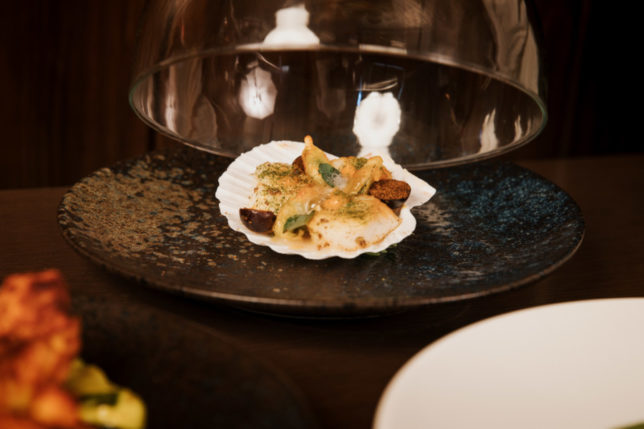 Chef Santosh has created refined dishes which simultaneously embrace and elevate traditional Indian ingredients and recipes synonymous with the North-West Frontier.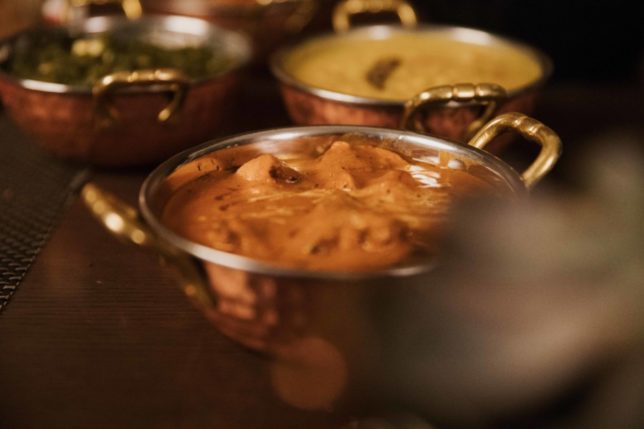 To begin our gastronomic journey, pre-dinner cocktails were served with Baluchi's signature roasted poppadums.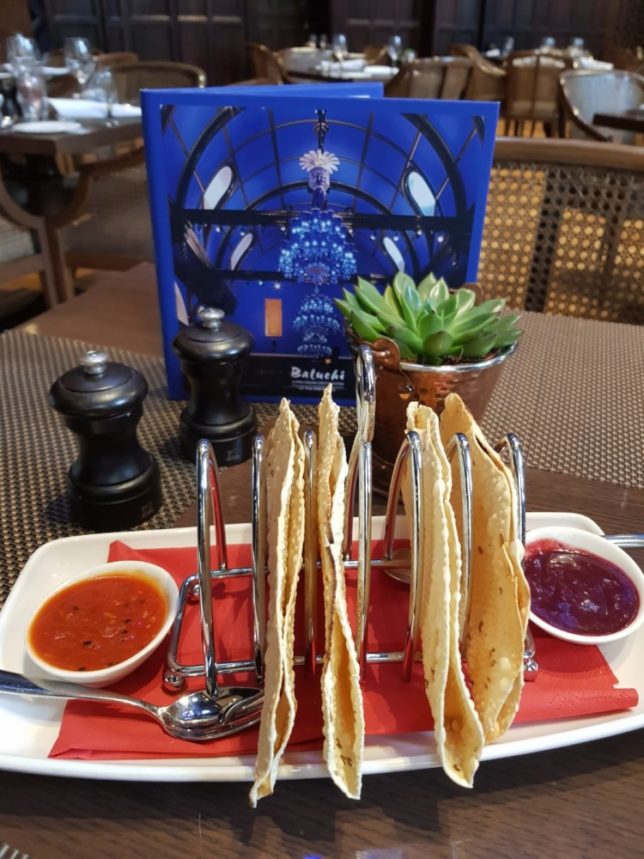 We were delighted to try some of the new autumn dishes showcasing Santosh's experimental signature style include salmon chatpati with avocado and mustard oil purée, radish and caramelised puffed rice.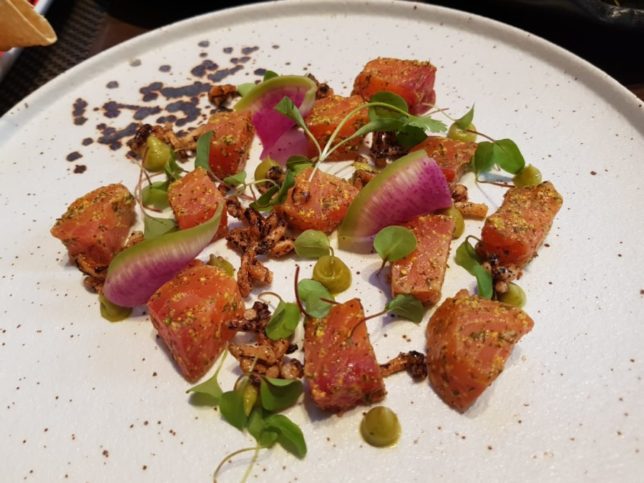 Another delicious new dish is tandoori octopus and colocasia leaf terrine with clay oven-roasted baby potatoes, labneh, coriander chutney and puffed quinoa.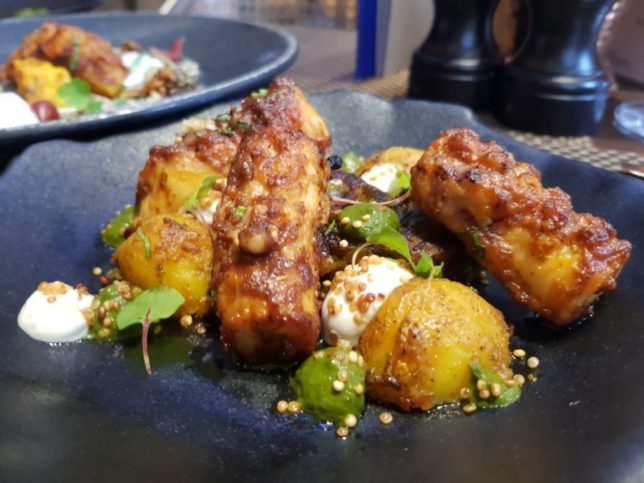 For our vegetarian friends, we recommend the tandoori celeriac with mint chutney, burnt apple gel, masala seeds, gun powder and coconut foam.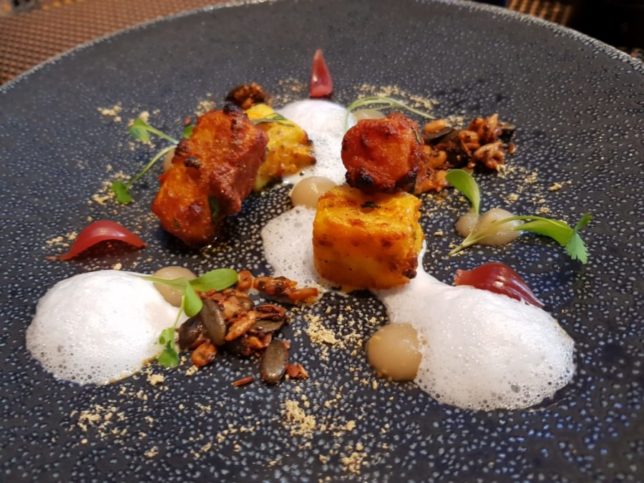 Chicken lovers will swoon over the succulent kaffir lime chicken tikka with its Thai-inspired flavours. The tandoor-roasted free range corn-fed chicken is served with cashew crumble and coriander chutney. This new take on the traditional starter dish was inspired by Chef Santosh's last trip to Thailand.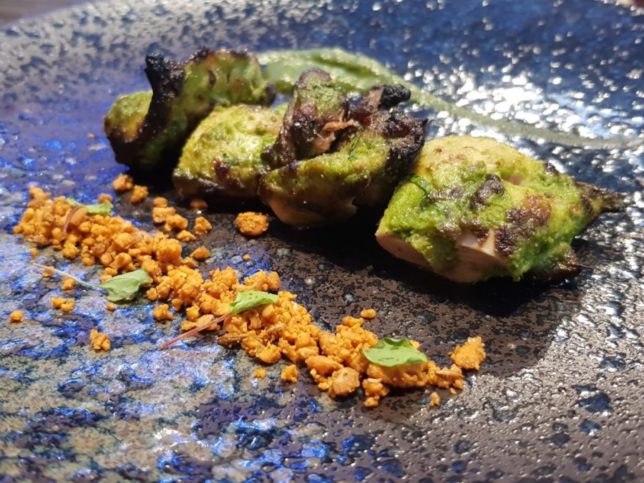 Moving on to main dishes, Chef Santosh chose some highlights from his new autumn menu for us to try including a game season signature of venison served with quinoa khichdi, yoghurt sauce, salsify and beetroot powder.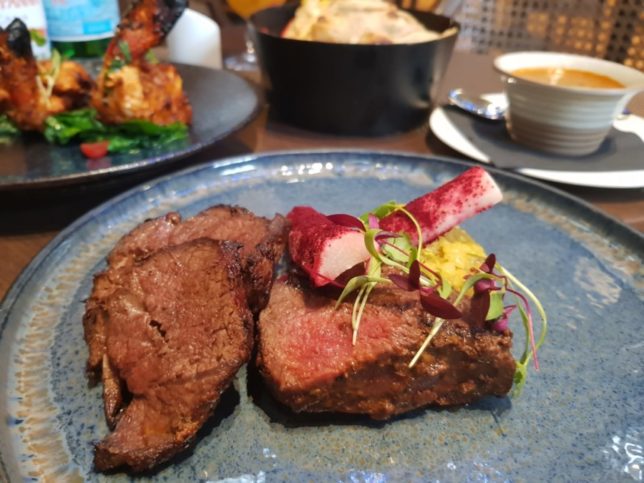 We were also presented with a plate of the biggest and juicest king prawns we've ever seen. The tandoori prawns were full of flavour and served with samphire and sauteed spinach and moilee sauce.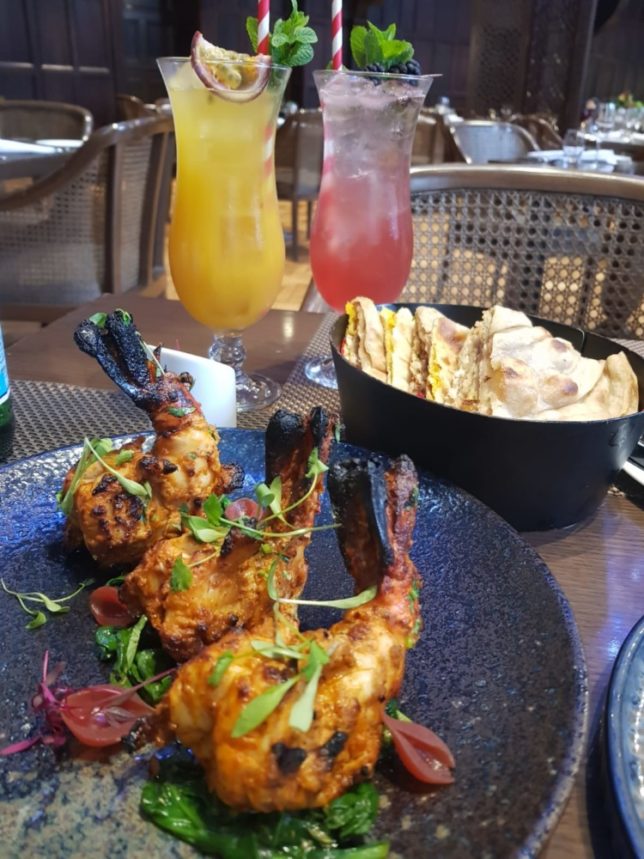 Freshly baked Indian breads come straight from the dedicated Naan'ery, which stretches across the back of the lavish dining hall. Traditional Indian naans, roti, kulcha and paratha get a 21st century makeover with fillings such as potato, ceps and truffle; fig and paneer; and coconut mango. Our naans came with a surprise serving of one of Baluchi's Founder Chairman's favourites – tarka dal made with yellow lentils in a sauce flavoured with cumin, ginger, tomatoes and green chilli.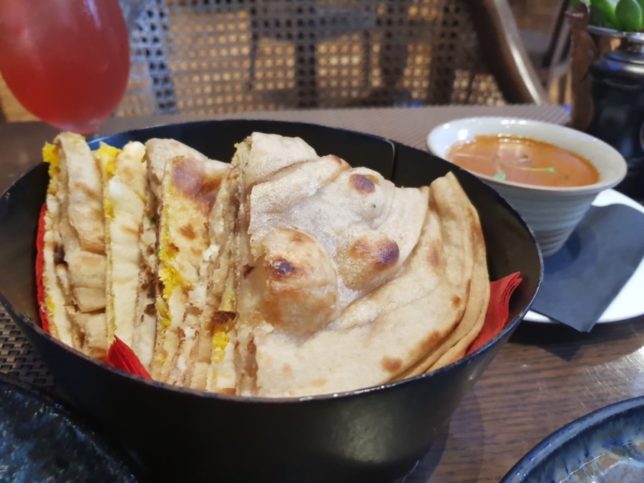 Another signature dish from Chef Santosh's autumn repertoire is butter chicken. Suitable for sharing, this traditional Delhi style tandoor roasted corn-fed chicken is enrobed in a heavenly tomato and fenugreek sauce laced with the rich flavour of ghee.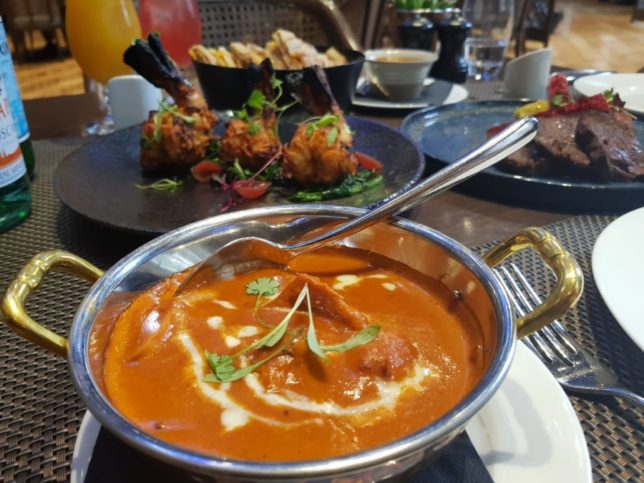 The decadent desserts made by Baluchi's talented pastry chef are not to be missed. We loved the pistachio kulfi Indian ice cream served with two of our favourite ingredients – faluda and fragrant rose syrup.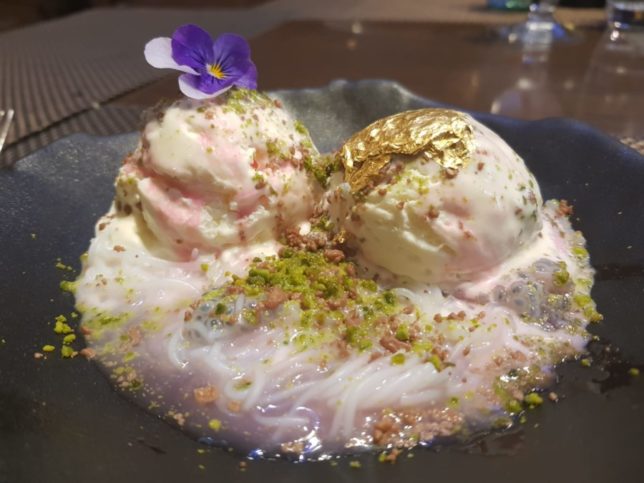 If you like cake, you will love the ginger & mint cake served with dark chocolate crumble, a fruity berry sorbet and crisp honeycomb. What a treat for anyone with a sweet tooth!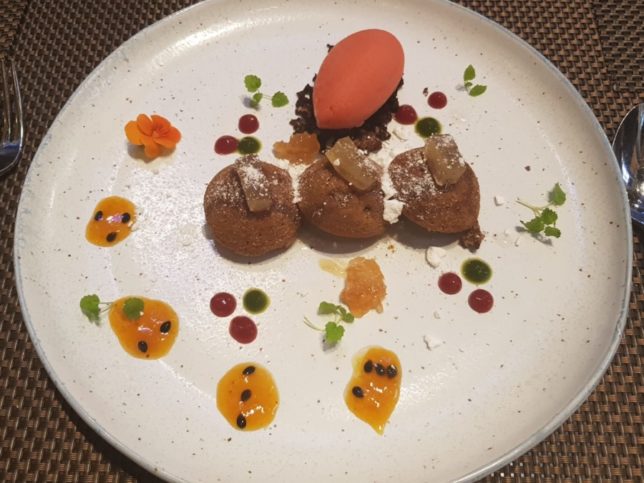 Whether you visit Baluchi for lunch or dinner, you are in for a wonderful gastronomic experience delivered in an exciting experimental style by Executive Chef Santosh Shah supported by his talented team including Chef de Cuisine Jomon Kuriakose (who recently appeared on BBC's Celebrity Masterchef).  Baluchi is well worth a visit and will certainly live up to your culinary expectations if not exceed them.
Baluchi at The LaLiT London
181 Tooley Street, London SE1 2JR
020 3765 0000
www.thebaluchi.com/london
@BaluchiLondon @thelalitlondon